How YouTube Music works. Here is a guide to Google's music streaming service offered in both free and paid versions.
The on demand music streaming service of YouTube Music features a premium tier that allows users to listen to audio-only background music, download songs for offline playback, and play music without ads.
In the next lines we will see what are the advantages of the service YouTube Music and what are the types of subscription and the costs to be incurred.
How YouTube Music works
Unlike Apple Music from Spotify and other streaming music applications, You Tube Music also makes available to subscribers videos and all those contents that you can only find on YouTube, such as covers, compilations, live performances and so on.
The service integrates an intelligent search system based on any part of the song text you can type and on your previously visited places. You can also take advantage of background playback, both on mobile and desktop, and mobile-only download of songs.
YouTube Music pricing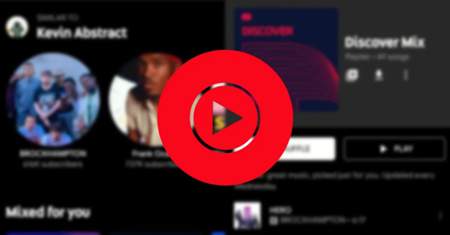 It was arranged di Google account can take advantage of one of the following subscription versions:
YouTube Music, available in version participation, then with ads.
YouTube Music Premium at a cost of € 9,99 per month with the possibility of downloading videos, listening in the background and playing without advertising and with 1 month free trial period with no obligation to renew upon expiry.
YouTube Music Family available at the price of 14,99 per month, is a variant of YouTube Music Premium and allows subscription splitting for up to six members of the family unit resident in the same house.
YouTube Premium, at the cost of 11,99 euro / month and with the inclusion of YouTubeMusic Premium and the viewing of the "classic" YouTube without advertising content, with the possibility of downloading and playing the videos in the background. There is a trial period of 2 months free and even in the latter case you can take advantage of the variant offamily subscription at the price of 17,99 per month.
You can apply the free trial only once by testing it on the version Music or on that Premium. You can also manage your subscriptions, to cancel them or otherwise, by going to the Manage YouTube Subscriptions page.
For payment you can use a credit card, a prepaid card or a PayPal account.
How do I use YouTube Music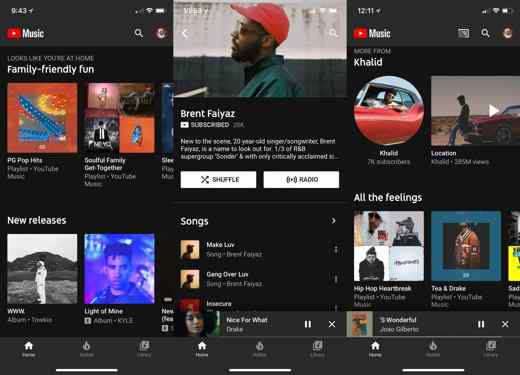 YouTube Musics can be used by both PC that mobile devices. If you have a desktop PC or laptop to understand how YouTube Music works all you need is a web browser with any operating system (Windows, macOS, Linux) and take advantage of the service's Web player.
For mobile devices, you can download the YouTube Music for Android and iOS.
Of course you will need to have a Google account and a stable and fast internet connection. For more information I recommend that you test the speed of your Internet connection with Google.
Once the payment and installation phase has been completed, you can use the browser to use YouTube Music Google Chrome and connect to the service using the dedicated web player.
On the home page you will immediately see, at the top, a series of playlists, those of new releases, successes, of the past and so on. Below are the albums and charts with the videos of the moment. Finally, lower and lower you'll see live performances, recommended music videos and new videos.
To play a music video just click on the button Play, on the cover, or start a music playback with the key [...]. All the available songs are accompanied by video clips and the popularity of the films lies precisely in the possibility of enjoying live performances.
How to disable YouTube Music
If you are ending the trial period and want to cancel YouTube Music, all you have to do is go to this web page and click on Unsubscribe in the section Paid subscriptions.
Confirm everything by replying Yes, cancel I awarded her Close.
By canceling your subscription you can continue to use the service until the billing period ends.
From mobile, the cancellation procedure is even simpler: click on tua photo, top right, and then up Paid subscriptions> Manage and finally press on Unsubscribe.
Other useful articles