A guide on how Yahoo Answers works. Yahoo's web service is a great way to promote your site and share your articles, answering tons of questions divided by category.
Yahoo! Answers is a social network whose participants post questions and other community members respond. The site is based on a points system that is, the more answers are given, the more points are accumulated, and if the answer given is the best, more points will be obtained.
By earning points, the popularity of the registered user increases not only within the site but also in the main search engines.
The pages of Yahoo! Answers most of the time they are positioned at the top of search engines and they are often a promising traffic source for our business. The questions that are asked on search engines are almost always answered in the Yahoo! social network.
How Yahoo Answers works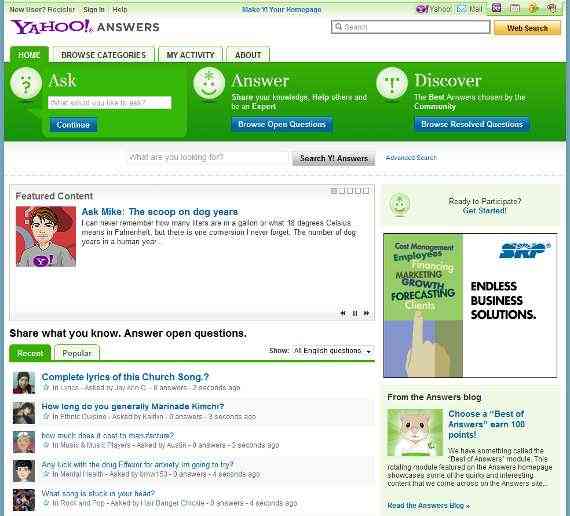 But like all big portals you have to be careful to promote yourself on Yahoo! Answers precisely because you are constantly monitored and it is easy to get banned or banned, especially if your information is incorrect. There are two ways to promote yourself and avoid being caught in spam:
Always answer questions in line with our business by inserting a direct link to the website or corporate blog. Naturally, you have to register and choose the most appropriate category and select the question to answer. When we reply we must provide as many explanations as possible and insert a link to our web page.
create multiple accounts and post ad hoc questions and provide the best answer ourselves. You have to choose a title that could easily rank in search engines and with another account answer the question by entering information about your business. This way we could attribute the best answer ourselves by trying to use a proxy to disguise the second identity and avoiding Yahoo! the origin of the same IP.
If we use common sense, reading the Yahoo! Answers, it will be possible to promote your business and services in a natural way by increasing the popularity of the website, inserted among the answers given.
A clarification to be made is that, to add active links in the answers given, it is necessary to reach the 2nd level.
Yahoo Answers chiude
After 16 years of activity, Yahoo's web service on May 4, 2022 closes permanently. After Google Plus, another piece of web history has now gone out of fashion. The questions and answers will leave room for other services most requested by users, such as Quora, Facebook and Reddit.
Before the closing of Yahoo Answers there will be a read-only period, from April 20, 2022, with the possibility of downloading all the questions and answers saved in the Yahoo platform. For more details and information, I invite you to read our article: Yahoo Answers closes its doors
Le alternative a Yahoo Answers
We invite you to take a look at other sites that offer question and answer tools, the main ones are:
Wiki Answers.com;
Ask Metafilter;
LinkedIn Answers;