How We Transfer works. A quick and easy tutorial on how to use the online service dedicated to large file transfer.
WeTransfer is a fast service that allows you to easily send large files by exceeding the limits imposed by emails for sending large attachments. Not only is it simple and intuitive but it does not require any installation on the PC and its use is suitable for any user.

We Transfer how it works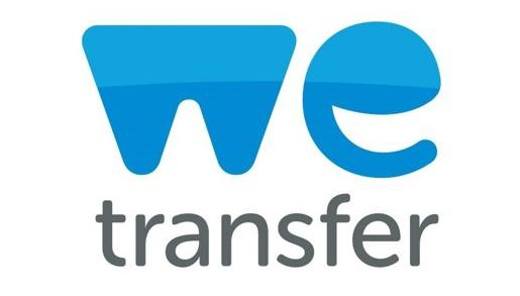 WeTransfer Spanish is available in two versions: that participation and that to payment.
La free version allows you to send files with maximum size of 2 GB. In addition to the ability to send the file via email, chat or social media (sharing a simple link), you can add text to allow the sender to introduce himself to the recipient.
La paid version instead, call WeTransfer Pro, allows you to send emails with maximum size of 20 GB and is available with monthly subscription at a cost of 12 euros o annual at a cost of 120 euros. You can also set a password, take advantage of a cloud space of up to 1 TB, customize profile and email and set an expiration date for your transfers.
Read also: The best NAS for home and office
How to send files with We Transfer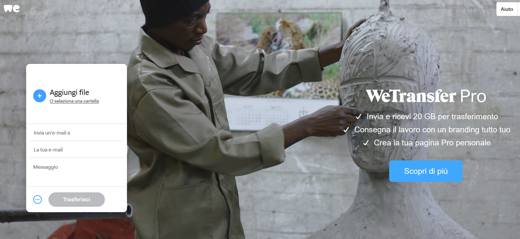 How is WeTransfer used? To use We Transfer all you have to do is connect to the official website and click on Add File and navigate in the window that opens, until you find the file to send on your PC. The maximum weight of the attachment must be 2 Gb, for the free service, and of 10 Gb for the Plus one (12 € per month).
The transfer takes place by entering, not only the file to be attached, but also the recipient's email address in the field Send an email to. Then enter in the field Your email, your email address, in order to be recognized by the sender, and finally type a personalized message.

Sending can be done via email by ticking the item: Send email for transfer or by creating a link by checking the item Get the transfer link.
Then click on the button Transfer to start uploading and then sending the file. Loading and sending times naturally depend on the speed of your Internet connection.
What the recipient receives
The recipient will receive an email in the email with a link from which to download the file (if you chose the first option). Nothing needs to be installed and it is also possible to indicate multiple files or multiple recipients.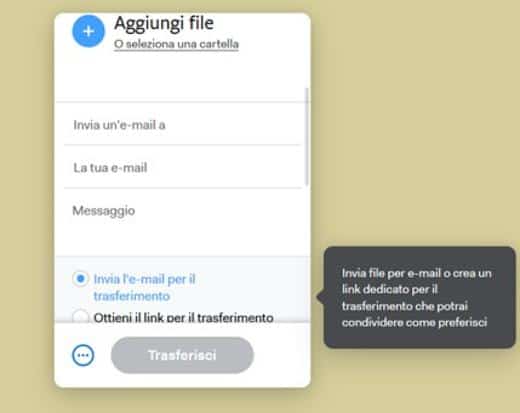 By clicking on the button with three dots (next to the button Transfer) you will be able to access the advanced options (available only with the Pro version) and choose whether to delete the file after 1 week and whether you want to set a password.
What the sender receives
Once the process is complete, the one who used We Transfer to send files will receive two emails: in the first the service thanks you for using it, the second will confirm that the file sent has been downloaded by the recipient.
How WeTransfer Plus works
If you need to send files over 2GB, you can subscribe to We Transfer Plus. You will have the opportunity to send files up to 20GB, store files up to 100GB and use a password to protect the files you invite.
Then you can also take advantage of other benefits: personalization of your user profile, choice of We Transfer background images and personalization of sent emails or sharing URLs.
The cost of the subscription service is: 12 per month or 120 euros for one year.
WeTransfer for Android and iOS
WeTransfer in Spanish it can be used from any web browser (Chrome, Mozilla Firefox, Edge, Internet Explorer, etc.) and is also available for free as an app for all Android and iOS mobile devices, such as iPhone e iPad. The file transfer procedure takes place in the same way as described above. The only difference from the online version is that you can benefit from sending files up to 10GB with various advantages reserved for those who have subscribed to a subscription. As for the Web version, here too you can send photos, videos and documents from your device.
To date WeTransfer Spanish is definitely the best service for sending large files.
For further information, I invite you to also read these guides: How to zip photos and Send photos via email.
Video tutorial on how We Transfer from PC works