Data exchange between Apple devices and PCs is managed by the software iTunes which allows you to manage independently video, music e photo dell 'iPhone, iPad e iPod.
To add files to iTunes you need to after installing it, start it, choose the item from File Add folder to Library, then select the folder containing the videos or songs we want to add to the library, for example Converted Videos o Converted Music, and confirm your choice with Folder Selection.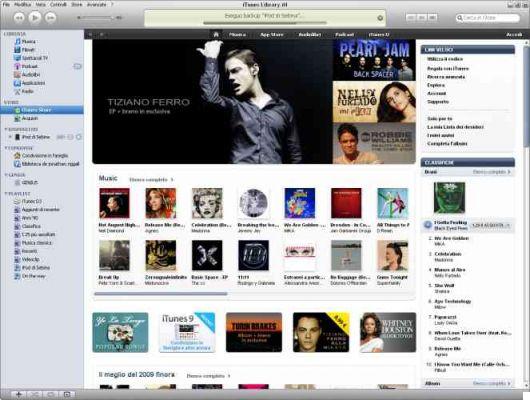 The inserted files will be displayed within a few minutes in the iTunes library, the audio songs are present in the Music section while the video ones are found in Movies.
You can simplify the process of uploading files to iTunes by clicking on Home, Then Music to open the Music folder, then double-click the folder iTunes, Then iTunes Media. Inside we find the folder Automatically add to iTunes.
We create a shortcut to it by dragging it to the desktop while holding down the key Other. From now on, everything copied to this folder will automatically be added to the iTunes library and moved to the correct folder.
To set up the Synchronization you need to connect the Apple device to the PC via a USB cable.
To synchronize the entire audio library, click on Music and then Music Synchronization and choose Whole music library. If, on the other hand, we want to transfer a part of our collection, we can choose Playlist of selected artists, albums and genres, an option that allows you to select which songs or which artists to transfer.
By clicking on the option Movie and then Synchronize Movies you can synchronize your videos, Again to copy all the videos of the iTunes library on the connected device just click and select the option on Automatically include all movies. If we do not select this option, however, we must manually choose the videos to transfer.
Finally by clicking on Gallery and Synchronize Gallery you can choose how to synchronize images. For the entire library just choose the option All folders, with Selected Folders instead you can choose the folders to synchronize.
After setting the various options, just click Apply to start the transfer. The files can then be found on the Apple device in their respective Videos, Music and Pictures folders.
In the future it will be possible to start the synchronization directly click on the connected device with the right button and choose the item Synchronize.