We have already seen in an article how to transfer contacts and calendar from Android to Blackberry. If you have decided to abandon your old one Blackberry e transfer contacts and then the address book on an Android smartphone, such as the Samsung Galaxy, below you will find a guide on how to transfer SMS and contacts from Blackberry to Android in a short time.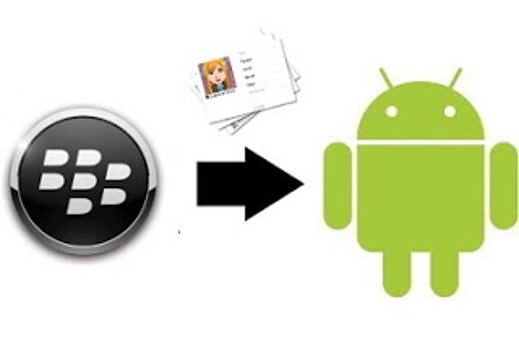 In the past, the transfer from Blackberry devices to other phones was done through Google Sync, which allowed uploading a .csv file to Gmail and then importing.
Today the situation has changed, the new blackberries no longer allow the use of Google Sync, alternatively, however, you can use the tool MobileTrans.
Be vuoi scoprire how to transfer contacts from Blackberry to Android here are the steps to follow.
Connect the Blackberry to the computer via USB cable and open the software Blackberry desktop Software (It is usually provided directly on the CD that is in the BlackBerry box, if you don't have it you can download it from this page) and create a backup copy by clicking on the "Backup now".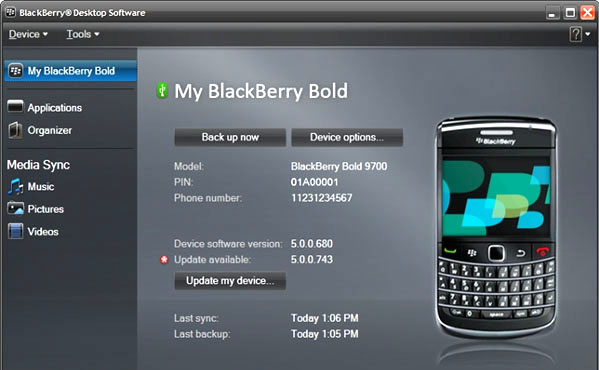 The format of the backup file created is .IPD or .BBB.
Download MobileTrans and install it. At the end start the program. On the initial screen click on the button "Restoration"And connect your Android phone (in this case Samsung Galaxy) to the computer via USB cable.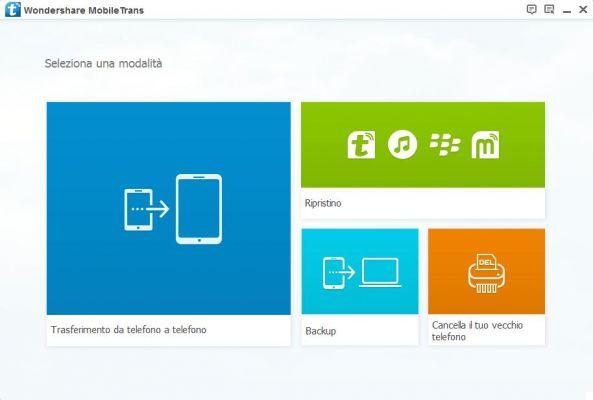 From the top menu select the backup file with .IPD extension, which you created, of your blackberry and select the data you want to import to Android.
In the window that appears you can choose and then select not only the Contact Us but also the SMS. Finally, press the "Start copying"To transfer contacts from Blackberry to Samsung Galaxy.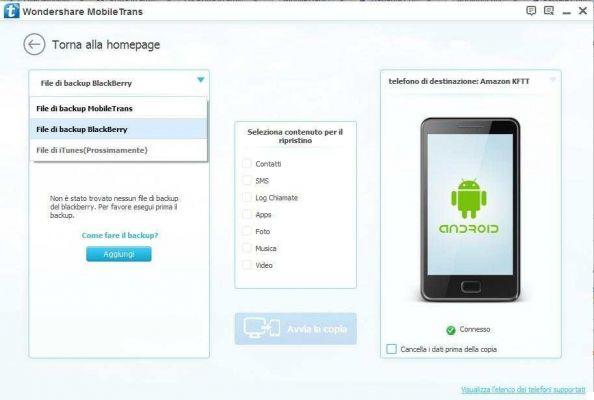 Another solution for transfer contacts from Blackberry to Android è synchronizing the address book on Outlook and from there export them to Gmail.
Always connect the blackberry to the PC through a USB cable and launch the software Blackberry Desktop Manager. Click on Synchronize and choose to synchronize the Outlook address book.
export contacts from Outlook to Gmail, from Outlook go to File> Import and Export> Export to a File> Next> Comma Separated Values ​​(DOS)> Next.
Select the contact folder to export from the list and click on NEXT. Choose where to save the file .CSV on your PC by giving it a name. Click on OK, NEXT and then end.
apri gmail and log in to your account by logging in with User and Password. Click at the top left on the drop-down menu gmail and choose the item Contact Us. In the left menu, choose the item Import Contacts and click on the button Shop by Department. Find the .CSV file saved on your PC in the window that appears, load it and click on Import.
From your Android smartphone connected to Gmail and automatically the contacts will all be imported.
Alejandro Crespo Martinez We are a specialized and passionate team of virtual reality. We have extensive experience in this area. We decided to create ForVirtualRealityLovers to share all our information with customers and users. We have quality information. You can find tips, guides, interviews, top products and much more! If you are curious, enter our site ForVirtualRealityLovers.com and discover the virtual world! 😉 Errore com.android.systemui su smartphone Android ❯
Articles related to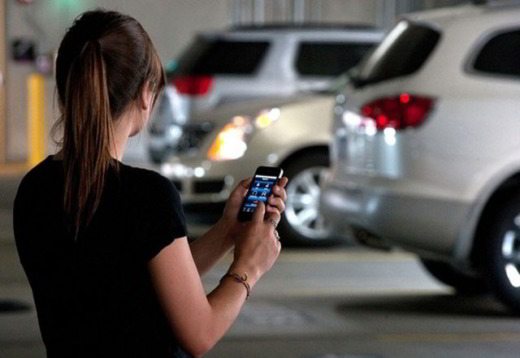 How to find parked cars with Android and iPhone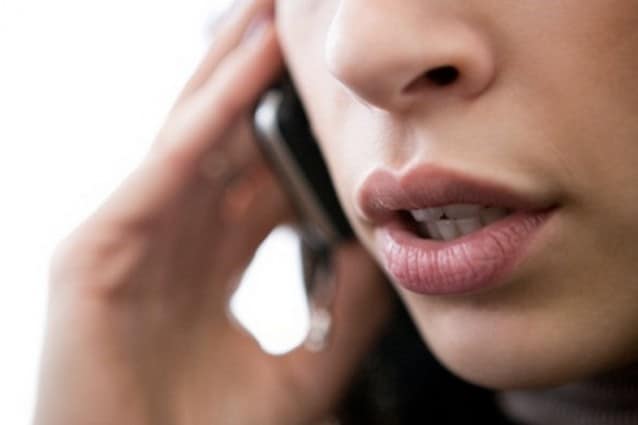 How to find out the number of an anonymous call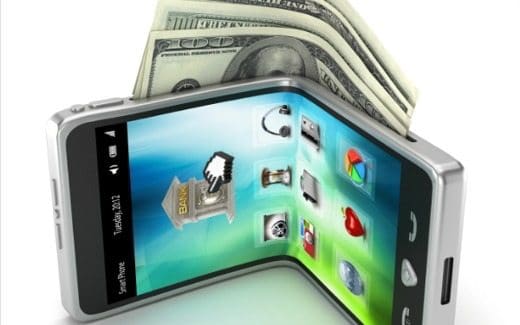 How to make money with apps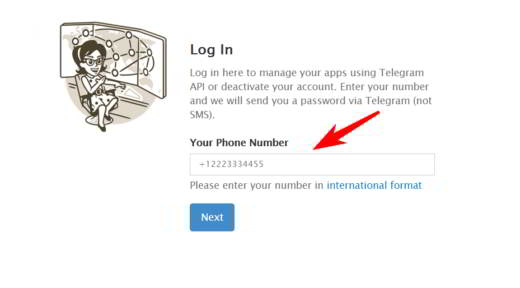 How to cancel a Telegram account
Block unwanted calls and SMS with Android and iPhone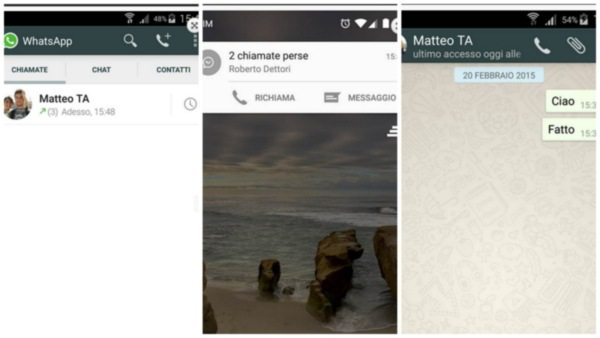 Voice calls via WhatsApp soon also on iPhone, for Android you need an invitation
Add a comment from How to Transfer Contacts from Blackberry to Android
Comment sent successfully! We will review it in the next few hours.

Telephony
Best 6 inch smartphone with big screen
Fire Phone: Amazon's smartphone that recognizes images
The best browsers for Android and iPhone
How to understand if a contact has blocked you on WhatsApp
The best Chinese smartphones on offer: buying guide
How to make and save screenshots with Huawei Honor
Best iPhones 2022: buying guide
How to save TikTok videos without posting by mistake
How to control your smartphone with voice commands
Best Oppo 2022 smartphones: which one to buy
Best ADSL Fastweb 2022 offers
Instagram: more social, less privacy?
Beware of WhatsApp voice call scams
How to recover WhatsApp chats without backup
How to use Mac, iPad and iPhone together
Instagram stories child filter
Two-Factor Authentication Instagram How It Works
How to get unblocked on Telegram if someone blocks you
Cancel Wind Infostrada - Iter, forms and costs
How to save WhatsApp audio on phone and computer
❤️Chi Sleep For Virtual Reality Lovers?
For Virtual Reality Lovers we are a team of people who aim to give you all the best information about Virtual Reality.
What information do we share?
We share everything you need to know about virtual reality, tips, prices, features, guides and much more !.
🤖What are the best virtual reality products?
We have the best information section on the best virtual reality products.



This work is under a Creative Commons Attribution-Non-Commercial-No Derivatives 4.0 International License. 2021/primerpaso.me X
Check out our best articles!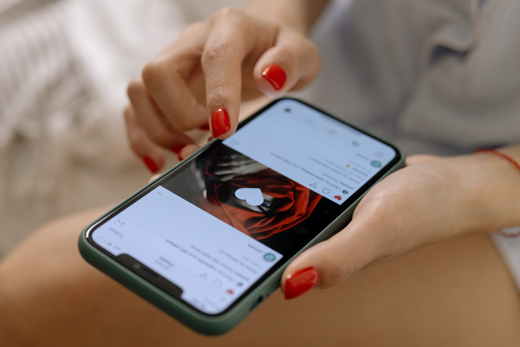 How to grow an Instagram page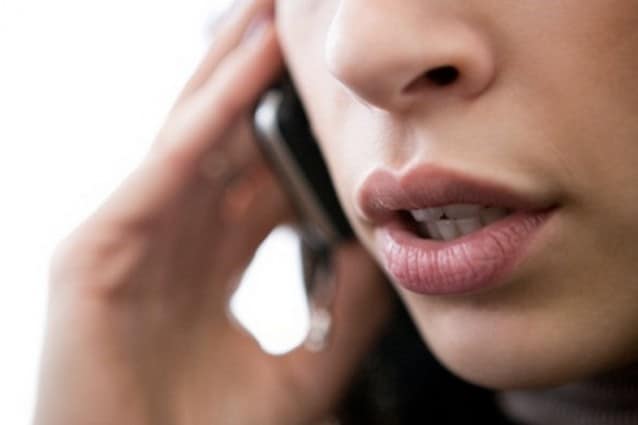 How to find out the number of an anonymous call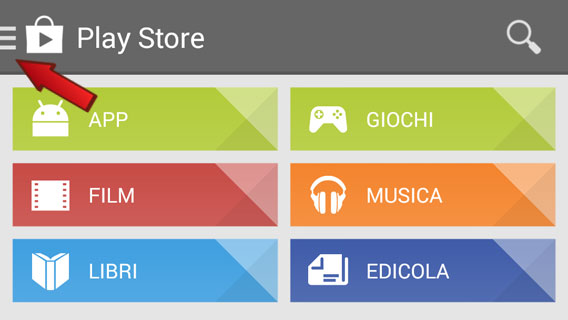 How to remove automatic app updates on Android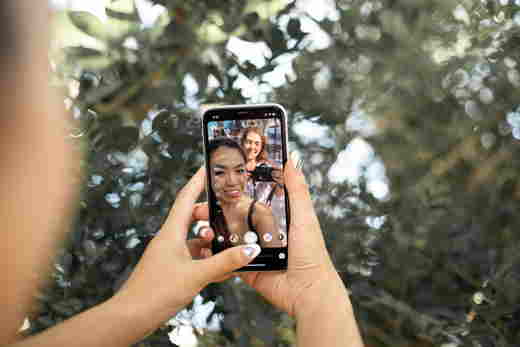 How to take photos for Instagram