If you take mobile devices with us, it is possible that they will be stolen from us. There is a program called Prey which helps us to recover them, obtaining some data even after their loss.
To use Prey you must first download and install it on our mobile devices. We can find it both in the various online stores and in the Download section of the website www.preyproject.com.
The site also allows us to log in through which to check the status of our devices.
Let's connect to the website www.preyproject.com and go to the Download section to download the version of Prey that best suits the characteristics of our mobile device. We start the installation and after choosing a username and password, the program registers our credentials and connects the device to them. A message tells us that everything is working.
As for ours smartphone, let's connect to the Store of Google Play and look for the Prey application. Download it and let the installation complete and then launch the program. We choose to log in as Already a Prey User, then enter the email and password we provided on the laptop. We also choose Activate in the Extra Security screen.
The next screen offers a summary of the settings. Unfortunately it is not available in Spanish, but we choose Extra Security and activate Uninstallation Lock.
access the Prey site, the address is indicated above, all we have to do is enter the e-mail address and password, the same credentials used for registering mobile devices.
The free version of Prey allows us to use the service on three mobile devices and receive a maximum of ten reports. The devices are listed on the right side of the screen. By clicking on any device we can see its details and, in the card main, change the security settings. We can also take pictures with the webcam.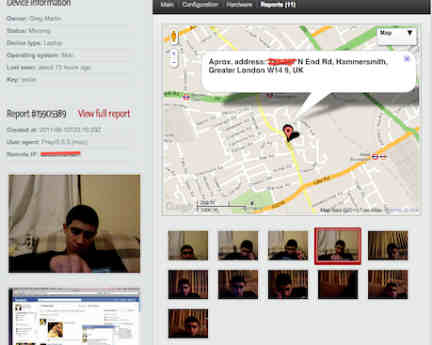 The configuration allows you to choose whether to check files as well and whether to take screenshots. When we have decided we click on Save the changes.
In the tab Configuration we can change the behavior of the application running on the device. All these options change according to the installed operating system.