BitTorrent ed eMule are the two favorite tools for web users to download anything.
They are both P2P protocols. Yet it is possible to exploit BitTorrent ed eMule in one program: BitComet. It is a client per file Torrent which stands out for the many options available.
BitComet is one of the most popular variants of BitTorrent and is not only free but also available in Spanish.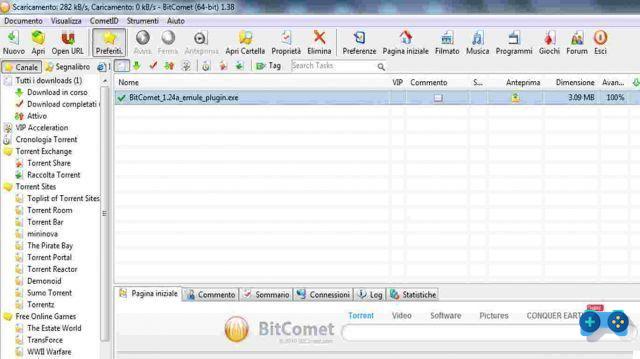 To take advantage of BitTorrent and eMule in a single program like BitComet you must first install it on your computer; no particular configuration is required, and the interface is very intuitive and easy to use. As a modern BitTorrent client, it allows the management of download and upload bandwidth, the ability to set a maximum number of simultaneous downloads, a "Fast Resume" service and support for proxy networks. Furthermore, by integrating perfectly with Firefox and Internet Explorer browsers, BitComet is able to transform itself into a perfect download manager with which to download all the files we want, even from FTP sites.
Able to integrate optimizations to ensure faster file downloads, BitComet as well as streaming previews of multimedia files and viewing videos in FLV format to convert them to AVI, WMV, MP4, iPod, PSP, is able to transform into eMule, through the use of a component called eMule Plugin.
How to install BitComet to take advantage of BitTorrent and eMule in a single program

After connecting to the program pages BitComet, depending on the version of Windows installed, you can download the versione a 32 bit o 64 bit via HTTP o via Torrent. Once the download is complete, open the exe file and after choosing the Spanish language, accept the user license and confirm everything by pressing NEXT and then Install. Attention because during the installation you will be asked to download other programs; uncheck the recommended software, click on NEXT and then end to end the process.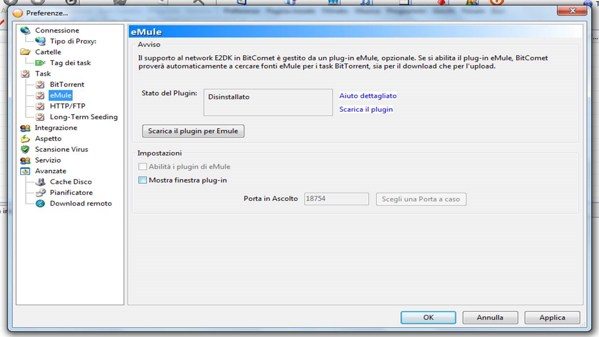 How to add eMule Plugin to BitComet

Open BitComet and go to the top menu by clicking on Tools> Options. In the window of Pref Renze that appears, select the item on the left eMule. Go to the right window and click on the button Download the eMule Plugin.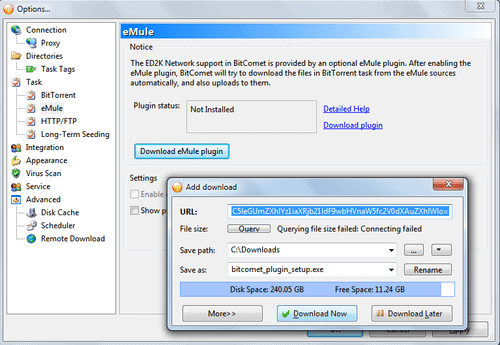 Go back to the main screen and click on the downloaded eMule Plugin and then launch its setup. Once the installation is complete, go to the top again Tools> Options and in the Preferences window under eMule you will find Plugin Status: Installed. Enable eMule Plugins And that's it.
The download protocol used by the Mule is now present in BitComet.