If you often get absent from the office and are looking for a way to send an automatic reply to emails that you receive daily during your absence, to warn those looking for you during your unavailability, the time has come to equip yourself and manage these situations in the best possible way.
Read on to find out how to set up Outlook auto reply.
Outlook automatic reply
send an automatic reply with Outlook you can take advantage of the rules in Microsoft's email. First go to Outlook and click on the button to create a new message. Go to the Text Format tab and select Plain Text.
Then type in the body of the message the text you want to set as an automatic reply.
Go to Filletclick your Save with name and select Outlook Template (* .oft) list Save like. Type a name for the message template and click Save. Now go in File> Info> Manage Rules and Alerts, or on Home> Rules> Manage Rules and Alerts ..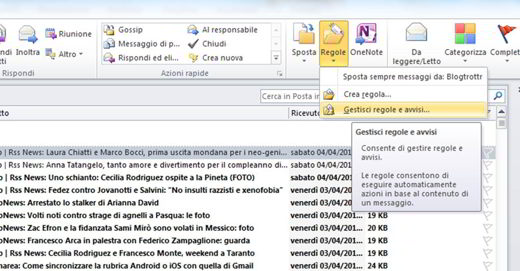 Click on New rule and Create new rule click on Apply rule to received messages. Click on NEXT and select the item Sent only to me. Click again on NEXT and in the window Actions to be performed on messages check the box reply using a specific model.
In 2 pass: edit the rule description by clicking on the underlined text and clicking on a specific template.
In Search in, select User templates in the file system and select the previously saved template.
Continue with NEXT and optionally select the checkboxes for any exceptions to the autoresponder rule. Click again on NEXT and 1 pass: specify a name for the rule, give a name to the rule you just created and click on end.
Now that you are done, if you need to be away for any reason, all you have to do is activate the rule leaving Outlook running by setting it to periodically check for new incoming messages.
Read also: How to set up Aruba Mail in Outlook