Does your smartphone or tablet surf slowly? Then, it will be useful for you to know how to set up DNS on Android and iPhone. It often happens that even using a good Wi-Fi network or a 4G data connection, it is not possible to surf at a sufficient speed or that a site that previously worked perfectly, is no longer accessible.
The problem may depend on the DNS used by the active connection, you will need to change them and to do this you can act manually or use apps to change DNS on android and ios.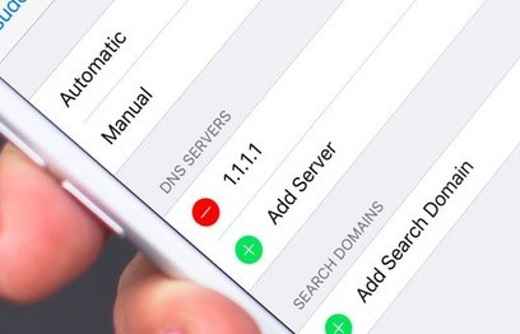 Il DNS server it is essential to be able to access the internet, as it has the function of converting URL addresses into IP addresses in order to allow the user to correctly reach the site to visit. It is thanks to the DNS server that it is possible to write a web address in letters without having to use numbers.
In addition, they are also checked so that we can offer a filtering system that is especially useful to block pirated or banned sites.
Read also: How to change DNS on Windows 10
By changing the DNS on Android and iPhone you can have a faster and free connection. The manual procedure foresees the modification through the network settings of the wireless connection, but not all smartphones allow you to access the reference menu with simplicity and immediacy.
In this case, you can use special apps to set the DNS automatically and change them for data connections as well.
Change DNS on Android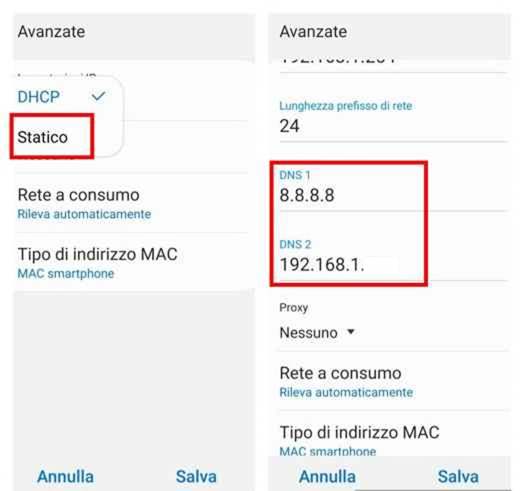 You can manually change the DNS is Android acting on the settings of the Wifi connection, while it is not possible to use this system on a 3G or 4G connection.
Connect to the Wi-Fi network and go to the entry Settings > Connections smartphone and find Wi-Fi, press and hold the name of the wireless network you are connected to (or tap the gear icon) and choose the item Edit network or, if you don't find it, Advanced.
From the menu that appears, click on the item below the field IP settings which should be or DHCP o Automatico and then select Static or Manual.
In the window that appears, set a free IP address or leave the default one, then find the Gateway which is the address of the router you are connected to (usually 192.168.1.1). Finally, do not change the default network prefix length and act on the IP addresses of the DNS server chosen in the fields DNS 1 e DNS 2. At the end press on Save.
How to set up Google DNS on Android
You can enter the IP addresses of server DNS Google: 8.8.8.8 and 8.8.4.4. Alternatively, you can choose any other secure DNS service, but don't use those offered by your carrier. Remember that the changes you just made are only for the Wi-Fi connection you have selected.
If, on the other hand, you want to change the DNS on data connections as well 3G or 4G, you will have to rely on some specific applications.
Change DNS on iPhone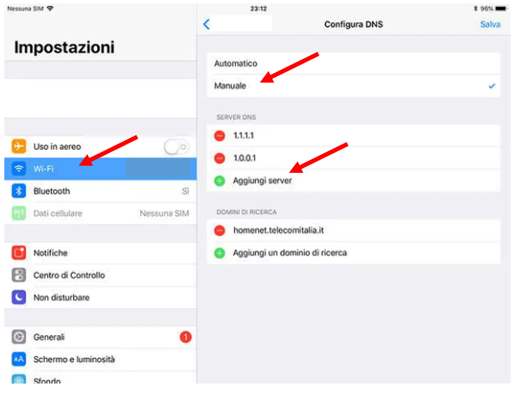 set up DNS on iPhone you will have to act, even in this case, on the Wi-Fi network, you cannot set a preferred DNS at the system level, but only change the settings of the individual networks.
Connect to the Wi-Fi network and via the menu Settings> Wi-Fi, click on the information icon next to the network. In the new window, tap on the item Configure DNS and chooses Manual, then add a new server by clicking on Add Server and enter the address in the appropriate field, try, for example, 8.8.8.8. Confirmation change it by tapping on Save.
App to set up DNS on Android and iPhone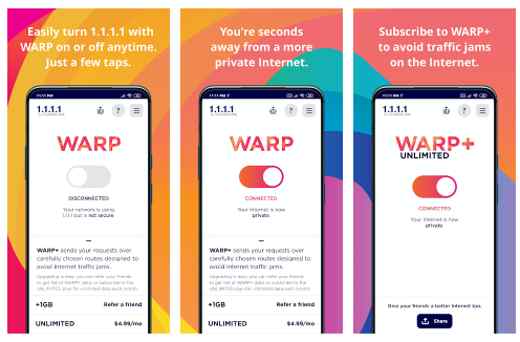 If you want change the DNS related to the connection 3G o LTE 4G of your Android smartphone or iPhone you will need to use an application that allows you to do this.
Cloudflare DNS is a particularly valid and effective app that allows you to change DNS on Android devices and iPhones and iOS tablets. DNS 1.1.1.1 was recently released, very fast and secure with an eye to privacy. DNS query logs are purged within 24 hours.
Cloudflare has released 1.1.1.1: Faster & Safer Internet for Android and iOS, with which you can automatically set the DNS servers 1.1.1.1, on all network connections and also use the DNS servers offered by Cloudflare which ensure stability, speed, security and privacy.
Other apps to change Android DNS are:
Burakgon DNS Changer
DNS changer by Blokada
Frostnerd.com DNS Charger
The best DNS
You can use the DNS you prefer, below we offer you a list of some of the best and most used for Wi-Fi and 3G / 4G connections.
Google DNS
Preferred DNS Server: 8.8.8.8
Alternative DNS server: 8.8.4.4
Cloudflare DNS
Preferred DNS Server: 1.1.1.1
Alternative DNS server: 1.0.0.1
OpenDNS
Preferred DNS Server: 208.67.222.222
Alternative DNS server: 208.67.220.220
Norton ConnectSafe
Preferred DNS Server: 199.85.126.10
Alternative DNS Server: 199.85.127.10
Comodo Secure DNS
Preferred DNS Server: 8.26.56.26
Alternative DNS server: 8.20.247.20