You need to get rid of yours used furniture and do you want to find a way to sell them? You received a gift hi-tech wrong or you want to sell toys o clothes well maintained but that you no longer need? Well, keep reading and not only will I explain to you how to sell used items online, but also how to earn as much as possible from an object that you would have thrown away or put in the cellar.

In addition to the well-known trading portal eBay, there are several private ad sites that allow you to sell items used that by necessity you have to give away, for example if you have used furniture to replace with new furniture, instead of paying for disposal, you can try to sell it on the Internet and earn something.
How to sell used items online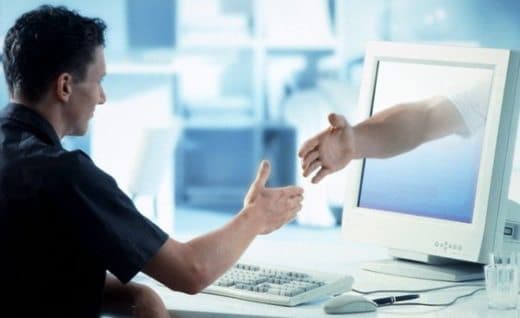 While eBay, the best known online auction site in the world, withholds a percentage of sales, ad sites such as Immediately e Kijiji they don't. Plus you can also consider professional sites or the creation of an online commerce store, a kind of virtual shop personnel to use for emptying your cellar e earn money on the Internet. These are often free services that offer the possibility of selling items but with limitations on the total number of products to be exhibited.
Ad sites between individuals
Immediately e Kijiji are ad sites between individuals that allow you to sell anything (within the limits of legality) without paying a euro and are easy to use. The first step to use them is to register to receive information about visits to your ads. After confirming your registration, by clicking on the verification link you received via email, you are ready to publish your first ad, not after carefully reading the terms of use of each service.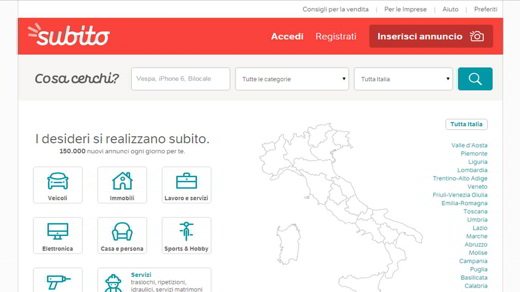 How to write an ad
Usually the services that allow you to sell used items online allow you to insert advertisements consisting of title, price, product category, images, description of the item and technical characteristics. As for the title, it must tell what you are offering. For example, if you are selling a white tablet, it will not be enough to write "White tablet", in the title you will also have to enter the model, the price and the state of conservation, "Samsung Galaxy Tab 3 white tablet in good condition 150 €".
The title must be approximately 60 characters long and exhaustive. Anything you have not included in the title you can insert in the description, which must always be clear, short and complete. Ideal would be a text of 10 to 15 words. As for technical information, it is always best not to omit it. For example, if you are selling a dress it is always good to specify the size and materials of which it is made, the same goes for a piece of furniture, for which you will have to specify the size and color of the wood.
The right words
When we sell an item you should be aware that other people are most likely selling an item similar to yours. To have a better chance of success, in addition to the completeness of the information in the description, you will need to be honest and not be afraid to describe any dents or defects, and use keywords in the composition of the ad. Keywords will help the buyer find you when they enter the name of the item they want to buy in the search field.
In this regard Kijiji provides a keyword viewer in This Page, showing you the ones most used by its users. Or you can rely on Semrush, an online tool for creating key terms that is a little more complex but still easy to use.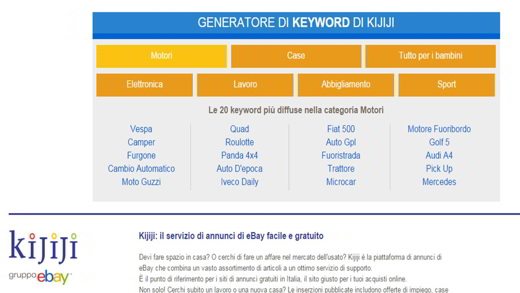 Choose the best images
For each item you sell always choose at least three images. When possible even more, although the maximum number you can upload will certainly depend on the site you are using. They must be real photos of the item you want to sell. Never take them from the Internet, never use photos of objects that have different technical characteristics. Furthermore, the photos must be taken with good lighting, such as to show the state of conservation and the color of the article. The advice is to take a photo that incorporates the entire article and two photos that focus on the details. In the case of a piece of furniture, however, it is good to insert a photo on the front, back and sides.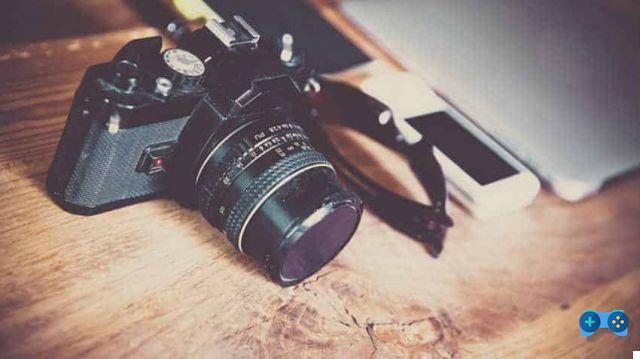 Provide your personal contact details
After writing all the details of the item to be sold and uploading the images, you will need to provide your personal contact details. Write your phone number and email, avoiding, however, inserting them directly in the description of the article. You could risk receiving unwanted advertising and a lot of telephone offers.
Wait for the article to be accepted and once the site has been verified, the ad will be published online. Be ready to answer all questions from potential buyers in order to build a good reputation.
How to pay with online sales
The trading sites between individuals allow the meeting between seller and buyer to complete the exchange. In this way, those who buy will be able to see the object with their own eyes before paying for it, avoiding second thoughts or problems related to shipping. For this reason sites like Immediately e Kijiji They are considerate "local", In the sense that they operate divided by areas or regions. In the event of a meeting between the parties, the transaction can also be made in cash and the issue of the receipt is not mandatory. If, on the other hand, we are dealing with a virtual shop or professional site such as Amazon, it is advisable to always release the receipt and opt for a digital payment using a reliable service such as PayPal, or a rechargeable card American Express like that of Spanish Post.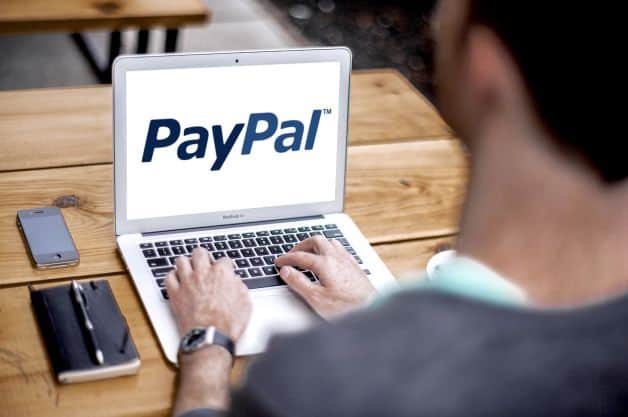 Tips for selling online on private ad sites
if devi sell used items online you must take into account important and useful factors to conclude the deal:
Check which are the rules of use of the site in order not to risk the cancellation or rejection of your ad.
Write a short but comprehensive ad that contains specific information about the item you are selling.
Do not omit defects or product malfunctions, sincerity means fairness.
Take a dozen photographs of the used item to sell and choose the best three.
Post the same ad multiple times on different sites
Set a price in line with the market by comparing your product with similar ones already on sale online.
Respond quickly to requests for information on the product you are selling.
Professional and international sites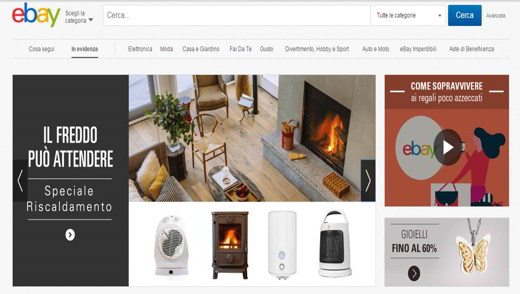 If you want to appeal to an international audience and do not want limitations related to private ad sites, you can turn to giants such as eBay and Amazon. Both offer the possibility to sell second-hand items on the Internet as non-professional users.
Amazon fa pay 1 euro per month plus a series of variable commissions depending on the object. In case you sell 40 products per month, you will have to pay Amazon 39 euros per month plus commissions for each item sold. eBay asks instead commissions equal to 10% if you operate without a shop and as a non-professional user, allowing you to sell up to 50 items per month within the same category.
How to open a virtual shop
The alternative to ad sites between individuals and professional sites is to open a virtual shop without spending anything, but you will have to deal with a small number of products that you can sell. In this respect, the most interesting services are: Jimdo e 1MinuteSite. Both allow you to open an e-commerce quickly. In the case of Jimdo you can sell 5 products per account, while in the case of 1MinuteSite, up to 3 products per account. By choosing the free option, these sites can place advertisements on your site. Alternatively, you can take out a subscription starting from € 6,50 plus VAT with Jimdo and from € 4 plus VAT with 1MinuteSite.
These sites guarantee the construction of a professional site but not the constant influx of users.
Selling online on Facebook
For those who frequent social networks on a daily basis, such as Facebook, and who have an interest in selling used items, it is possible to take advantage of the Marketplace Facebook or rely on the site called Flowering, which allows you to open a paid online store by operating on Facebook. Blomming costs 10 euros per month and offers a free trial for 15 days.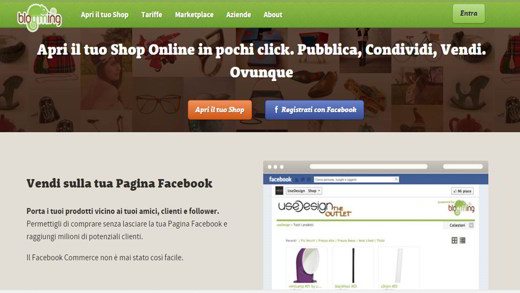 Visiting the Official site you can click Rates and choose Start your free trial from the Starter offer. The basic plan imposes a limit of 5 items, great for those who plan to empty their basement or garage and sell used things.
Other useful articles
Selling your own creations
How to make money by writing
How to sell your photos