Did you notice that someone has entered your Facebook profile? Don't know how to protect yourself and want to prevent this from happening again in the future? In this post I will explain to you how to see if someone has entered your Facebook profile.
If you don't know, Facebook provides additional security features that allow you to see if anyone has accessed your Facebook profile but also of I will protect your account adequately. Let's see how to do it.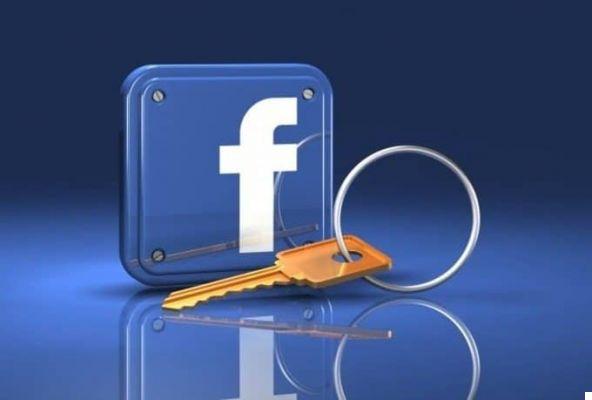 Set a strong password
Your account settings Facebook, can be reached from both PC and mobile device, to access them from the computer just click on the arrow at the top right and choose Settings. The screen will open settings General account. Use an email address that you check regularly and if you haven't already set a strong password and difficult to break.
Choose a word at least 6 characters long and write it with a capital letter; then add 3 or 4 digits that are not in progression and have nothing to do with your date of birth.
Access Notices
Once the Settings General click Protection in the menu on the left. We enable access alerts by clicking Modification To receive one notification on Facebook or message to your inbox every time someone tries to log in with your credentials. You can also decide to provide a telephone number on which to receive a message at each entrance.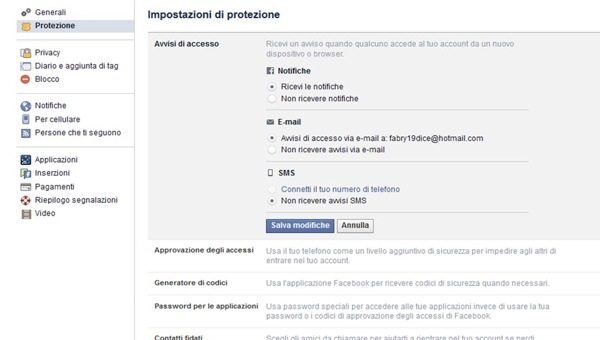 Every time you log into Facebook, the system will ask you to confirm that it was really you, so you can make Facebook remember your device or browser. To do this you need to open the email you received from Facebook and click Check it out Access. Then choose I have been / to me e Remember browser or register the device used. If, on the other hand, it is an access from an unusual place, since we are using another PC, you can choose not to save the information.
Place of Access

When you connect to Facebook from any device or browser, Facebook creates a secure connection with the server which ends only when you log out. All open sessions are recorded by Facebook and can be consulted on the page Settings of protection, going to the item Place of access.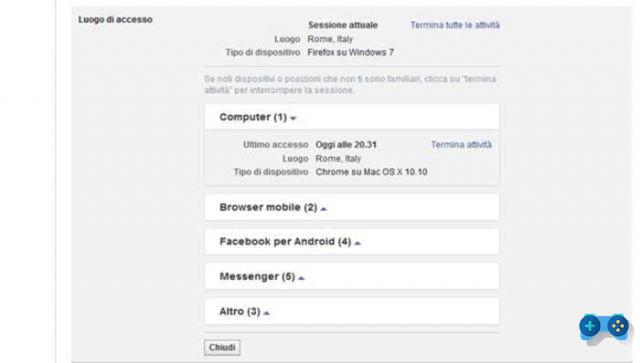 For each session it is possible to know which device or browser from which the connection was made and from where it was made. If you notice that a position is different from the one you usually connect from, you shouldn't be afraid, it is often an approximation error. The venue is calculated using the information publicly provided by our internet traffic provider. You only have to worry if you read a device that isn't yours.
For example, if Facebook signals you a connection from iPhone but we are with an Android tablet, or if someone is connected with Chrome but we are online with Mozilla Firefox, then you have to worry.
Approval of Access
By activating Login Approval, you can associate your phone number with your account. This way you can use your smartphone as an additional security measure to your password. You will only be prompted for the additional password when logging in from a computer or phone that you have never used before.
Facebook also provides the two-step verification to prevent password theft. When you connect from an unknown computer or device, in addition to the name usually used to access the profile and password, you will be asked to enter a 6-digit code. This is a similar system to that used by online banks to access online accounts. In this way, the attacker who intends to steal your access data would not have an easy time.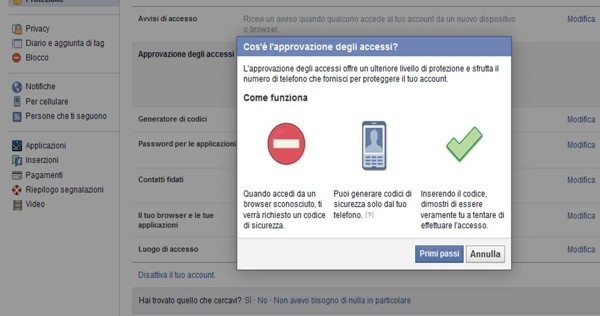 To activate this service you need to go to Security settings and click Modification at the entry Access approval and then choose Request a security code to access my account from an unknown browser. Follow the instructions that appear on the screen and in ten minutes you will complete the operation.
Code Generator
To view a temporary key on Facebook, you can rely on the Facebook app. This security code is valid for approximately 30 seconds and works with iOS and Android. On the Security Settings page, click Code Generators and then Attiva. To complete the operation you must have a camera phone as you will need to scan a QR code. Faceook will also provide you with a security key that you will have to save in a protected place and that you can use in case you are no longer able to use the code generator.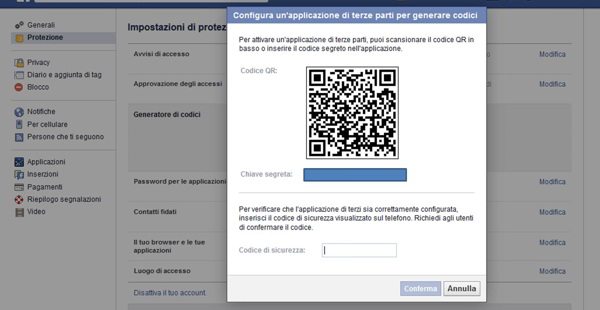 Alternatively you can opt for a third party program, such as Google Authenticator (generates two-step verification codes on your phone) which you can download from the Google Play store. To use it, after clicking on Code generator, you must choose Configure another way to get security codes.
Trusted Contacts
Remember to configure the Trusted contacts, are the friends to call in case you are no longer able to access your account.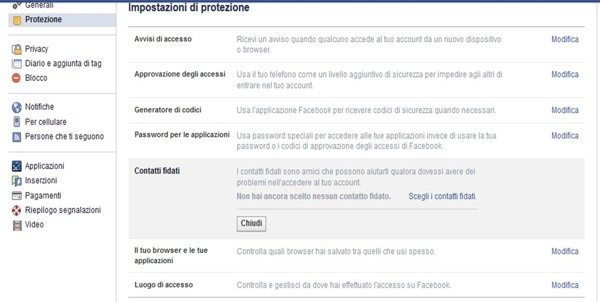 Anonymous browsing in the browser and the Facebook Antispam system
Another solution to prevent malicious people from entering your Facebook profile is to browse anonymously on browsers, to learn more about the topic you can take a look at this post: How to surf the web anonymously with Internet Explorer, Chrome and Mozilla.

The system antispam on Facebook it is continuously updated to protect users from potential scams or fraud. Despite this, it may happen that you receive messages or chats that invite you to click on link suspects. They are used to direct you to fraudulent websites. In this case, the advice is to avoid clicking on any suspicious link even if it comes from a trusted person.
Logout operation on Facebook
Last thing always remember to log out of your Facebook account. If someone logs into your PC, by reopening the browser they can easily enter your profile and read private messages, add photos, chat, etc. To avoid this, always remove the check mark from the item Keep me logged in on the Facebook login page, top right under the heading Email or telephone.
In conclusion, I recommend that you periodically check this: from the Security Settings page, click on Place of Access. Close all login sessions still in progress, except the current one, and choose the item Finish all activities. Your account is now secure.
Alejandro Crespo Martinez We are a specialized and passionate team of virtual reality. We have extensive experience in this area. We decided to create ForVirtualRealityLovers to share all our information with customers and users. We have quality information. You can find tips, guides, interviews, top products and much more! If you are curious, enter our site ForVirtualRealityLovers.com and discover the virtual world! 😉 What is the Revenue Sharing Model ❯
Articles related to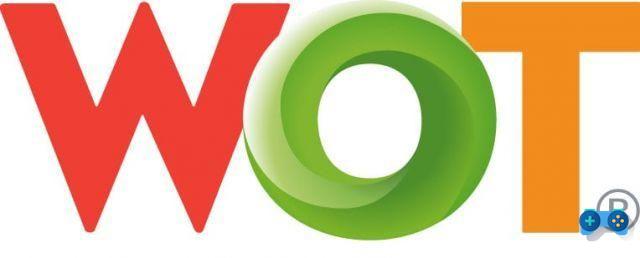 How to evaluate a site's reputation with WoT (Web of Trust)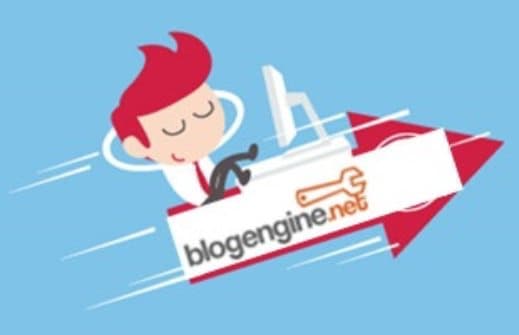 How to speed up a blog in BlogEngine.net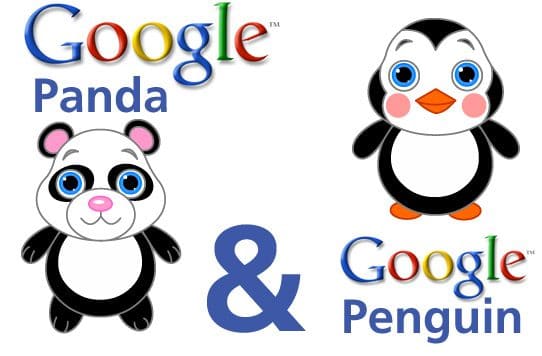 The algorithm revolution with Google Panda, Penguin Update and Google +1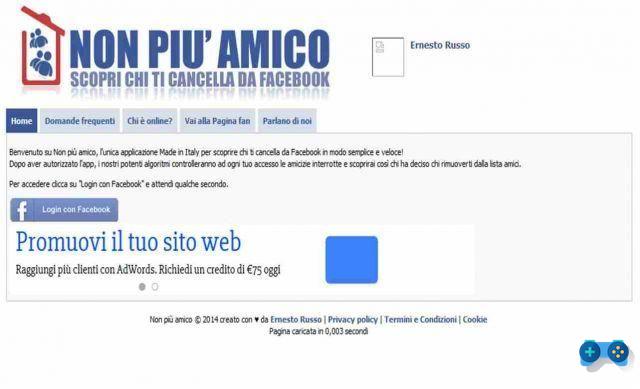 How to find out who deleted you from Facebook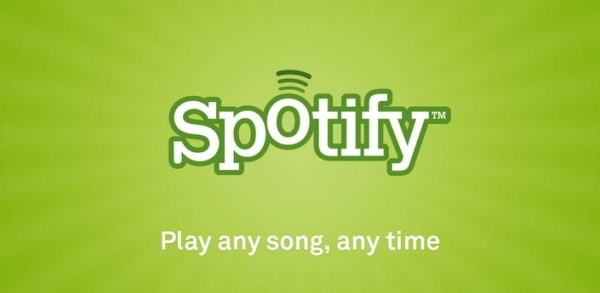 How to download free music from Spotify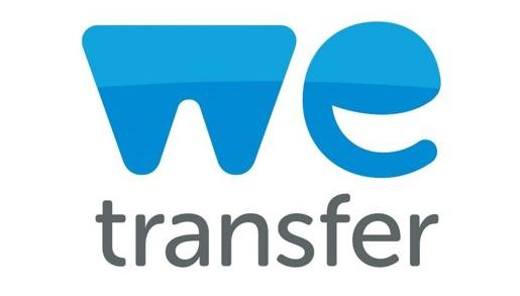 How We Transfer works
Add a comment from How to see if someone has accessed your Facebook profile
Comment sent successfully! We will review it in the next few hours.

Internet
How to share a YouTube video from a specific point
Xiaomi Mi4c: buying guide on GearBest
What is Mega and how to download files, movies and music
How to find out who bans us on Facebook
The new era of Apple with Mountain Lion and iOS 6
Useful tips for shopping safely on the web
Transfer large files with Facebook
The vocabulary of Web Analysis terminology
How to get lots of likes on a Facebook page
How to disable Javascript in Internet Explorer
How to synchronize Gmail contacts with Outlook contacts
Cinemalibero new address
EBooks and the revolution in the way of reading books
Slow connection: here's how to fix
Better Certified Mail: free and paid PEC
The complete list of Skype chat commands
Useful Resources for Webmasters
Personalized clothing: why it is convenient to rely on online printing services
How to use Google DNS
How to import Favorites into Microsoft Edge
❤️Chi Sleep For Virtual Reality Lovers?
For Virtual Reality Lovers we are a team of people who aim to give you all the best information about Virtual Reality.
What information do we share?
We share everything you need to know about virtual reality, tips, prices, features, guides and much more !.
🤖What are the best virtual reality products?
We have the best information section on the best virtual reality products.



This work is under a Creative Commons Attribution-Non-Commercial-No Derivatives 4.0 International License. 2021/primerpaso.me X
Check out our best articles!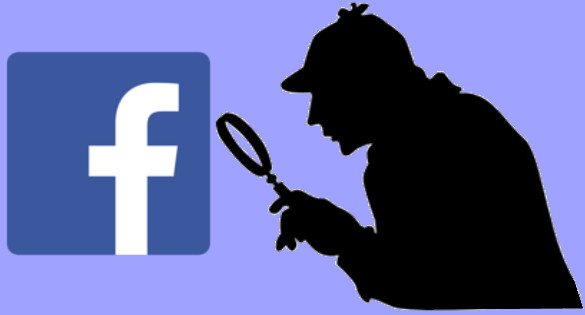 How to find out who visits your Facebook profile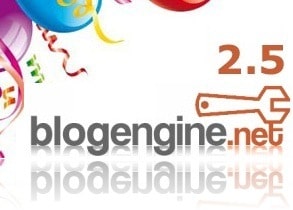 How to insert a donation button in Blogengine.net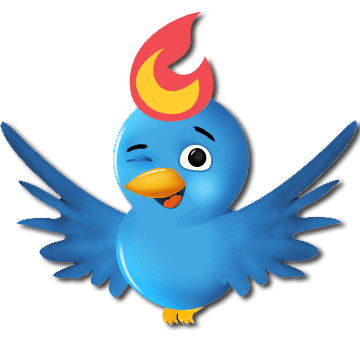 Track Twitter clicks with Feedburner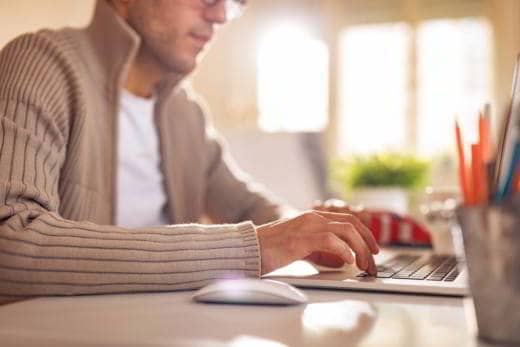 How to archive Outlook messages