Would you recover photos and videos on Facebook? If you don't know, the Zuckerberg social network, through a small function, allows you to download all the content you have shared over time: photos, videos, posts, conversations and much more.
If you are looking for a way to find some of the material that you have published in the past and which today is within the flow of information that is Facebook, I suggest you continue reading because I am sure that at the end of the reading you will discover how to recover photos and videos on facebook in a few simple steps and without necessarily understanding much about computer science. Make yourself comfortable and take a few minutes of free time. Are you ready? Let's begin.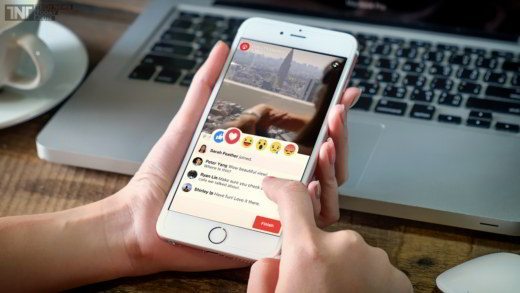 For some time, Facebook has had a special feature to download a copy of your personal data, that is, a compressed archive with a fair amount of files. The rescue operation is not difficult but rather laborious.
All you have to do is log into Facebook with your personal data and then click, at the top, on theicon with the freccia verse il basso. From the drop-down menu select Settings. In the Settings window, make sure you are on the tab Your information on Facebook, Click on Show next to Download your information.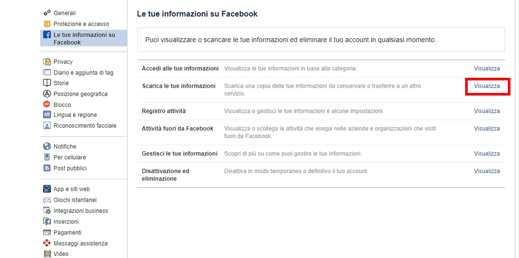 In the following window you can download your information and get a copy of the content you shared on Facebook by clicking on the button Create files, to confirm the download request.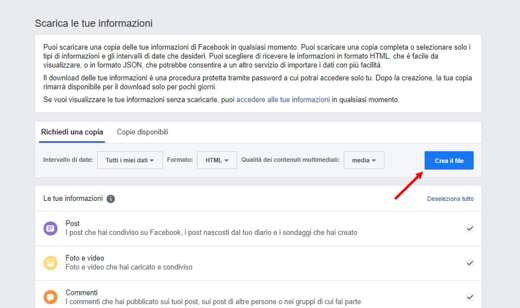 A message will appear indicating that the copy may contain more than one file. In addition, an email will arrive informing you when your copy is ready for download on the device of your choice.
After the download request, it will appear with Pending in the Available Files section in the Tool for downloading your information.
It is not possible to quantify the time required for the creation of the archive, usually for recover photos and videos on Facebook it takes a few minutes. When you receive a new email or a notification on Facebook with the warning that the archive is ready, you can download a copy of the required files by following these steps:
Access the section Available files the Tool to download your information.
Click on Download and enter your password.
You can also click on Other to view information about your download request, such as format and expiration.
In the downloaded content you may also find photos uploaded to Instagram.
Other useful articles