Record our conversations on Skype, both to write down important information and to protect yourself from harassing people is very easy. To do this you just need a small free program called MP3 Skype Recorder and the version Skype desktop downloadable from the site www.skype.com/it/download-skype/skype-for-computer.
Conversations are saved in MP3 format and can be played on any device.
How to record Skype conversations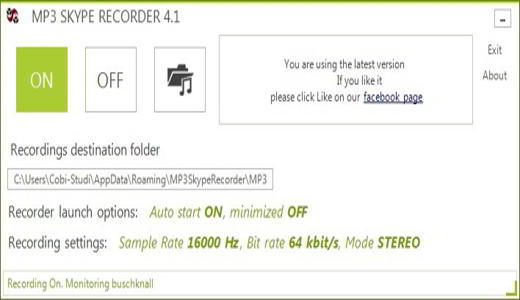 We log into Skype (Desktop version) with our account. Let's download the program MP3 Skype Recorder 4.0 RC by double clicking on MP3Skyperecorder4RC.exe and we complete the wizard.
MP3 Skype Recorder has a Windows 8-style tiled interface and is very simple to use. First we set the folder where we want to save the conversations in MP3 format. just click on the path and set the new directory.
Click on Application launch options to set the settings for MP3 Skype Recorder: by checking the first item, the app will automatically start with Windows and will always be ready for use; the second item, on the other hand, allows us to hide it in the taskbar so that other users of the PC do not notice its presence.

Recordings are saved in MP3. By clicking on Recording settings you can set the recording quality. In fashion we decide whether to record audio in mode Mono o stereo, While in bitrate let's set the data flow to be assigned to the file: a low value reduces the space occupied on the disk.
We put Mp3 Skype Recorder su On and start a call Skype. Our conversation will be automatically recorded and saved in the previously set folder. The MP3 file will be named with the date, time and name of caller and caller.
Other useful articles