Let's see what are the modalities that will help you discover how to make money with a website. In this period of crisis, finding a source or an additional income is not easy, the Internet represents a good opportunity to do so, but it is a vast universe in which it is not easy to make space and collect something.
There are many online articles that explain and suggest how to make money with an Internet site, for this reason we at SoulTricks also want to give our contribution and help those who are beginners to understand how to move to be able to make money with advertising on their blog or website.
Let's start immediately by saying that make money with an Internet site it is not a walk in the park. We add, however, that the ways to get paid are different, you just need to understand which one you want to take.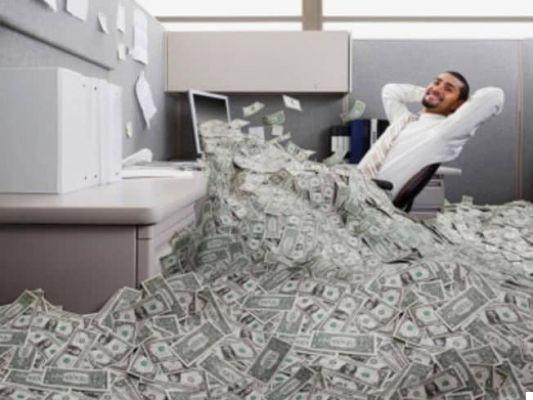 A starting point for a certain and secure income is traffic. This word indicates the amount of visits a site receives and determines its value. In practice, the concept is simple: the more visits a site receives, the more it will have an economic return, especially if the advertising is Google Adsense.
But how do you bring readers to your site?
Always choose topics with little competition
Share as much as possible on social media
Write original articles without copying them (Google penalizes copied articles)
Enable comments in your articles
Publish articles of about 2 thousand characters
Write about a subject we know very well
Google advertising
The main road to start make money with a website is to open an account on Google Adsense and host advertising banners on our pages.
Google pays without delay but also pays little. In the sense that to have a three-figure amount you need to sweat a lot and have a traffic of more than 100 monthly visits on your website. Gathering 100 people interested in what we write is certainly not easy, as it involves hard writing work. You will need to publish interesting articles to publish and share on social networks on a daily basis.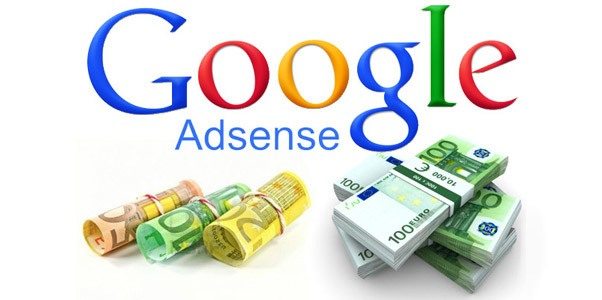 How Adsense Works
To understand how much you can earn with Google Adsense, you must first understand how it works. Google shows visitors to a site advertisements strictly related to what they are interested in at that moment. So if we're reading an article about sports, the banners will feature a message advertising a sneaker shop and so on. If, on the other hand, we read an article that talks about music, the banners will show objects related to that world, such as music CDs, concert tickets, etc.
This technique is called Contestual Advertising, or contextual advertising and is the real strength of this system. The advertisements that will appear on the site will therefore be strictly linked to what we will write, but not only. Google knows how to track people's tastes by memorizing searches made on the Internet.
Subscription to Adsense
To sign up for Google Adsense you must provide an email address and connect to the address www.google.com/adsense then click on Get Started Now. We fill out the form by entering the full URL of the website, for example https://www.SoulTricks.com. We then enter all the required information.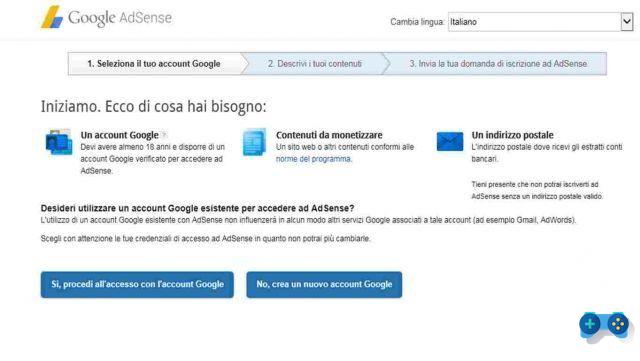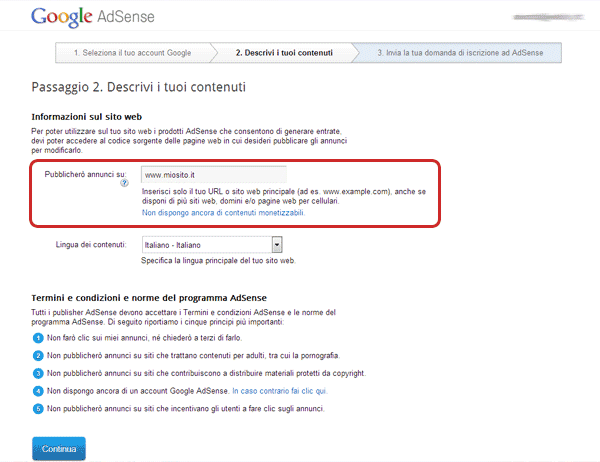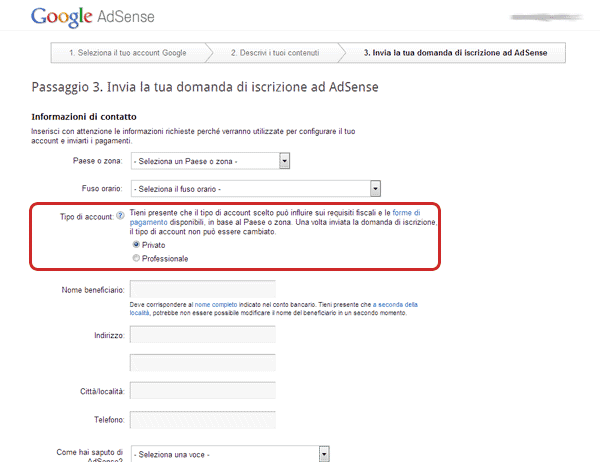 After entering real data click on Submit Question and wait for the response from the Google Adsense control center, which will arrive via email.
We will also need to prove to Google that we really own the website we are about to submit to the program. There are usually several ways to do this you are asked to copy a certain file to the web space that hosts our site.
In this way the Google software can have proof that we are the real owners of the site in question because we have allowed to copy a file in a space usually accessible to the operator of that site. Approval usually occurs within a week, after which Google banners will begin to populate the pages in the positions we decide. We keep in mind that not all websites are accepted by Google, in that case it is possible to subscribe to an alternative advertising service.
The insertion of Adsense banners
To insert a banner, you need to get the source code of the ad itself. To do this we need to access the site www.google.com/adsense, from the main dashboard, we open the tab My ads. In the sidebar we select the item Contents. Let's click + New ad unit, giving it a name. In Ad size, we choose the size of the ad to show. We click on Save e get code. We then copy the code obtained on our web pages.
All About Adsense Banners
Now that we have seen that getting a banner to be placed on our website, you need to know that the greater the advertising space granted, the greater the revenue generated. By placing larger Adsense banners you will certainly have more revenue. On Pastebin find the list of banners recommended by Adsense (measurements are expressed in pixels).
for customization of the graphic aspect of the ads you have to log in to our Adsense account and go to the section Ad units (In My ads). Here you can modify an existing unit or create a new one by clicking on the button, located at the bottom, Use custom settings. From here we modify the font and its size, the color of the text and the links of the ad to make them similar to the design of our site.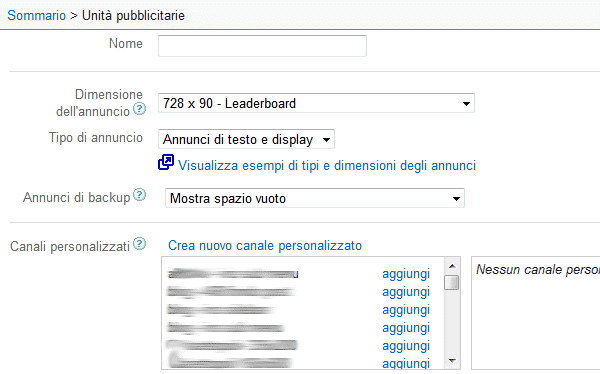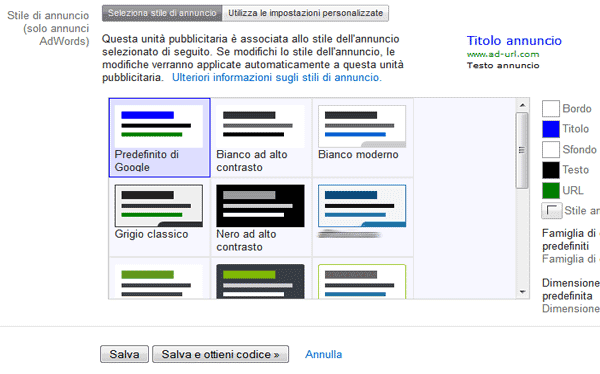 For the positioning, the ads must necessarily be positioned in the first part of the site, the one that is displayed without scrolling with the mouse. The most suitable areas are those where the reader's eye falls. Therefore it is advisable to place ads in areas:
title with banner 728 x 90
content of the article with banner 300 x 250 (in the middle of the article)
sidebar lateral with Skyscraper banner from 160 x 600
footer theme with banner 336 x 280 at the end of the article.
The maximum limit of banners that can be inserted on a single web page are 3. According to the rules of Adsense, in fact, it is not possible to display more than 3 ads at the same time. From the fourth ad onwards, the advertisements will no longer be displayed. Always comply with the rules of the Adsense circuit regulation by consulting it here: Adsense Program Policies.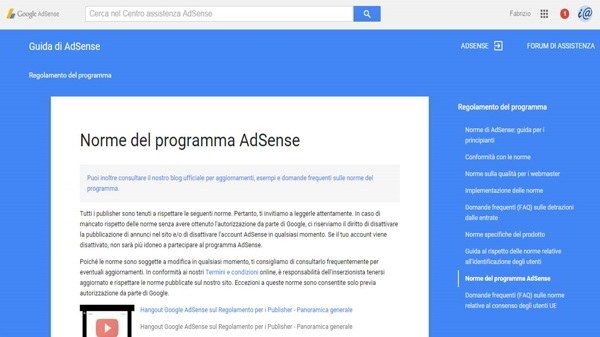 What not to do in Adsense
Adsense bans easily, in the sense that it is very easy to be thrown out of the service. From this point of view, Google is very strict and there are precise rules that if they are not observed will lead to a lifetime penalty.
The rules are basically two:
it is absolutely forbidden to click on the banner of your site
it is absolutely forbidden to let friends click on the banner of your site.
If Google detects the infringement, it will throw the smart man out of the service, giving him the opportunity to make an appeal that in 99% of cases does not lead to a readmission.
Clicks and Impressions
Website earnings are calculated based on two key concepts:
I Click are the number of times that a visitor interested in an ad clicks on the banner on your site to end up on the sponsor's page, while the impressions are the views that the site or page has. If 5.000 people come to our page, the site is reloaded 5.000 times and so do the banners that populate it. A higher number of visits therefore leads to a higher number of views and impressions of the advertising banners.
In addition to clicks and impressions, there are other factors that make you understand how you make money with Adsense:
CTR: Click Through Rate, is a value that indicates how much an ad published on the site is clicked in relation to the impressions and views of the ad or page.
CPC: Cost per Click, is the amount we earn for each click made on the ad.
RPM: Revenue per Mille, is the amount we earn for every thousand views. To calculate it, use the formula (earnings / impressions) * 1000. If, for example, in May you earned 12 euros from 4.500 views, the RPM is equivalent to 12/4500 × 1000 = 2,66 euros.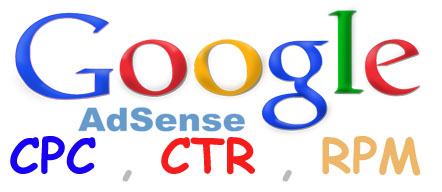 How much do you earn with Adsense
To understand how much to earn with Adsense after inserting it on your site, several factors must be taken into consideration:
The number of banners
The type of banner
The number of views
The number of clicks.
However, the topics covered by the site are also important because some are more valuable than others. The value is determined by the amount advertisers are willing to pay for their advertisements. A site that talks about football or gossip has to make more effort to monetize than a blog that specializes in something that few deal with. In that case, a smaller number of visitors generates more earnings because the topic is not widespread and has no competition. Depending on the topic a click can be valued from a few cents to a few euros.
Choose your niche
The value of a site is not determined only by the amount of traffic. The quality of visitors is another fundamental element. For example, if our site is niche, visitors will also be very interested and therefore more sensitive to the advertising that appears on those pages. In that case they will be more likely to click.
Earnings and Payments
To view the progress of the site with Adsense, Google provides the owner with a dashboard with related earnings. In order for Adsense to liquidate a payment is required accrue at least 10 euros in income, after which the steps of the payment verification procedure must be completed. On Adsense we click on thegear icon and select Secure, then we go up Settings payment. We select the desired form of payment. Depending on the payment address you choose, various options may be available, including:
Electronic Funds Transfer (SEPA)
Payment by check
Bank transfer
Western Union Quick Cash.
In the Payment forms available we click Add New bank account or on Add new form of payment. If we have reached the minimum payment threshold, € 10, we click again on the top right gear and visit the page Settings account. In the section Settings payment we click update the tax information and fill in the required data.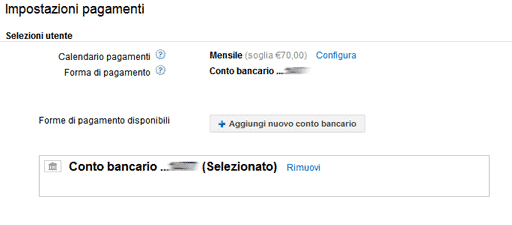 Google will send us by regular mail a letter containing a pin code (delivered within 2-3 weeks). Without this code we will not be able to verify our identity and address, so we will not be able to receive payments. Once we have received the PIN, we access the Adsense account dashboard again and follow the instructions given in the letter received.
If the current balance reaches the payment threshold by the end of the month, the 21-day payment processing period begins, after which the payment will be issued. Otherwise, the balance will be carried over to the following month, pending reaching the threshold necessary to request settlement.
Taxation with Adsense
In make money with a website, it is necessary to take into account the tax regularization of the payments received by Adsense. Subscription to the Google advertising circuit does not include the obligation to have a VAT number. Therefore, you can use Adsense and receive payments, as long as these do not exceed 5.000 euros of total income over the year (also taking into account income from other activities carried out).
In any case, all income must be duly reported to the tax authorities using form 730. If instead the gain in a year exceeds 5.000 euros, you must necessarily open one VAT number. The advice of those who start is not to immediately request the balance of payments to Adsense (which pays when it reaches 70 euros) in this way it will be possible to understand what gains can be had with this system and if it could lead to problems in terms of tax declaration.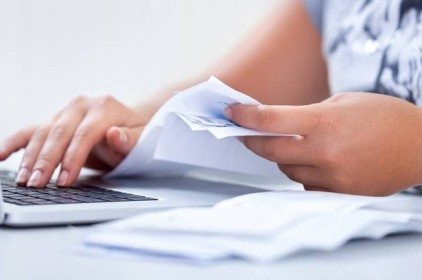 The Adsense ad alternative
Adsense is not the only advertising circuit and it's not the only one that allows you to monetize with your own website monetize with a website we can insert in addition to Adsense, which does not prohibit the establishment of relationships with other agencies, equally valid alternatives such as:
Juice ADV: similar in all respects to Adsense it pays after 60 days upon reaching a monthly threshold of 50 euros.
PopAds: allows you to insert a pop-up banner on your site, which opens automatically at the user's first click in any area of ​​the site. Pay with PayPal when you reach a minimum threshold of $ 5.
AdFLy: allows you to insert a banner in a link. When the user clicks on the link, he is redirected for a few seconds to an advertising page. Payment is made with PayPal upon reaching a minimum threshold of $ 5.
AdMob: exclusive to mobile apps. It allows you to monetize by placing advertising banners in your app. It belongs to the Google circuit.