In this exhaustive guide we will help you understand if it is actually possible to be entitled to a revenue and, if so, how to make money on TikTok. The journey to its discovery continues: let's continue!
TikTok, formerly known as Musical.ly, is a free application which, since 2019, is literally driving millions of users of any age crazy. It consists of a social media where short videos are shot and posted for entertaining purposes. The latter mainly follow the trends launched: challenges, dances and jokes.
With TikTok it is very easy to have fun, regardless of age. It has achieved so much notoriety that it has now become a real job, carried out by the so-called Tiktokers, always ready to adapt to every fashion in order to keep the views high and retain their followers. And this is how this new social platform also becomes a monetization tool.
Despite the statements just enunciated, not everyone knows the truth behind this job: certainly there is a lot of curiosity. Let's find out together, then, if it is really possible to get even important figures or not and, if so, how to make money on TikTok. Read on to access your personal guide.
Is it really possible to make money on TikTok? Here we say in all honesty how things stand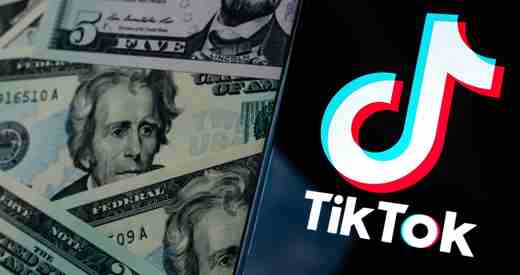 From this point, the money issue linked to the world-famous app begins to be dealt with in depth. It is worth telling the truth immediately: yes, with TikTok it is really possible to earn real money. There are several methods, some simple while others more targeted, to get to accumulate a certain amount of money, which will be transferred directly to your PayPal account. Now you will surely be curious to understand how it works and what activities must be carried out to make money thanks to this social media. Don't worry, we explain everything to you.
Requirements for earning with TikTok
To make money with TikTok you must meet the following requirements:
Have a profile on the platform.
Be legally resident in Spain.
Be of legal age.
Have a PayPal account linked to TikTok.
Have no connection with our company, or with any of our affiliates, subsidiaries, advertising, promotion and fulfillment agencies, including through an employment contract, yours or any of your family members.
The easiest ways to make money on TikTok
TikTok can be defined as an incredibly cutting-edge application. Although it is now installed by millions of users and on the one hand it would not even need further advertising, it is not satisfied. Its brilliant creators have managed to find another methodology to attract even more people to discover the app. This consists of the reward users who regularly use the platform.
Therefore, how to make money on TikTok? All, or 'almost' all, occurs through a subspecies of TikTok's exclusive virtual currency, as well as diamonds e rubies, which we will talk about later, which will later be transformed into real money in the corresponding national currency.
For the first simpler methods, the gain is not very high: it is cents which, however, once accumulated, allow for a pretty good figure.
The first best known is that of invite a friend to join this social network, through a specific link provided directly by the app itself. The invitation can be sent to up to ten people. For each friend who agrees to register via the shared link, they are received 0,50 cents of euros. So, if everyone were to accept, they would immediately earn five euros.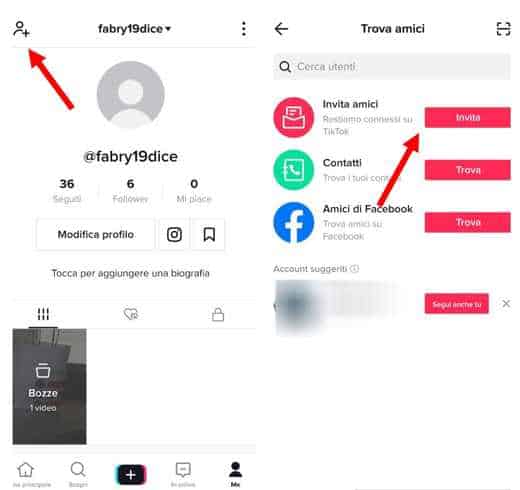 To invite your friends, go to Me> little man icon + (top left)> Invite friends, click on the Invite button.
By clicking on the 'Invite' button on the page TikTok you will see the Your Invitation Code

Make sure your friends paste it when signing up.
If the New User to whom you have recommended TikTok downloads TikTok and registers within ten days of receiving your Invite Code, you will be eligible to receive a Reward of 20.000 Rubies.
Even a so-called was arranged boost, which allows you to receive a extra bonus if the friend who signed up via invitation, watch for at least three days ten minutes of video every day. The reward for this activity amounts to 2,50 €. These are only the first steps to have a small income given by the simple use of the application, which thanks you and rewards you for using it.
There are, however, still other steps to earn more money with TikTok. Before even getting to focus on the real works of professional Tiktokers, let's talk better about the digital coins belonging to the app: the diamonds and rubies.
Read also: How to become famous on TikTok
Diamonds and Rubies: what they are and how to get them on TikTok
As explained in the previous paragraph, TikTok has generated a real virtual currency to be used exclusively within it. There are two main currencies, which take the name of Diamonds e Rubies. They represent an effective user loyalty system, which pushes the latter to continue to stay on the application. Diamonds and rubies can be accumulated through simple actions usually daily, which are carried out with a low use of time and effort.
Let's go in ascending order:
100 Rubies: can be found by sharing the link provided by TikTok on at least one other different social media. Furthermore, this figure is obtained by reading the regulations prepared.
200 Rubies: Received when you spend at least one minute a day watching published videos.
300 Rubies: obtainable by watching three minutes of content a day.
500 Rubies: they are taken with ten minutes a day dedicated to watching videos, but also with the publication of content on the personal profile.
Considering that these are operations that are carried out unknowingly, thanks to the high level of entertainment held by the app, it is really easy to earn these coins.
Without even realizing it, maybe you have a large amount of Rubies in your wallet. And here comes the distinction between Ruby and Diamond.
A Ruby is exactly equivalent to 0,01 of a Diamond. The latter, on the other hand, corresponds to 1 €.
retention
At the same time, TikTok offers even more ways to earn, including the Daily check-in (where you can to check the number of diamonds and rubies you have obtained in the last week with the Check In Award) or the completion of some missions which vary continuously. More than anything else, it is a game to have fun with and earn some money for.
I New Users who have successfully entered a Invitation Code, that is, they downloaded TikTok from the March 9, I can get a reward by running a specific Mission as a loyalty business. The missions are displayed on the page TikTok..TAC! and are listed under the heading "Check out the other missions".
Upload a Profile photo on TikTok (1.000 Rubies). It can be completed 1 time.
Viewing videos on TikTok for at least 10 minutes a day (500 Rubies). It can be completed 7 times.
Publication of one video per day on TikTok (900 Rubies). To be completed twice.
Follow two recommended profiles per day (100 Rubies) Must be completed 7 times.
For further information, I invite you to read the rules of the TikTok..TAC! Awards program.
The TikTokers: who they are and how they earn
TikTok also has its army of enthusiasts who produce extremely interesting content, capable of attracting a large number of users. The latter receive a remuneration that goes well beyond a modest sum: it is a real job that has a sometimes considerable monetary correspondence. But what exactly should they do? What are the purposes behind the published videos? Here is the truth!
The work of the TikTokers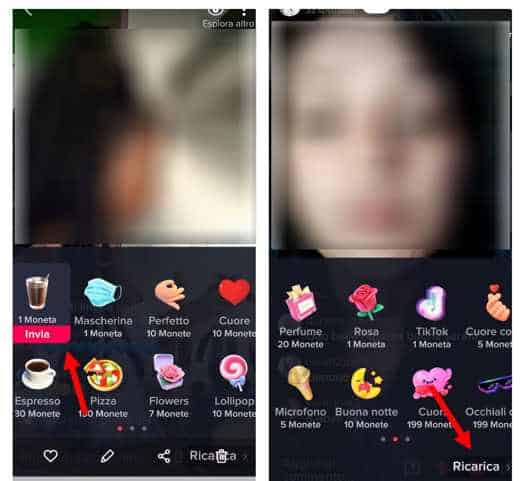 When a TikTok user has a passion so strong that it turns into a talent, the application takes it with it for categorized jobs in the world of Marketing. Among these activities are theInfluencer Marketing,affiliation, the live streaming and selling merch.
THEinfluencer is a profession now known to the whole world, where the number of followers will lead to being noticed by large companies, which consider the rate of influence on consumer purchasing decisions to be very high.
Continuing, we have theaffiliation. It is a similar-collaboration, with which products and services are sponsored with the aim of succeeding in the sale, in such a way as to obtain a certain percentage.
Le live streaming they are nothing but direct. Here you can post wish lists from Amazon or other sites and users and sometimes fans can choose to give you a gift. However, it is a great strategy to increase the number of followers.
Finally the selling merch, is nothing more than the pure sponsorship of brands and their products.
How to make money on Tiktok while having fun: you really can
TikTok is now the future of online applications but also of jobs. In fact, he managed to detect the enormous potential of social networks and related works that have developed over time.
Now, just using the app you get gods prizes to be converted into real money. It definitely consists of precise marketing strategies, which, however, would seem to work very well.
It is very advantageous especially for those who spend hours browsing in search of videos on TikTok. To do this, you now get paid. And, moreover, you can decide to take the path of the professional TikToker, learning all the tricks of the trade and earning very high figures. In short, if you have not already done so, run to sign up on TikTok: have fun and accumulate money in a few steps!
Read also: How to sell on TikTok
How to check your balance and convert Rubies into Euros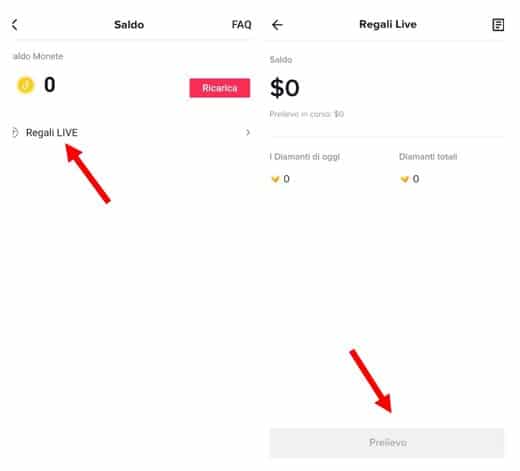 The TikToker can also receive prizes as gifts from users during live broadcasts or commercial broadcasts. Once the requirements for collection have been verified, it is possible to collect diamonds by tapping on the icon on the main screen Me> Settings and privacy (three vertical dots at the top)> Balance> Live Gifts e premendo il pulsating withdrawal.
After accepting, from your PayPal account you can choose the amount you want to cash out. Once the request has been processed, payment will be made.
For Rubies, the minimum balance you can withdraw, until recently, was 3500 Rubies (0,35 euros) with the possibility of making one withdrawal per week.
For any payment problems, you can contact TikTok support by going to Settings and privacy> Report a problem.
Read also: How to make black TikTok