Do you have a Nokia Lumia with Windows Phone or 10 Mobile and want to unlock it? Microsoft has now abandoned its mobile platform and who owns a mobile device with Windows Phone has the possibility to recover it? Like? Read on and make yourself comfortable because in a few steps you will be able to unlock Windows Phone and find out how to jailbreak Nokia Lumia by installing modified ROMs.
The term jailbreak it means evasion, and therefore the possibility for users to overcome all those limits imposed by smartphone manufacturers. By doing so you can install official apps or even act on the entire operating system of the device. The modding of Lumia is certainly a less widespread phenomenon than that of Android, but if you are interested in jailbreak Nokia Lumia 520 or many other Lumia phones (even the latest generation ones) then take a few minutes of free time and read carefully.
jailbreak Nokia Lumia with Windows Phone you can use the tool Windows Phone Internals. It is an application capable of unlocking all terminals based on Microsoft's mobile OS. The strength of the WPI tool lies in unlocking the boot loader of a Windows Phone or 10 Mobile device. After unlocking the boot loader you will be able to enable root access to the system in order to create customized versions of the terminal ROM.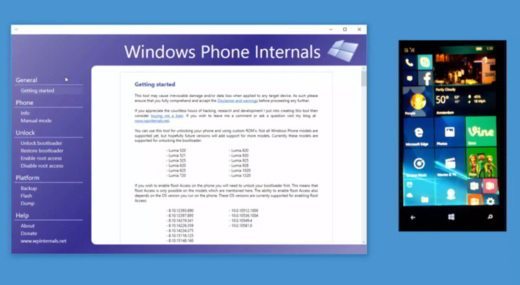 With Windows Phone Internals you can make full backups, unlock bootloaders, enable root permissions, restore the ROM, flash custom ROMs, install apps with root privileges and pirated apps, enable the display of the phone as mass memory and access the file system from your PC and much more.
WPI developer and XDA user, Heathcliff74 not only has it made the latest version of the app available to everyone but explains step by step, to expert and non-expert users, the use of the tool with videos that illustrate the introduction to the use of Windows Phone Internals and how to create a Custom ROM with ROOT privileges.
HOW WINDOWS PHONE INTERNALS WORKS
jailbreak Nokia Lumia you will first need to download Windows Phone Internals from the section Downloads of the official website. Then connect the Microsoft smartphone to the PC via the USB cable. Go to the section Download and download the file ff of the firmware of your device.
Move to Manual Mode and click on Switch to Flast-mode. From Unlock bootloader, in the left column, then click on the button Unlock.
Introduzione a Windows Phone Internals
How to create a Custom ROM with ROOT privileges
CONCLUSIONS
To conclude WPI is a free tool with development kit (SDK) and for the moment it is able to unlock the Lumia bootloaders: 520, 521, 525, 620, 625, 720, 820, 920, 925, 928, 1020 and 1320. We await new developments and new Lumia models to be unlocked.