Do you want to update the iPhone with iOS 9.3 but don't know how to do it? Do you want to try the innovations introduced by the new operating system for Apple mobile devices? Make yourself comfortable and carefully read the instructions I am about to give you, because in this article I will explain to you how to install iOS 9.3 on iPhone.
Together with the new iPhone SE, Apple has also presented the new operating system a few hours ago iOS 9.3, available for iPhone, iPad and iPod touch.
What is new in iOS 9.3?
The new operating system for Apple mobile devices has several new features such as the function Night Shift. This is a feature that, based on time and geolocation, is able to vary the light of the display and the combination of colors, avoiding eye strain during the use of the mobile device.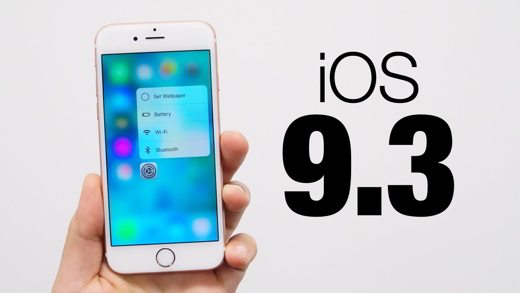 Other news concern:
A new menu in the Training, Weight and Sleep sections of the Health app to discover the apps to add to the data panel.
Siri support for new languages.
Protect your Notes app notes with Password or Fingerprint.
New 3D Touch shortcuts (covering Compass, Health, App Store, iTunes Store and so on).
More targeted content in the "For you" section on the News.
Support for cloud synchronization of iBook PDFs.
Function for exporting Live Photos as images.
New Feedback app.
How to install iOS 9.3 on iPhone, iPad and iPod touch
To update your iPhone, iPad and iPod touch with iOS 9.3 you need to go to Settings> General> Software Update. This way your Apple device will update and download it when you confirm the operation.
Before proceeding I advise you to back up your device with iTunes o iCloud.
How to backup devices via iTunes
To backup via iTunes, connect your mobile device to your PC or Mac. Save downloaded content from the App Store or iTunes Store by clicking on File> Devices> Transfer Purchases. Wait for the transfer to complete. On Windows, if you don't see the File menu, press the keys at the same time CTRL + B.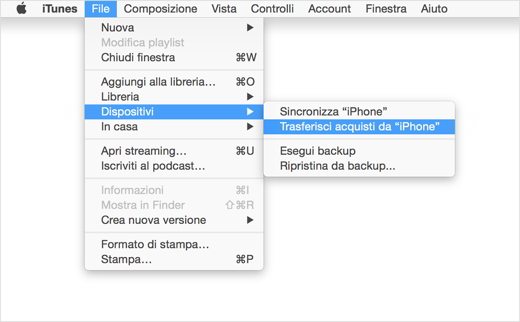 If you want to save your mobile device's Activity and Health data you will need to encrypt the backup by checking the box labeled Backup encryption [device] and creating a password to remember.
Write down the password somewhere, you will need it to recover iTunes backups. You can also decide not to save your Activity and Health data and proceed with the backup without encryption. Just click Backup now. On Windows instead you have to click on File> Devices> Backup.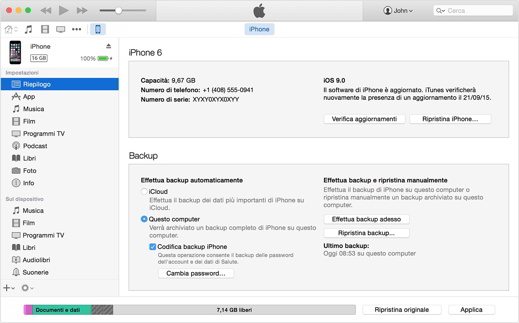 At the end you can check if the Backup was done correctly by going to iTunes on Preferences> Devices, to view the device name with date and time iTunes backed up.
How to backup devices via iCloud
To backup via iCloud connect your mobile device to a Wifi network. If you have iOS 8 and later go to Settings> iCloud> Backup, if you have iOS 7 and earlier it goes into Settings> iCloud> Backup. Check that the iCloud Backup option is on and tap Back Up Now.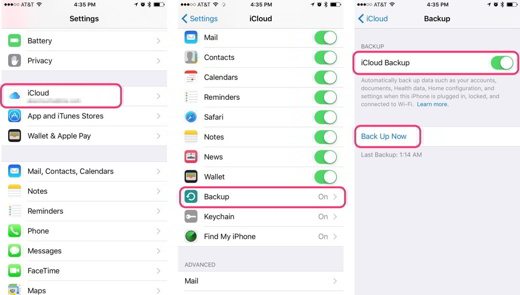 Do not close the Wifi connection until the process is complete.
To make sure the backup is successful, you can tap on Settings> Cloud> Storage> Manage Space and select the device to view the backup time and size.
With iCloud you can too perform automatic backup on a daily basis. All you have to do is activate ICloud Backup and check that: the device is connected to a Wifi network, the screen is locked and that you have enough space.
Direct links to download iOS 9.3
5 iPhone (CDMA)
5 iPhone (GSM)
iPhone 5C (CDMA)
iPhone 5C (GSM)
iPhone 5S (CDMA)
iPhone 5S (GSM)
iPhone 6
6 iPhone Plus
iPhone 6S
6S iPhone Plus
iPhone 4S
iPad Pro (WiFi)
iPad Pro (Cellular)
iPad Air 2 (6th Generation Cellular)
iPad Air (5th generation Cellular)
iPad Air (5th generation WiFi)
iPad Air (5th generation China)
iPad (4th generation CDMA)
iPad (4th generation GSM)
iPad (4th generation WiFi)
iPad mini (CDMA)
iPad mini (GSM)
iPad mini (WiFi)
iPad mini 2 (Cellular)
iPad mini 2 (WiFi)
iPad mini 2 (China)
iPad mini 3 (China)
iPad mini 3 (WiFi)
iPad mini 3 (Cellular)
iPad mini 4 (WiFi)
iPad mini 4 (Cellular)
iPad 3 Wi-Fi (3rd generation)
iPad 3 Wi-Fi + Cellular (GSM)
iPad 3 Wi-Fi + Cellular (CDMA)
2 iPad Wi-Fi (Rev. A)
2 iPad Wi-Fi
2 iPad Wi-Fi + 3G (GSM)
2 iPad Wi-Fi + 3G (CDMA)
iPod touch (5th-generation)
iPod touch (6th-generation)