How to have Memoji stickers on Whatsapp. A guide on how to create and send Memoji on WhatsApp with Android and iPhone.
What are Memoji
Memoji are nothing more than emoticons with our likeness created by the iPhone's front camera hardware to replicate the user's facial movements and make it easy to create moving and talking emoji recordings.
The stickers Animoji e Memoji they were initially only available for iMessage. Later Apple integrated Memoji stickers with the iOS keyboard on iOS 13. With the transition to iOS 13, these stickers are becoming popular on all Apple mobile devices and have become a real craze. To use them you will therefore need not only an iPhone but also iOS 13 e WhatsApp 2.19.90.
Have Memoji stickers on WhatsApp, Or the own virtual avatar, today it is becoming a real need for the user who loves chatting with WhatsApp or Telegram. That's why the Memoji which are divided into Static ed Animate.
Le Standard or Static they can be created by those who possess iPhone 6s and later and can be transformed into a sticker with your likeness. After creating them, the iPhone will provide for you a pack of stickers with the different facial expressions.
Le Animate they can be created by those who possess iPhone X and later and thanks to True Depth Camera they manage to transform your face into a real animated version. You can change colors, face, skin, hair, glasses and much more.
Read also: How to create an avatar on Facebook
How to have Memoji stickers on Whatsapp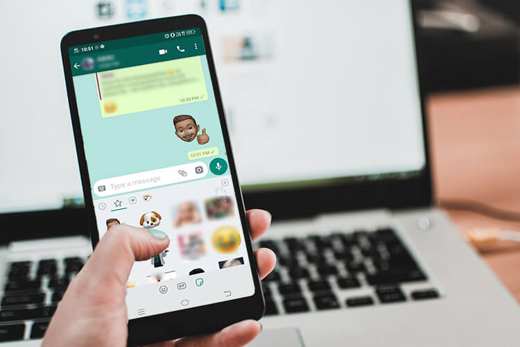 To create Memoji you need to log in to an iPhone and then in the app iMessage. Choose the smiley face icon and tap on menu with i three: shot. Immediately after you have to select the item New Memoji, where you can configure your avatar.
It is an editor full of details that can generate an animated figure with your likeness.
In third-party applications, such as WhatsApp, the Memoji sticker is already available in the menu where you can also find the classic emojis. By clicking on the emoticon icon on the keyboard you can scroll through all the emojis until you find your avatar.
How to create Memoji on Whatsapp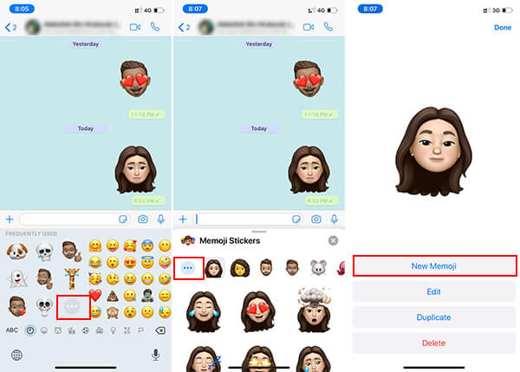 > Animoji and Memoji are made by Apple and are only available on Apple devices, including supported iPhone and iPad models. So, in case you want to have Memoji or Animoji to use with your Android smartphone, you must necessarily have an iPhone (or friends with iPhone) to create them.
Here's how to create a personalized Memoji with your face on an iPhone.
Launch the default keyboard on your iPhone from any window. For better understanding, open WhatsApp and tap the keyboard input text field.
Stop on the icon Emoji on the keyboard.
Swipe right from the keyboard Emoji.
Stop onicon with three dots in the sticker section Animoji.
From the popup Wall Stickers Memoji, tap the three-dot icon.
Stage "New Memoji".
From the next window, choose the features of your face to make it look like you.
Stop on "end"At the end of the creation of Memoji.
You can create such Memojis with different faces as much as you want and customize them whenever you want on iPhone.
Read also: How to send stickers on WhatsApp
How to have Memoji stickers on Whatsapp with Android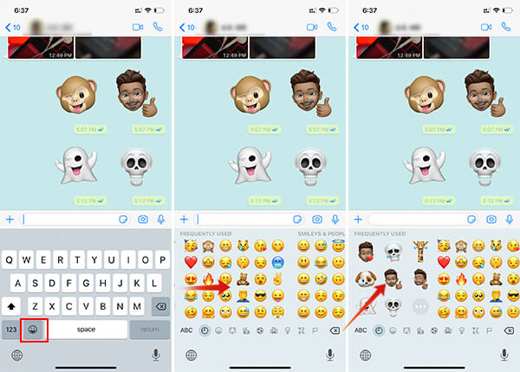 A valid solution to have Memoji on Whatsapp with Android is to have one sent to you animated version of memoji with your likeness from a friend of yours with an iPhone or iPad Pro.
By doing this you can save it on the keyboard and forward it to your WhatsApp contacts.
To send Memoji stickers as WhatsApp stickers from iPhone to Android smartphone you need to:
To open WhatsApp on iPhone and enter the chat.
Tap the input text field.
Touch the icon Emojis on the iOS keyboard.
Swipe right and tap the three-dot icon between Animoji.
Scroll and choose your face Memoji.
You can scroll up or down to find all Memoji with different expressions.
Touch each of Memoji's faces to send it as a WhatsApp sticker to your Android smartphone.
How to get Memoji on Android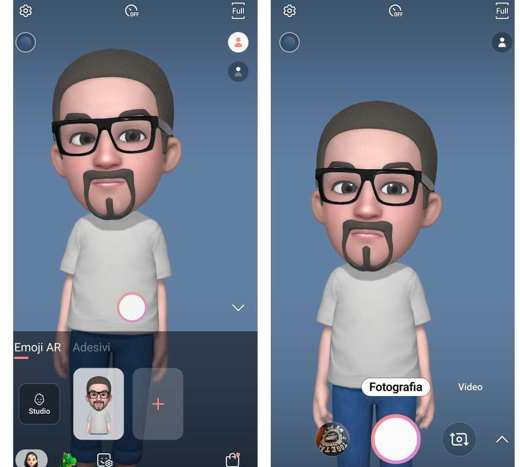 If you don't know anyone who owns an iPhone, but you have a phone Samsung Galaxy of the latest generation (eg. S9, S10 or A7 etc.) you can create your own avatar with Emoji AR.
Open the app Camera of your Android phone.
Click on Emoji AR at the top of the screen. If requested, enable the permissions of Emoji AR (if you have never used it, you may be prompted to download)
Toccata Create custom Emoji.
Follow the directions on the screen and take a selfie
Select the corresponding icon between woman, man, boy or girl and click on next.
Wait for the emoji to be created and then customize it (click the back icon at the end of each customization).
In Your name, look, Clothes e Accessories you can customize your avatar as you like.
At the end click on NEXT. Wait for the upload and click on Done.
Your custom emoji will be visible in the section Emoji AR.
The stickers, created with "Emoji AR", they can be added to the text of your messages or be shared on social networks (you may be required to download personal Emoji stickers as an app, called My Emoj Sticker):
Click the gallery icon Emoji (Stickers) in the keyboard.
Select an emoticon in the stickers gallery Emoji.
The emoji will be inserted into your message.
Alternatively, you can take a photo of your Avatar from the Camera app and send it to WhatsApp.
To delete the newly created AR Emoji you need to:
How to create Memoji on Android with Zepeto and other third-party apps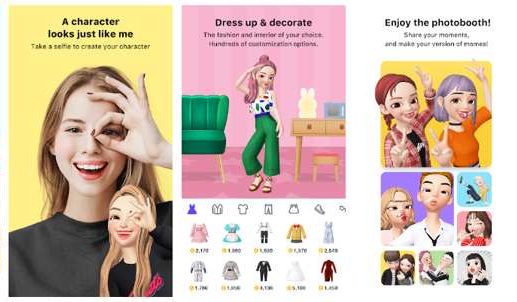 Alternatively there are apps that allow you to create Memoji from Android. Among the best on the list below, I recommend you Zeppetto, it allows to create an animated avatar of yourself proposing a very attractive interface that simplifies the creation of your 3D character. Just take a selfie, shape your custom avatar with various objects, create your mood and share it with friends and family.
Emoji Face Recorder
Bitmoji
Emoji maker
Video monitors
Other useful articles