You are perhaps looking for how to get a guy on WhatsApp? Here are the tips to write to the guy you are interested in and immediately impress.
With the spread of new telecommunications technologies, devices such as smartphones have become accessible and affordable for everyone. In fact, we are quite certain that you, the reader of this article, have one too, and it is likely that you are reading these lines from the touch screen of one of these devices.
The consequence of this trend is the birth of new ways of interacting with the world around us, which include both the methods of acquiring information and interpersonal relationships. The advent of the social network, the simplicity of communication through instant messaging services and apps and, more recently, the social distancing imposed by the health emergency, are all elements that have contributed to the search for new acquaintances, friendships and possible partners through computers and mobile phones.
Given the vastness of means by which you can meet new people online, here we will deal only with the specific case of the most popular instant messaging service in the world recently purchased by Facebook and, specifically, we will give you some tips on how to conquer a guy on Whatsapp.
Read also: How to conquer a girl on WhatsApp
Tips for getting a guy in chat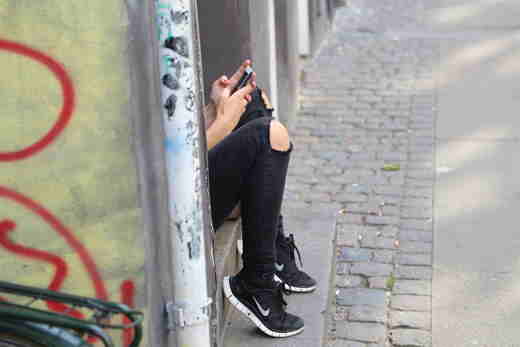 Regardless of the means of telecommunication used, that of courtship it remains an insidious art full of secrets and, for this reason, not easy to master. Several elements must be taken into account, but above all the first impression: after all, you know that saying that with a good start you are already halfway there, right?
Your business card, at this point, consists of theprofile picture and Whatsapp status.
Show off your best profile photo
Try to arouse curiosity but without seeming completely anonymous: a good idea for a photo that tickles the imagination of your interlocutor would be a nice close-up of your eyes, or your mouth. Or, even a snapshot, with your best camera, that captures a particularly happy moment in your life, maybe an artistic shot of a trip you've done recently, or just plain a beautiful day spent in a particular place.
As much as it is preferable to show your appearance, they can intrigue you too images of fictional characters, as the protagonists of films, TV series, cartoons and comics that you particularly like or represent you, as you could especially impress a man who, like you, has a tender heart and shares this type of passions, thus creating an interesting starting point for a stimulating conversation.
Read also: Beautiful and funny WhatsApp profile pictures
Phrases for WhatsApp status
Also the Whatsapp status can help you attract attention to the object of your desire, especially if you opt for one short but captivating message, maybe even nice, sparkling, instead of the usual quote taken from chocolates or from Facebook states. Don't be trivial and predictable, but be original: phrases of songs or even your thoughts and emotions may prove to be the best solution.
Read also: The best phrases to put as WhatsApp Status
Avoid excess abbreviations and emojis
The language you use in chat also belongs to everything that concerns the way in which you present yourself: whether you are a particularly young person or already mature, we strongly advise you to avoid abbreviations from sms, now out of fashion for at least 10 years, and improper use of the "k", as well as the excessive use of emoji.
In the first case, because the man you are trying to hook up with, reading your grammatically incorrect Spanish, full of abbreviations, may think that you are not educated enough, poorly cultured and, therefore, ignorant. Secondly, theabuse of emojis could pass you off for one infantile person, not to mention that, if not dosed in the right way, the smileys can weigh down the messages a lot.
Although they are certainly useful for communicating one's emotions and intentions, and the tone of one's voice, not always perceptible through short messages written in chat, if you exaggerate you will only get the opposite result, passing through not very serious person and confusing the future partner.
Write correct Spanish and don't be verbose
In short, we recommend that you always express yourself in correct Spanish, using a few emojis but put to the right point and, above all, of avoid writing too long messages. Especially in the case of the start of digital dating, don't discourage your him by writing immense papyri, but limit yourself to quick messages, breezy and not too verbose or heavy.
But now let's move on to the real courtship, or how to conquer a guy on Whatsapp.
Read also: Best chats without registration
How to flirt on WhatsApp
Lightness and provocation are the keywords of flirting, both live and on Whatsapp.
Avoid deep speech in the first few conversations
During the first few conversations, avoid too deep and personal speeches. Go for something lighter and more breezy, gradually progressing towards a deeper knowledge. If you want to ask some curiosity about him and his daily life, do it with provocative and sparkling messages, at times funny, so as not to seem too nosy and to permeate the conversation with a more jovial atmosphere.
Show interest in her life but don't invade privacy
In the choice of topics it would be advisable to prefer something that can be exhausted relatively quickly. This way you won't make the conversation unnecessarily burdensome, and also so you can move on to something else right away. Show interest in her life, without invading the private sector, so focus on yours tastes And its passions, the hobbies with which he fills his free time and the like. Never invade privacy, do not ask about his knowledge if he does not introduce the subject himself, opening up to you.
Be transparent and clear
Try to be as transparent as possible, since as much as ambiguity can help, in certain spicier contexts, in everyday life the double meanings and unclear messages could be misunderstood. Instead of winning the man of your dreams, you would end up offending him and turning him away.
Be yourself without opening up too much
In general, be yourself, don't put too much pressure on what to write to him. There naturalness it's another fundamental aspect in these cases, especially if you want your boyfriend to really know you for who you are.
Don't open up too much, though, because there is another fundamental element in the art of flirting: the mystery. This aspect is so important that it must be analyzed separately.
Read also: How Badoo works: free dating and chat site
How do you make yourself desired by message
Make you want it is certainly the greatest teaching to learn better how to get a guy on WhatsApp.
Try to be elusive and intriguing
After all, we know In love Wins who flees and, precisely by virtue of this popular saying, you too must be a little elusive. Never open up too much, give too many details about your personal life, except for a few bites thrown here and there, to intrigue and intrigue.
Don't be too helpful
In the most absolute way avoid being too helpful, do not always respond quickly, do not appear to keep your smartphone always at hand to answer him, step away from the conversation for a few hours, so you can take a breath and give it to him. After all, we don't always talk live, right? The same goes for digital conversations.
Don't be nagging
Being nagging is the first step to being despised, therefore constant and harassing questions are also to be avoided about what the other is doing in his day.
Showing you elusive, mysterious, he will be looking for you and also with pleasure, asking you more about what you like to do and about your life. And, maybe, he'll be the one to ask you out first.
If not, you can always make the first move, with a little courage and resourcefulness, by moving the relationship out of WhatsApp.
Other useful articles
Best dating apps to find a soul mate
Best dating apps for singles
How to find out if your partner is cheating on you