After helping you understand how to find out who banned you on Facebook, here is a post that will help you understand, instead, who deleted you from the Facebook friends list.
On the web there are many useful programs to know who deleted us from Facebook and that promise or guarantee the possibility of discovering who has blocked us, deleted us or who has inhibited us from viewing their bulletin board.
Unfortunately, many of these programs do not work or are scams to understand our Facebook data, collect e-mails, or install trojans and worms on the PC.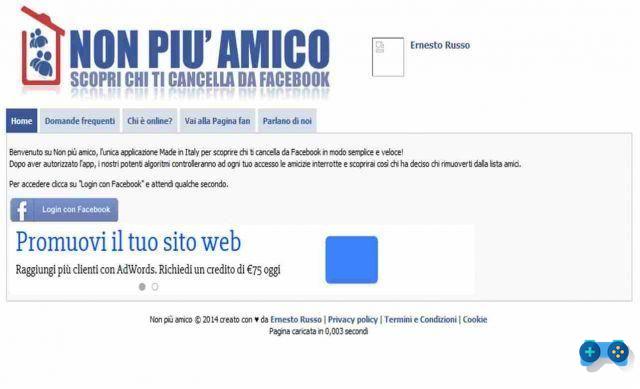 Fortunately, there are also programs that actually guarantee what they claim, as is the case with Nonpiuamico.com, a Facebook application, which helps us to understand who really eliminated us from their friends list.
Enough enter your Facebook data and the program will access your friends list and save it. Whenever you accept someone's friendship, you will have to perform the operation again, in order to update the list.
By visiting the site, the program will compare the recent list with the stored one and will notify you in case someone is missing.
In Nonsoloamici.com it is also possible to receive an email with the summary of the "lost" friends, a report that will be sent to your email inbox every two or three days.
Another solution is called Facebook Friends Checker. It is a add-on Greasemonkey to be installed on Mozilla Firefox.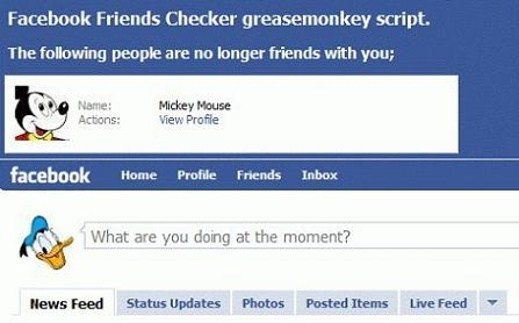 Connect to This Page and click the button Aggiungi to Firefox. Click on Install now and then Restart Firefox to restart the browser.
Now go to the website of Facebook Friends Checker and click on the green button install to start the script installation. In the window that opens, press the button Install and wait for the operation to complete.
To find out who unsubscribed you from Facebook, go to the main Facebook page and wait a bit. If a friend has deleted you from their contact list, a warning with a purple background will appear at the top of the screen.
If you want to change the time frame within which the script has to check if any friends have you deleted from his Facebook contacts, you have to right-click on the icon of Greasemonkey, in the Firefox status bar, and select the item Comandi Script utente > Set Time Interval To Check for Removed Friends.

In the window that appears, type the number of hours to have Facebook Friends Checker check your friends list and click on Ok to confirm. By typing 0 and confirming, Facebook Friends Checker will check the list of your friends each time the Facebook page is loaded.
Not satisfied with this solution? Then you can try Notify Unfriend for Facebook. This is a browser add-on Google Chrome.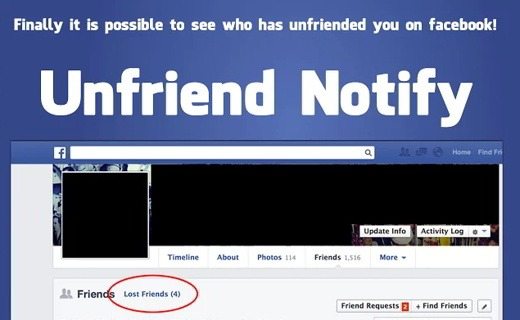 As Nonpiuamico.com e Facebook Friends Checker, also Notify Unfriend for Facebook keeps track of who deleted you from Facebook.
After installing Notify Unfriend for Facebook, go to your profile and then to the friends list and you will see under "Lost Friends"The number of friends who could unsubscribe you from their list over time.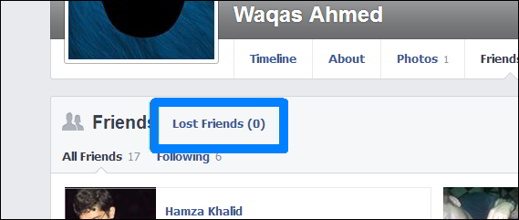 Other valid solutions are:
Who.Deleted.Me: is a free application that allows you to be notified of new friends and friends who have unsubscribed or who have deleted the friendship. It is not retroactive, and works from the moment it is installed. Make a daily comparison of your friends list, sending you an email when it finds any differences.
Twenty Feet is an application that monitors a Facebook account for free. It costs $ 2,50 and after registering you can allow the program to save your friends list. You will receive notifications whenever you lose friendships.
The extension for Google Chrome Unfriend Finder.Allows you to check who has canceled the friendship and is no longer part of your contact list. Also you can check if the user has been banned, deactivated or deleted by you.