Exchange items on the web without spending a euro through the Internet it is now becoming a real fashion. In these times of economic crisis, the barter , the primordial form of exchange, is becoming increasingly popular not only abroad but also in Spain.
Do you have items that you have not used for a long time such as mobile phones, books, musical instruments and more? If you don't want to give them away or sell them, or put them in the attic, you can exchange them for something more useful.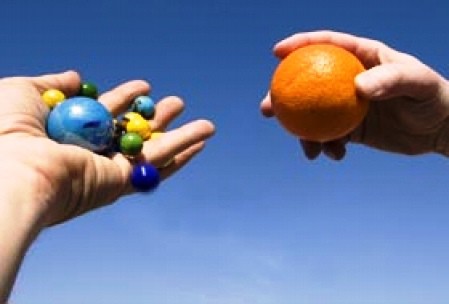 In this regard, I want to talk to you about a service that could do for you: it's called e-Barty. It's a online community with the structure of a social network, where users can meet and tell each other through the goods they would like to trade or own.
If, on the other hand, you have no goods to trade, there is the bart, that is one virtual currency which allows you to carry out any transaction within the site. Register and fill in yours wishlist, in this way users will be able to offer you an exchange.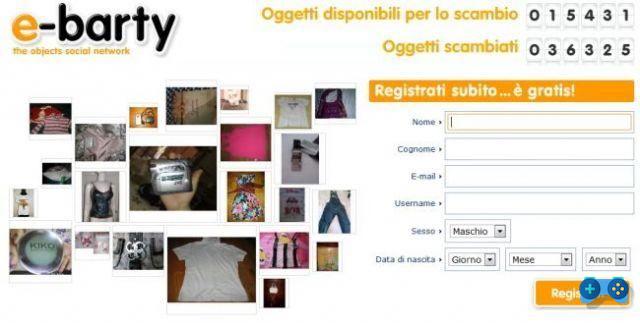 How to trade your items
Enter in e-Barty enter your details and click on Sign Up. On the new page, enter your Skype ID, accept the terms and click Register. You will receive an email confirming your registration.
Open the email, click on the link received and log in directly to the site e-Barty. Once inside you can change your password. Click on Continue and you will see your profile.
From the homepage of the profile "My e-Barty"Click on Publish an object. On the next page enter a name and choose a category, typing a comprehensive description. Choose the state of the object, the exchange value expressed in bart (one bart is the equivalent of 1 euro), the weight (important data for shipping).
If you want, you can also compile a list of items to exchange yours with, but be careful to choose groups and categories carefully. Choose the period during which you want to keep the exchange offer available.
At the end of the description phase of your product, click on Publish object to make it available to other users. You can of course enter other requests or modify and make changes and additions to the object already published.

On e-Barty you can not only search in groups and categories but through the search engine of the site you can find other people's proposals. Once you have identified an interesting proposal you can click on the link Evaluate other items to consult the list of goods desired by the user and get in touch with him. By clicking on Offer an exchange you can propose a fair barter and if the bart value is present, you can conclude the negotiation in terms of credit.
Exchanges in e-Barty, as in all bartering sites, can be synchronous e asynchronous:
The Synchronous Exchange it is when two people agree to exchange two objects: for example, I give Francesco a music CD and he gives me a book in exchange.
The asynchronous exchange it is when a person gives an object to another in exchange for a consideration in virtual currency that will be used to obtain a new object from a third person: for example, I give Francesco a music CD which gives me an equivalent value in virtual currency in exchange (8 credits or barty or swappydollars), then I use the counter value in virtual currency received from Francesco to take a book from Luisa.
Besides e-Barty, I recommend that you also take a look at these very interesting sites or communities on bartering:
Zerorelativo.com: is the first Spanish site for recycling, reuse, bartering and synchronous online exchanges. It becomes paid after the first exchange: € 18 fixed annual fee regardless of the number of exchanges made.
Swapclub.com: free registration and free exchange of clothes and accessories.
Reoose.com: it is the first eco-store of reuse and asynchronous barter that believes in a second life of objects and where money is not used. Community and quite large number of ads, asynchronous exchange with purchasable "credits" virtual currency. Registration with gift of 5 credits and intelligent charity with the possibility of donating the credits earned to a partner non-profit organization.

Coseinutili.com: Free registration and possibility to trade and exchange your used items online asynchronously in exchange for credits. It works like a Time Bank, the owner decides the valuation in virtual currency. Gift of 30 credits upon registration and the possibility of earning more for positive feedback on the item received. Unfortunately, the community is small and it is not possible to make synchronous exchanges.
Soloscambio.com: Quite large synchronous exchange community with quite a number of items. You can exchange books, DVDs, CDs, video games and many other items. Asynchronous exchanges cannot be done. Registration is free.