Tsu is a social network that promises earnings based on users' sharing of images, thoughts and videos. Born in October 2014 Tsu it is very similar to Facebook in design and basic functions, but it differs from it on the concept of income.
While Facebook and Twitter earn and thrive on the revenue that comes from the many sponsored links on their pages, Tsu has a completely different idea: since users share their content and entice the company to advertise contributing to the success of the platform, it is right that subscribers to the platform should receive a part of these earnings.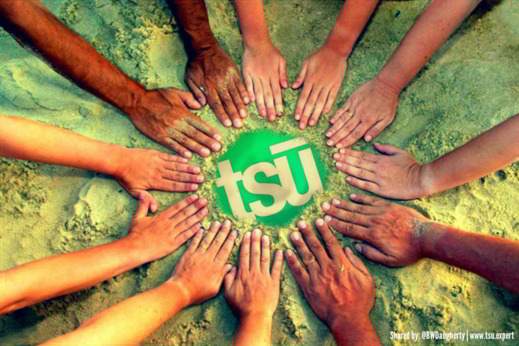 All this provided that users publish texts, images and videos regularly, expanding their circle of contacts and without forgetting to comment on the posts of others. Registration is free but not free. To enter Tsu you need a invitation from those who are part of it. And if you don't know anyone who uses it, and you want to experience it, you can search online for the many invitations, just read the comments to any article about Tsu on the Net or download the app from the official stores.
Many leave a link with the invitation to join the site. In this way you can subscribe to the site and they can have an economic advantage.
How Tsu works
After completing the registration by connecting to the official website, add a photo and some information to your profile. Tsu it is also widely used by artists, such as graphic designers and designers, because it has no restrictions on the possibility of self-promotion for free. Start using Tsu by telling what you want by inserting texts, photos or links to videos in the named field What's on your Mind (What's going through your head).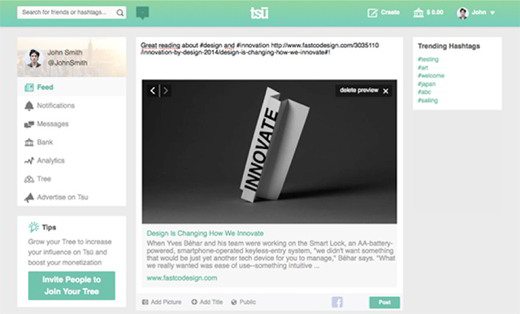 How do you make money with Tsu
Tsu only retains 10% of advertising revenue or at least this is what is stated on the site. The remaining 90% of revenues are distributed to users through a mechanism called "a pyramid". In practice, the social network redistributes earnings on the basis of a family tree. Complex mathematical calculations track how much content earns through advertising and the weight of each user within the group. If you have posted a photo and earned 1 euro on this, Tsu retains 10% and leaves users 90% to share. You will get 50% while 30% will be given to whoever invited you, 11% to whoever helped to enter Tsu who invited you and so on.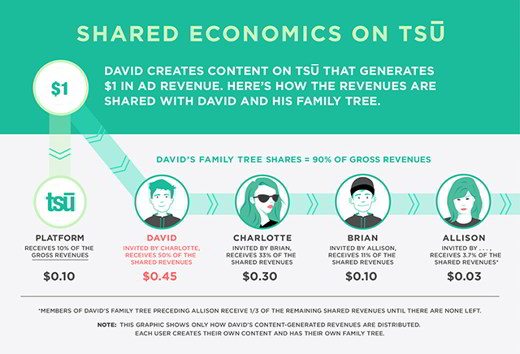 Is called rule of third limits and it is the system by which Tsu divides the profits from advertisements to users. Tsu will pay when it reaches 100 euros by sending you a check to your address.
I limiti in Tsu
Like all social networks, Tsu too prohibits the publication of inappropriate content such as: violent and aggressive phrases, images and videos or pornographic material. Of course, it is also forbidden to steal the identity of others or try to cheat the system to earn more money. Spam is not allowed and you can only write 45 messages a day and up to 15 of these can be comments.
Also you can get a maximum of 50 pending friend requests and they can follow only 1.000 people in all.
Conclusions
In conclusion if you want to be successful and earn on Tsu, We advise you to:
Publish as much original content as possible
Share regularly without spamming
Widen your circle of friends or people to follow
Try to follow the profiles that are trending.