Are you tired of using Twitter and want to delete your account? Would you like to know how to delete a Twitter profile? Don't worry, in this article I will help you in your intent by revealing everything you need to permanently exit the Twitter social network.
Eliminare account Twitter it does not require great computer skills but only particular attention in understanding what you are doing. Please note that with the cancellation of a Twitter profile you will not be able to go back because your data will be permanently deleted. If you change your mind, you still have the possibility, within 30 days of the deactivation request, to restore the Twitter account.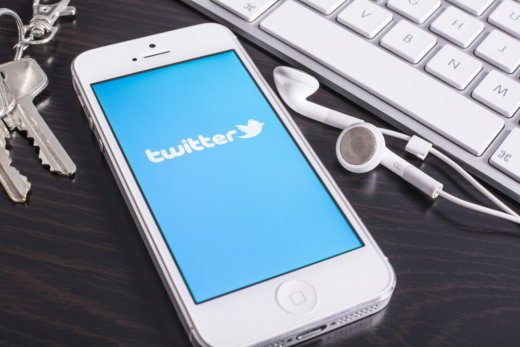 First di delete Twitter account you might want to at least consider making your tweets private. Like? Let's see it together.
HOW TO MAKE TWEETS PRIVATE
To make Twitter tweets private, you need to change the privacy settings of the social network. To do this you must, from your smartphone, open the Twitter app and go to the main screen, Home. Then click on your profile photo, next to the Home link, and select in the menu that appears Settings and privacy> Privacy and security and check the item Protect your Tweets. By doing this, all your future tweets will no longer be seen by anyone only by those to whom you have granted the authorization.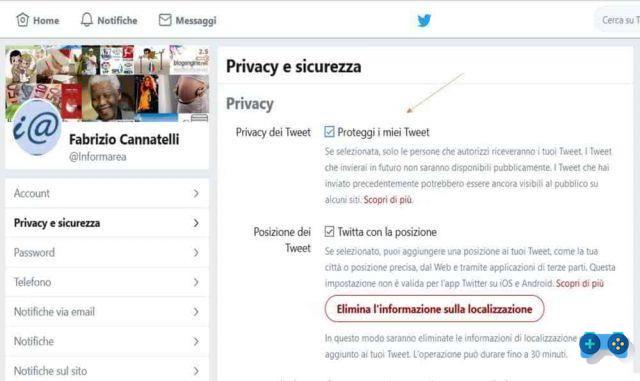 If you want to make your tweets private from your computer, you have to click on the icon Profile and Settings, at the top right next to the tweet button, and in the menu that appears select Settings and privacy> Privacy and security, check the item Protect your Tweets and press the button at the bottom of the page Save Changes.

That said, if you're still fully convinced you want to delete your Twitter account, keep reading what I'm about to tell you.
HOW TO DELETE A TWITTER ACCOUNT
Before starting to explain how to delete a Twitter account I want to remind you to request your archive to save all the tweets you have published. What you need to do is connect to Twitter from your computer and click on the icon Profile e settings and in the menu that appears and click on the button Request your archive to receive a link via email to download the zipped file as soon as it is available. By clicking on the button Download Now you will start the archive download process.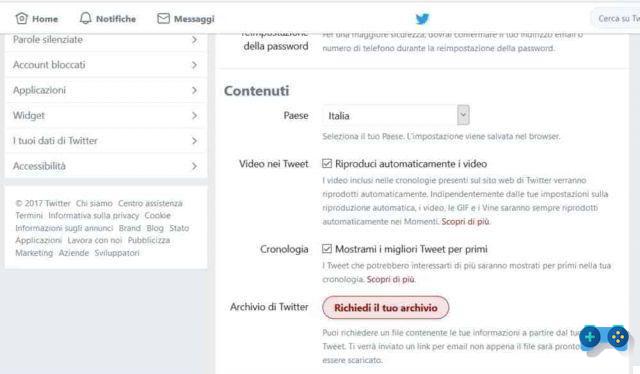 Now that you have a backup of your tweets you are ready to deactivate your Twitter account.
The cancellation of a Twitter account can only be done on a PC. You will then need to have a computer and connect to Twitter through an Internet connection. Once in your profile, click on Profile and settings (the icon at the top left next to the Tweet button) and select the item Settings and privacy in the pop-up menu. On the page that appears click on the link Deactivate my account, located at the bottom of the page.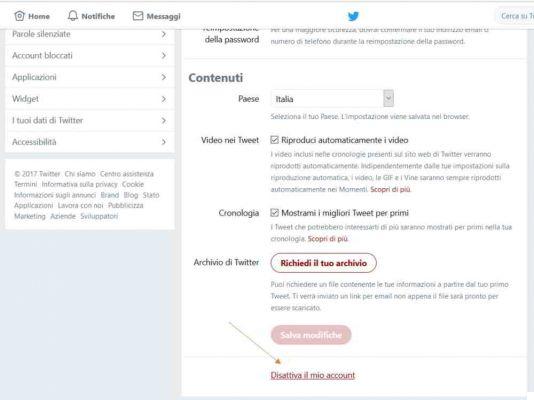 On the deactivation page before clicking on the button Deactivate @ [your name] and delete the Twitter account permanently, Twitter offers you some alternatives which are those of change username or Twitter URL e switch accounts using your old account username or email.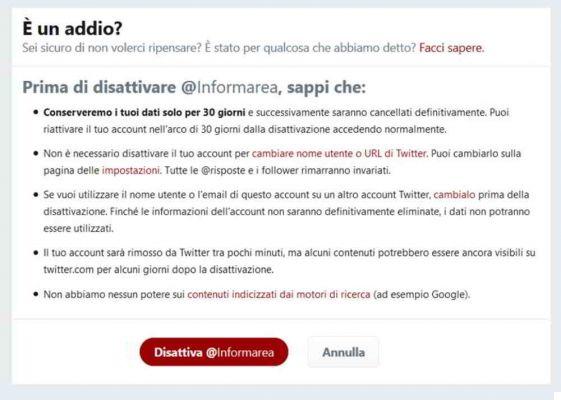 Let's see these two options in detail:
change name or URL without deactivating an account is very easy. Just go to the page Account, reachable from Settings and privacy, and change the Twitter username in the field of the same name for a maximum length of 15 characters, modifying it to your liking (if the username is already taken you will have to enter another one). Click on Save Changes to confirm. All @replies and followers will remain unchanged.
switch accounts using the username or email of the old account, it will be necessary to deactivate the latter and wait for the information of the old account to be permanently deleted. On the page Account edit the field Username ed Email.

If, on the other hand, you are determined to deactivate your Twitter profile, click on the button Deactivate @ [your name] and will immediately remain pending for 30 days. During this phase you can go back and reactivate it simply by logging into Twitter.
HOW TO DELETE A TWITTER ACCOUNT FROM SMARTPHONE AND TABLET

We have seen that deactivating a Twitter account from a mobile device is not possible, yet by logging in with a smartphone or tablet on a browser, such as Mozilla or Chrome, it is possible to request the deletion of the profile. To do this you need to activate the desktop view mode, reachable from the browser menu, (Request desktop site per Chrome e Desktop mode for Mozilla Firefox) and typing the Twitter URL.

HOW TO DELETE OLD POST ON TWITTER
If, in addition to deleting Twitter accounts, you first wanted to remove all your posts, you can resort to the use of TweetEraser, which allows you to search for tweets published in a certain period of time and delete them easily. TwitWipe, on the other hand, allows you to delete all the tweets posted on your account in one go.
CONCLUSIONS
In conclusion, know that even if your account is removed from Twitter some content may still be visible in search engines.