It is possible that over time your contacts address book in the Gmail inbox needs to be cleaned, why? There may be duplicate contacts which heavily affect the slowness of your PC or smartphone. Therefore? In this case you will have to work by hand with a tool that does just that: find all the duplicates within a list and merge them. Gmail, in fact, does not delete contacts but merges them when the data are the same.
Read on and I'll reveal to you how to delete duplicate contacts in gmail.
delete duplicate contacts in Gmail You must first enter the Google mailbox by entering your username and password, as you usually do when you want to check your e-mails.
Now move the mouse cursor over the item gmail. A drop-down menu will open. From here choose the voice Contact Us and click on it with the left mouse button.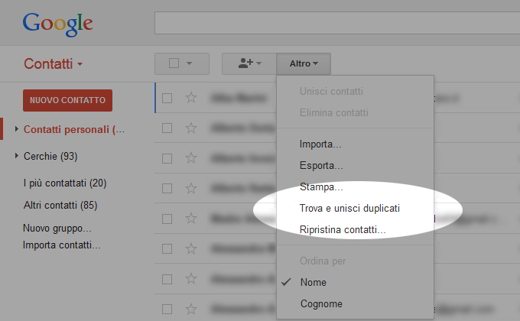 Position yourself with the mouse cursor on the item Other and scroll the menu until you reach the item Find and merge duplicates.
Click to launch the operation.
The duration of the check could be instantaneous or last a few minutes, depending on the number of contacts stored in the address book.
In the end, just click on the Merge button and that's it: you managed to delete duplicate contacts in Gmail.