After unveiling you how TikTok works here is a complete guide on how to delete TikTok account with a few simple steps.
TikTok is a social network where you can create, watch, upload and share short videos between 15 and 60 seconds dealing with different themes. Videos can be customized by integrating them with filters, stiker, effects and much more. The platform is available for mobile devices and can also be used from the official website.
There are many reasons to delete TikTok accounts, whether you're just grown up or just need to take a break from social networking, and thankfully it's very easy to do.
How to delete TikTok account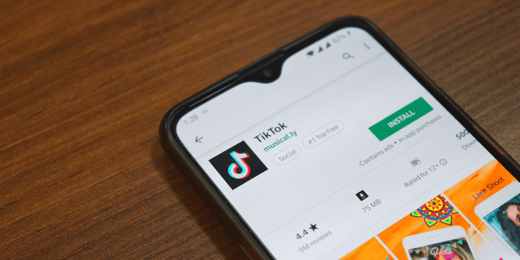 If you have tried to use TikTok but you have noticed that it is not the right social network for you and you have decided that you want to unsubscribe, then I am here to help you in a process that you will see to be quite simple.
How to make a TikTok account private
Before I reveal you how to delete TikTok account, you should know that you can also prevent others from seeing the content you post by making your account private. To do this you need to follow these steps:
Log in to the app TikTok from your Android or iOS phone.
Press the little man icon at the bottom right to access your screen user profile.
Press on three dots (...) at the top right and in the menu that appears, press on Privacy settings.
Move up ON the lever concerning the wording Account private.
How to delete TikTok account permanently
TikTok does not exactly hide its "Delete"Like other social media platforms or connectivity apps, the option also not only deactivates a TikTok account, but will delete it completely.
So, without any further problems, we will explain how to delete TikTok account permanently. Remember, this option will completely erase your data, so only do this if you are sure.
delete TikTok account, open the app and from the homepage presses the icon of the little black man "Me"At the bottom right, to access your account page. This should show you all your videos and stats, such as your follower count.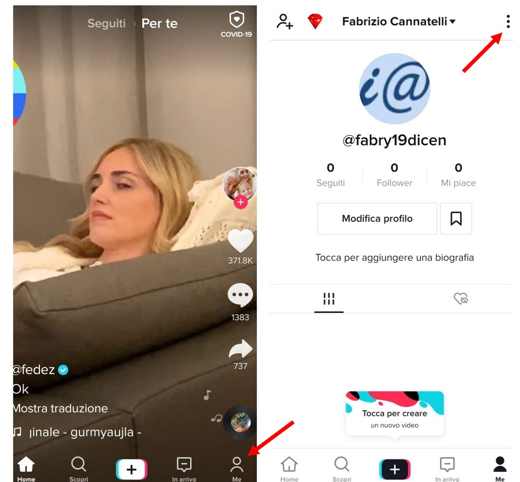 Now, hit the button menu (symbol of the three vertical dots) in the upper right part of the screen and in the window "Privacy settings", Select the item"Account management".
This menu has seven different options, but if you look all the way down, you'll find the link: "Delete account"- the only command away from the other options.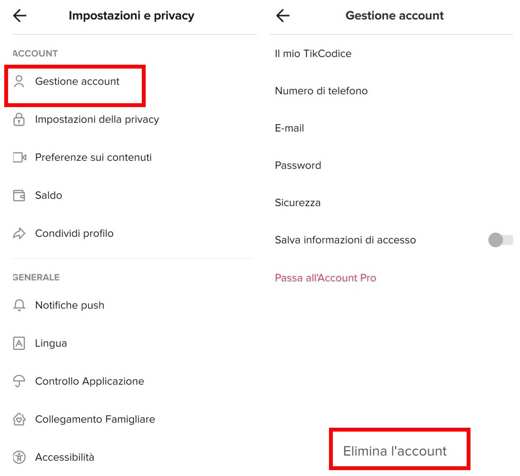 After clicking on it, to delete TikTok account, you will need to verify your account. On the screen of Verificaclick on your button Continue and select your Google or Facebook account or the one you used to create your TikTok profile. When finished, select the "Delete the account"And, in the pop-up window, select"Delete".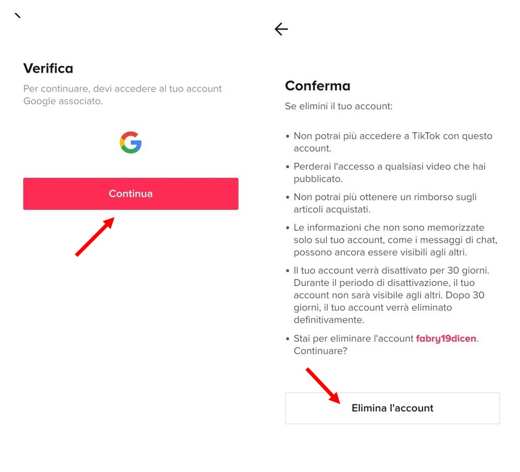 You will then be logged out of your account, and that account will also be completely deleted. Your followers will no longer be able to see your videos or likes.
It is worth pointing out that:
You will no longer be able to log into TikTok with your account
You will lose access to any videos you put online on TikTok
You will no longer be able to issue a refund on purchased items
Information that is not only stored on your account (chat messages and more), will still be visible to others.
Your account will be deactivated for 30 days. During this deactivation period your account will no longer be visible. After 30 days your account will be permanently deleted.
How to reactivate TikTok account
During the 30 days of deactivation by accessing your deleted TikTok account, you can reactivate it and get back data and videos in the archive simply by pressing on the option Cancel deactivation and follow the required instructions.
You will find this option in the section Me after logging in.
How to recover TikTok password

If you are unable to delete TikTok account because you have lost your password, you will absolutely need to recover it by following the instructions below.
Log in to the app TikTok from your Android or iOS phone and log in.
Pajamas onicona dell'omino at the bottom right to access your screen user profile.
Press on three dots (...) at the top right and in the menu that appears, press on Account management.
Press on the item Password and enter the 6-digit code you received via email after confirming that you want to change your password.
Enter the new password I awarded her NEXT.
Confirm the operation.
Now that you have recovered the password, you can proceed with the cancellation of the TikTok account as indicated in the previous chapter.
Other useful articles
How to delete Facebook account
How to delete Telegram account
How to delete Instagram account