Best calendar app for Android and iPhone. Manage your time by scheduling your activities with these apps specially selected for you.
For users, a calendar app can be incredibly useful, but for businesses it is definitely essential. The best calendar apps can be configured for both personal use, to remember annual events such as birthdays, but also for single events, such as doctor's appointments, day trips and family visits, and for business purposes for deadlines, meetings and events.
Ideally, the calendar will not work on its own but will integrate with the other apps on your mobile, such as your email program. This way you will be able to receive notifications sent in time for whatever happens on your calendar.
Read also: The best professional notebooks
How to choose the best calendar app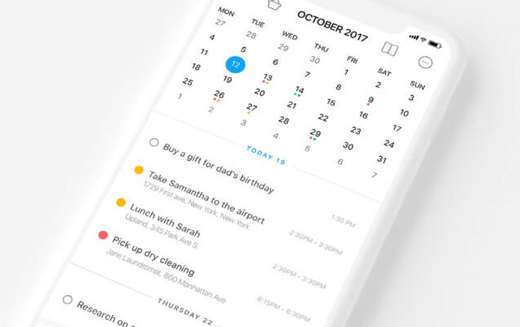 There are hundreds of calendar apps available on Google Play and the App Store, however you need to download one that suits your specific needs. Of course, what is good for family life is not necessarily perfect for professional life as well.
You will then need to choose a calendar app that meets all your time management needs. That's why there are some basic features you should be aware of that you should find in a calendar app.
Ease of use
A Calendar app needs to be easy to use with minimal exploration while providing at-a-glance views of upcoming tasks by day, week, or month. Adding reminders or events shouldn't take more than a minute.
Flexible and scalable
A calendar should be flexible so that you can customize it the way you want. To make you more productive, the calendar app should integrate easily with task management apps.
Simple to share
You should choose a calendar app with a sharing feature. With the sharing feature, you can allow other people to see your schedule for better collaboration.
Available for multiple devices
The calendar app should be accessible on more than one platform so you can see your calendar no matter where you are and what device you have on hand.
Map integrations
Your calendar should integrate seamlessly with the maps so you can get navigation and traffic conditions ahead of time. This feature will help you get to the meeting place comfortably.
Notifications and alerts
One of the most important features for a calendar app is that it must be able to send customizable notifications and alerts, so you can always be updated.
Read also: 10 programs for smart working from home
Best calendar app

Now that you have a complete overview of the features that an agenda app installed on your phone should have, here is a selection of best calendar apps to keep track of the appointment agenda.
1. Outlook Calendar (Android, iOS, macOS, Windows)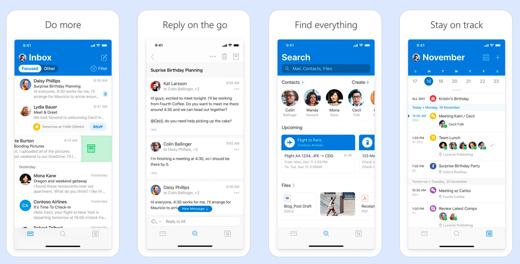 The best calendar app for Windows.
Easy to use
It integrates with Windows and Microsoft Office
The interface is a bit ugly
You can easily share all the events in your calendar with anyone with an Outlook.com or Office 365 account
Automatically add dinner reservations and other events from your Outlook.com account
You can turn an appointment into a meeting by adding participants
You can easily view your monthly, weekly or daily calendar and create recurring events
Accessible from all your devices
If you are a Windows 10 user, Outlook Calendar from Microsoft is probably the best calendar app for you.
It integrates tightly into Windows 10 and uses the same Microsoft account you use to log into Windows, meaning your contacts, events, and calendars should all already be there.
It's free, but if you subscribe to the service Microsoft Office 365, you will get premium features that also make it an essential business calendar app. You can even connect your account LinkedIn.
Despite being created by Microsoft, Outlook Calendar is available on a wide range of platforms, including Android and iOS, and you can view your calendar online as well.
2. Apple Calendar (iOS, macOS, Web)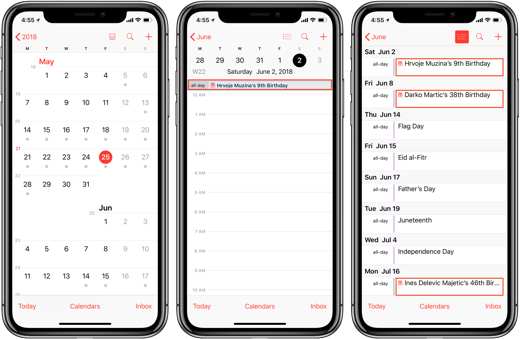 Best Apple default calendar app
Allows multiple calendar views by bringing together calendars for home, work, or more
It is integrated with iCloud so that it can be shared and synced with other devices when connected to the internet
Allows you to select different time zones when adding start and end times for any event
Add attachments to iCloud calendar items
Offers a map to indicate the number of activities per day
Allows notification of upcoming events via email and SMS
Apple users are known to be particularly loyal to the brand and for this reason, Apple Calendar it's a pretty efficient little tool in their pocket.
The only reason Apple product fans love this calendar is its ability to sync all your events across iPhone, iPad, Apple Watch, Mac, or any other Apple device you use. It has all the features you'd expect in a good calendar plus the ability to seamlessly integrate with Siri. This means you can manage your calendar with just a few voice commands.
3. Any.do (Android, iOS)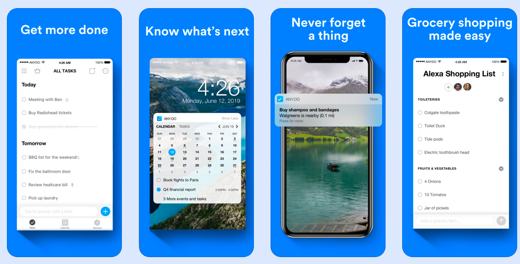 The best calendar app on the market.
Free version
Lots of tools
The free version is limited
Manage your time effectively by reviewing activities and events in one view
Works with all your calendars including Google Calendar, Outlook, Yahoo and Exchange
It syncs in real time, across all your devices
Easily share your shopping lists with family and friends
Add reminders for recurring tasks, appointments and events
Use location-based reminders for in-place notifications
A is the best all-round calendar app. It's available on mobile and desktop platforms, but it really shines on mobile thanks to an easy-to-use interface that gives you all the tools and information you need on smaller touchscreens.
Easily connects to existing calendar apps to import events and color coding of various calendars to keep everything in order.
It's not as in-depth as some specialized business calendar apps, but for most people this is a brilliant way of keeping meetings and appointments in order.
4. Google Calendar (Android, iOS, Web)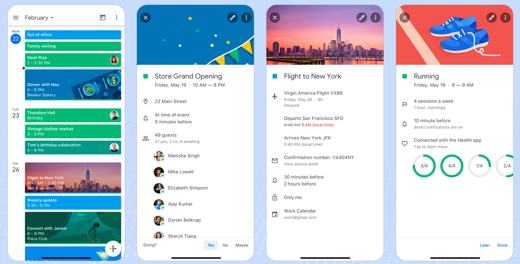 Works well with Gmail.
Free
Intuitive web interface
GMail integration
Email reminder
View events from multiple calendars
View and edit activities and events on the go
Lets you organize your events and plans on the go
You can sync your schedule across platforms and devices
You can share your Google calendar with other users
It provides daily, weekly and monthly views, with seamless switching between them.
Google Calendar It may not seem like the first choice for Android users over some of the more feature-rich rivals, but it does the job very well.
Better yet, it works well with gmail and other software from G Suite, with notifications sent by default to your Gmail account.
Plus, for users who have larger PC monitors, Google Calendar runs alongside the emails in your Gmail account, making it easier for you to see incoming events and notifications, even before you've sent them.
It then allows you to set reminders based on birthdays, tasks or general reminders as if it were a real Google agenda.
While Google Calendar is relatively straightforward and straightforward, it's still a great free calendar app.
5. Fantastical 2 (iOS, macOS)
The best calendar app for Apple fans.
Specially designed for Apple devices
Support for Mac, iPhone, iPad and Apple Watch
Expensive
No non-Apple version
It allows you to add events and reminders using natural language thanks to its strong natural language processing
It lets you quickly toggle multiple calendars on and off with a single click
Automatically change calendar sets based on your location
The mini window in the app allows you to instantly create, edit or view events and reminders
It allows you to create a focused reminder list and supports location based reminders
It integrates seamlessly with iCloud, Google, Microsoft Exchange, Yahoo and any other CalDAV account
Using the share and action extension you can instantly get all the data in your calendar
If you have a wide range of Apple devices, from MacBooks to iPhones and even an Apple Watch, Fantastic 2 is the best calendar app for you.
This is an app built from the ground up to support macOS and syncs seamlessly between your devices, making it a powerful and useful calendar app for Apple fanatics.
You can set up meetings and events quickly and easily and also check that your colleagues are available for a proposed meeting using G Suite o Exchange, this makes Fantastical 2 Apple's most powerful calendar app
6. Jorte Calendar (Android, iOS)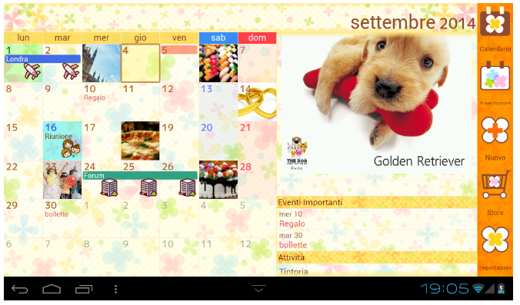 The best Android agenda that works perfectly even on iPhone.
Monthly, daily, vertical and weekly views are available
Easy sync option for Google Calendar with voice control option
It allows you to easily create your own custom calendar and task manager
Allows you to import event information such as sports schedules, weather data, movie release dates and music into your Jorte app
Its countdown function allows you to see how many days are left for an event on the calendar
Adjustable font size.
As one of the few true competitors of Google Calendar's cross-platform calendar, Jorte it has an easy to use design with a natural and intuitive flow. It has a clean calendar which is viewable in weekly, monthly and daily view. Important calendar schedules are highlighted in red for easy viewing.
Any schedule or activity can be exported to CSV file and can be easily synchronized with Google Calendar. It has multiple customizable options and can also be integrated with many other calendars, note-taking apps, and task managers. It also integrates easily with Evernote, Microsoft Office e Google Task.
Jorte Calendar is available for smartphones with iOS, Android and Windows, as well as a web app called Jorte Cloud,
7. TimeTree (Android, iOS, Web)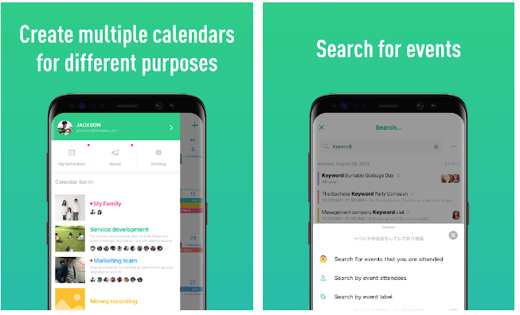 An agenda app with a thousand resources.
It keeps track of schedules, events and appointments, with at-a-glance views of upcoming activities on a weekly or monthly basis
Share your calendars and plan with friends, family and colleagues
You can easily link it with other calendars to stay up to date with business hours, family and school events etc.
Reminders can be delivered to all group members
All members can add and edit events
TimeTree is between best calendar apps, for Android and iOS, to collaborate with families and groups. It allows users to easily create multiple calendars for different areas of their life such as work, friends, family and the groups or organizations they belong to.
There is the possibility to synchronize with Google Calendar, Outlook, Apple Calendar, and you can build your list without being distracted by other to-dos. You can create separate calendars for family, work and social with color-coded events that can be viewed on a weekly or monthly basis.
8. Queues (Android, iOS, Web, Windows)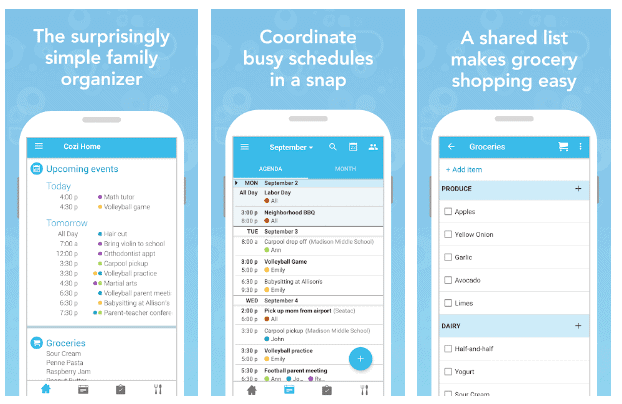 A perfect reminder app for your work.
Easy to use color coded calendar
You can view one person's schedule or the whole family schedule at one time
You can add or edit appointments that everyone in the family can see
Create and send an agenda for next week to family members.
Accessible from all your devices
Cozi is a great calendar app for android and ios too which helps you keep your life in sync. While creating an event, you can select who receives reminder notifications. Different family members have assigned a different color point, so you can easily see who is doing what and when.
You can click to view the calendar for everyone or for just one family member. It can be integrated with other calendar services such as Google, Apple Calendar e Outlook.
9. Calendario Business (Android, iOS)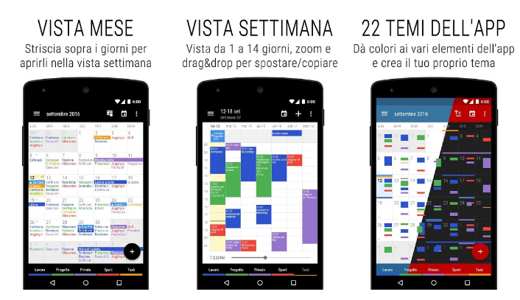 Best Android Calendar.
Easily manage multiple calendars
Wide choice of widgets
Android only
It allows you to have a view of the daily, weekly, monthly and yearly calendar.
It automatically synchronizes with the others Android applications like Google Calendar ed Exchange.
It allows you to create events and manage invitations
Android users are in luck because in addition to having the default app of Google Calendar they can also rely on the best calendar app for Android devices: Business calendar.
Don't be put off by its name, as even though it's a business-oriented app, it's an attractive and easy-to-use calendar app that's also perfect for home users.
Among best calendar apps, Business Calendar comes with a number of themes and calendar widgets that allow you to customize the look of your calendars. It does a great job of managing multiple calendars and displaying them in an easy-to-understand layout and is made available as a free download.
There is also a pro version that removes the ads and includes some extra features, all at a reasonable price.
10. Lightning (Add-on Thunderbird)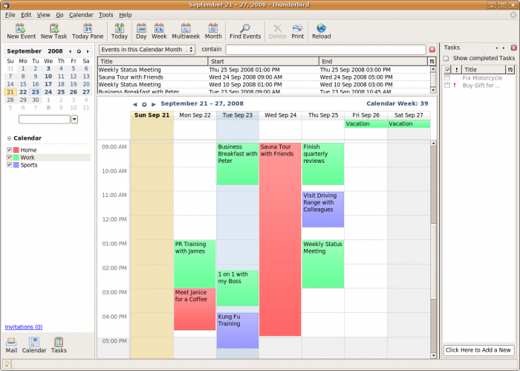 The best calendar app for Linux.
Many functions
Easily configurable
You need to use it with the Thunderbird app
Appearance dated
In addition to best calendar apps There are also a number of open source calendar apps for Linux, but in our opinion the add-on lightning for Mozilla's Thunderbird email client is the best.
It has an easy-to-use (albeit slightly dated) interface and as an add-on it integrates easily with Thunderbird, allowing you to turn emails into events and respond to meeting invitations.
You can easily manage multiple calendars and to-do lists and it's easily configurable too. The downside is that it's not a standalone app, so you need to use it with Thunderbird (and install it from the Thunderbird add-ons website).
However, Thunderbird is also one of the best email clients, so we recommend installing it anyway. Also works with Windows PC.
Other useful articles