Moving photos to SD will help you free up space from your mobile device to better manage your apps.

Do you have lots of photos and videos that you don't want to delete and that take up a large part of your smartphone's memory? Do not know how to move photos and videos from android to sd card? Like apps, even the images and videos on the mobile device can be transferred to SD card with simple steps.
Using the options provided by the operating system of your Android smartphone, you can move photos and videos from Android to SD card by accessing the folder archive following the path Applications> Archive> All Files. Here you will find two folders: one concerns the phone memory (eg Device storage) and the other the SD card (eg SD Memory Card).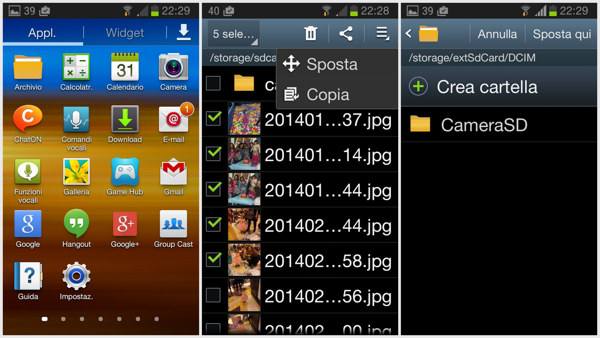 To move your self-made photos and videos, all you have to do is move the contents of the Camera folder su SD card:
Select the SD card folder and click on the button Menu of your smartphone (to the left of the Home button); at this point select the item Create Folder and call her DCIM.
Back in All Files and select the folder of the phone memory (Device Storage), then DCIM and finally Camera.
Now check the photos and videos you want to select or select them all by clicking on Menu of your smartphone (to the left of the Home) by choosing the item Select all.
Choose the item in the menu at the top right Move: you will automatically return to the two main folders screen. Select the folder concerning the SD card, then DCIM and press pulsating Create Folder calling her CameraSD; finally click on the item at the top Move Here. The photos and videos you select will be moved to the folder CameraSD SD card.
Going in Gallery you will find the photos not only of the mobile device but also those loaded on the SD card, in separate groups each with the indication of the folder name.
As for the photos received with Whatsapp, you can find them in Applications> Storage> All Files> Device Storage> WhatsApp> Media> WhatsApp Images (for photos) e WhatsApp Video (for videos). To move its contents to the SD card, just repeat the sequence just explained above from point 3 onwards deciding whether to use the same CameraSD folder or create others with the same logic.
READ ALSO: WhatsApp does not download photos