Like all social networks, Instagram also allows you to block a person easily. By blocking a person, you will be able to remove the ability to comment, view your photos and videos, receive or send direct. This can be done both via the app and through the Instagram website. If you change your mind, you can always unblock Instagram users at any time and without necessarily being a computer expert.

Read on and make yourself comfortable because in a few steps you will find out how to block a person on Instagram, all you have to do is take a few minutes of free time and pay attention to the directions I am about to give you.
HOW DO YOU BLOCK A PERSON ON INSTAGRAM
To know how a person hangs on Instagram you must first of all log in to Instagram and press on search button, located in the bottom bar (lens symbol). Then type the name of the person you want to block and once found open their profile. Press the button with the three vertical dots, at the top right, and in the menu that appears select Block.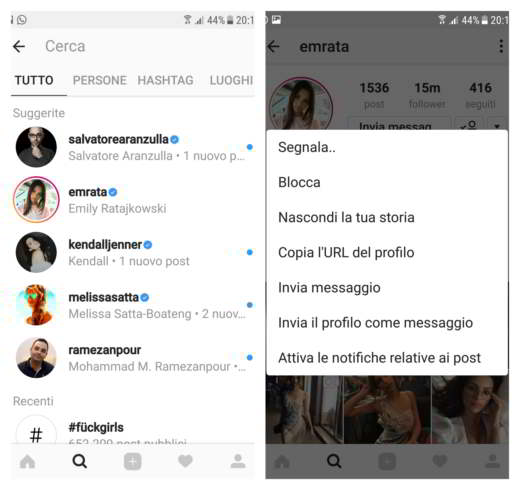 Pressing Block the app will ask you to confirm the operation, click on Yes, I confirm and wait for the completion of the process that will block the user.
From now on, the blocked user will no longer be able to view your content or find you from the search bar.
HOW TO UNLOCK INSTAGRAM USERS
Now that you have been able to ascertain how to block a person on Instagram, let's see together how to unblock Instagram users quickly. The procedure is similar to the one applied for the block, in practice you have to go to the profile of the blocked person and once inside you will see the button Unlock in place of Follow.
Press on Unlock and confirm the operation.
HOW TO BLOCK AND UNLOCK A PERSON ON INSTAGRAM FROM PC
If you are using your computer, to block or unblock a person on Instagram you must first go to the website www.instagram.com and log in by logging in. Once inside, type in the field Search, the name of the person you want to block.
Open the profile, click on the horizontal dots symbol (…) next to the name and in the menu that appears, select Block this user.
To unlock it, simply repeat the operation by choosing the option in the menu Unblock this user.