Do you want to ditch your Android smartphone and switch to your new iPhone quickly? Using the app Move to iOS, which allows you to transfer all the contents from your Android device to the new iOS device, you can do it in a few simple steps.
Read on to find out how to switch from android to iphone fast.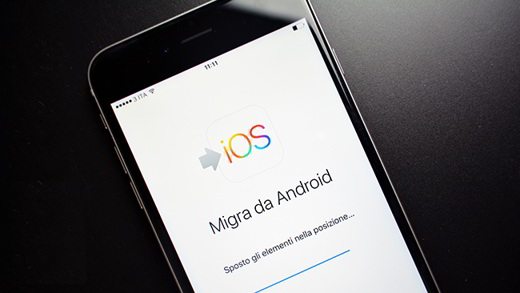 Move To iOS, is a very useful, convenient and well made app for those who decide to switch from Android to iPhone quickly, and who want to keep data and information of particular importance. The app, compatible with all devices running Android 4.0 and later, allows you to transfer data from Android to iPhone, securely with all types of content, without the need to save them elsewhere before upgrading to iOS 9.
How Move To iOS works
switch from Android to iOS 9 quickly, the first thing to do is to download to your Android smartphone, from PlayStore by Google, the app Move to iOS.
Click on Install and after completing the download on your Android smartphone, launch Move To iOS and play the voice Continue. Continue with Accept and then with NEXT. Now go to your new iPhone and on first start, go to Restore options, you will see Migra give to Android which allows you to transfer data from an old Android device.
Select the item Migra give to Android and continue with Continue.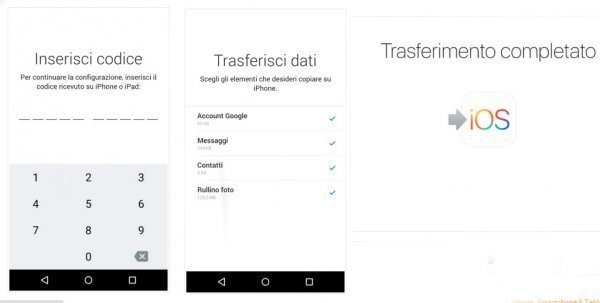 A 10-digit code will be generated. Copy it and enter it on your Android smartphone. The Android device, at this point, will connect via Wifi to the new iPhone and will ask you which data to transfer. You will be able to choose contacts, photos and videos, messages, bookmarks, mail accounts and calendars.
Click on NEXT and start the transfer.
At the end of the migration you will receive a confirmation on both devices; all you have to do is complete the configuration of the new iOS device and start handling it with all your old data.