Instagram recently introduced a new feature that allows you to view suggested posts based on the content you've liked in the accounts you're following.
In this guide I will reveal you how to delete Instagram suggested posts which are marked with the label Recommended for you and which are visible directly in the feed.
How to delete Instagram suggested posts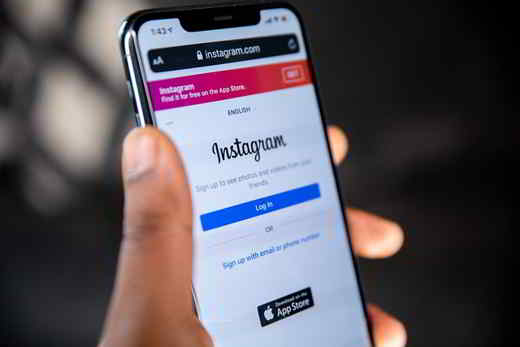 There are about five posts recommended by Instagram for you in the feed, a number that increases if you decide to click on the magnifying glass icon to view other similar content.
But if you don't love this new feature, there is a possibility of temporarily hide recommending posts for you within feeds. To do this, go to Settings of the post (the three vertical dots above the post) and in the menu that appears press on I do not care and the suggested item will be deleted.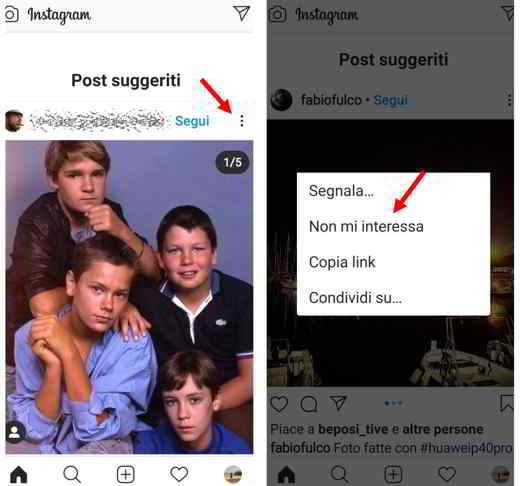 Alternatively you can also press on Report… to report posts that don't follow community guidelines.
These unfortunately are the only possibilities you can take advantage of for delete Instagram suggested posts.
To take advantage of this new feature you will need to update the Instagram app for both Android and iOS mobile devices.
How to delete profiles suggested by Instagram
In addition to posts, Instagram also suggests new users you may want to follow. If you want to cancel that suggestion, go to yours Profile Instagram, tap on menu, top right, with the three horizontal dashes and select People suggested.
You will see one list of accounts suggested by Instagram. Click on X, next to the button Follow for each profile, so that it is no longer shown to you.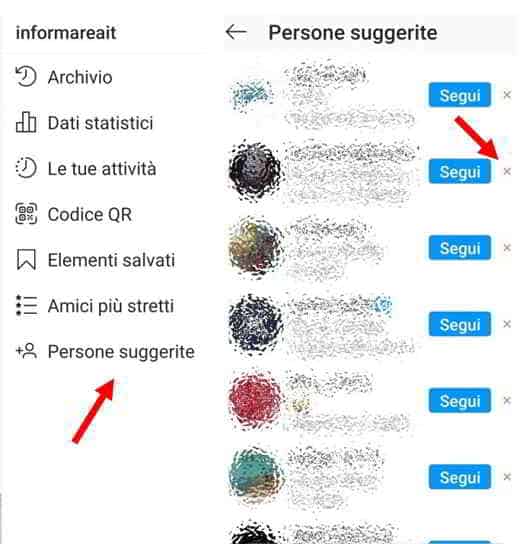 For each suggested account cancellation operation, Instagram will not ask you for any confirmation. Indeed, once the profile is deleted, it will no longer be shown to you in suggested.
To prevent it from reappearing in the future, the best solution is to block it. For block Instagram user, you have to find the name Profile of the person to access their dashboard. Press on three dots, at the top right, and immediately after tap on Block and confirm.
Other useful articles
Phrases for Instagram
Best sites to increase followers and likes on Instagram
Best Instagram photo apps