If you have posted a History on WhatsApp and you do not want to wait 24 hours for its automatic deletion, you must know that you can take action to delete the WhatsApp status you just shared. Like? Quiet in this tutorial I will reveal to you how to delete WhatsApp Status in a few simple steps without necessarily having to be a computer expert. All you have to do is pay attention to what is written in the paragraphs below and get comfortable, I am sure that at the end of the reading you will be able to delete the new WhatsApp status easily.
delete WhatsApp Status that you have shared with your contacts, with Android and iOS, you have to intervene manually but be careful: by deleting your status in the phone you will also delete it from that of your contacts.
Open the app WhatsApp and then stop on the board State, stop on the three dots (...) next to My status and hold your status update for a few seconds. Then press the icon of Trash can, at the top, and to the question "Do you delete this update to the state? It will also be deleted for all recipients who have received it "tap on Delete.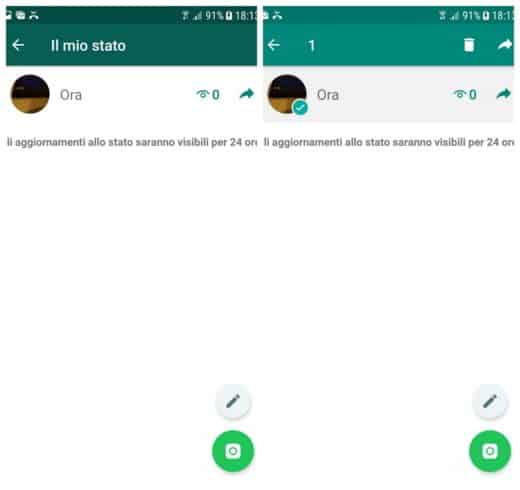 By doing this, your history will be erased and cannot be recovered. Alternatively, you can avoid deleting WhatsApp status changing the Privacy to the State already published, in this way you can decide yourself the contacts with whom to share your status updates.
To change the privacy to the wa state you have to open WhatsApp, go to State and press the button Menu (three vertical dots)> Status privacy and choose in the window "Who can see my updates", My contacts, My contacts except or Share with, to specify a particular contact.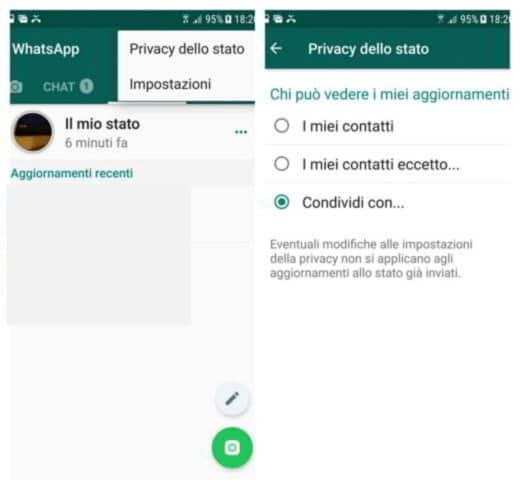 Remember that by default the Stories on WhatsApp can be viewed and shared with all your contacts.
HOW TO DELETE WHATSAPP WEB STATE
If you don't know, the Status has also been added to WhatsApp Web. Of course, if you have noticed that it is not visible yet, it means that you need to update WhatsApp Web by downloading it from https://www.whatsapp.com/download/.
When finished, go to web.whatsapp.com on your computer and open WhatsApp on your mobile. From the menu (the one with the three vertical dots), at the top right, click on WhatsApp Web. Scan the QR code that appears on your PC with your mobile phone and you will be connected to WhatsApp Web. To avoid costs, I recommend connecting with a Wi-Fi connection.
In the main screen of WhatsApp Web to see the statuses, both yours and that of your contacts, you have to click on the icon Stat0, at the top, in the shape of a circle, next to the icon New Chat.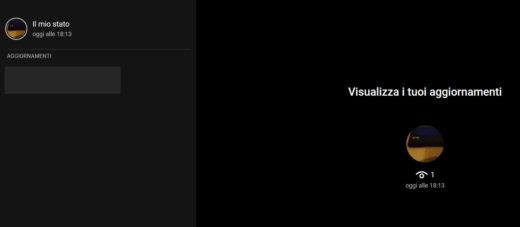 You will enter the Status screen on WhatsApp where you can view them but not delete them. Unfortunately, to date, WhatsApp Web does not yet allow you to create or delete a new WhatsApp Status. To do this you will necessarily have to contact an Android or iOS mobile device.