Well I had the same problem as you and weird thing, I have never applied to register for the Lotto48 service. I really think it's a pretty good scam.
How the Lotto48 service works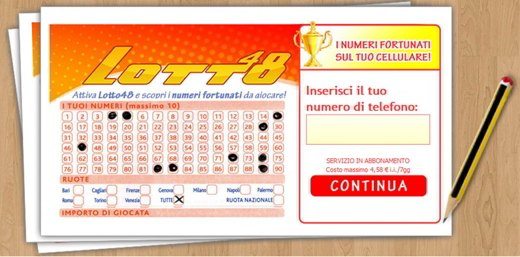 Lotto48 is a subscription service offered by Go Mobile SRL company which provides three SMS per week at a cost of € 1,52 each, even without the user's consent (this is the real scam), and is reserved for an adult public (how do they know my age?).
Each SMS takes money from your credit with a double deception:
1) the activation of the service takes place without the user's consent;
2) the user may not receive any SMS confirming the activation of the service, and noticing the service only upon receipt of the paid SMS.
What to disable the Lotto 48 service?
To disable this scam service the stop SMS must be sent immediately to the number indicated with: lotto48 stop. Attention because according to what is written on the site Lotto48.com, the cancellation takes effect from the week following the one in which you sent the deactivation message. It means that you may have to pay for the first three SMS you will receive in the current week.
After the stop SMS you should receive this message: "The Lotto48 service has been deactivated. You no longer participate in the competition. For info call 0910851273 ". But which competition ???
Subsequently you need to contact your telephone operator (in my case Vodafone) by contacting him via chat, if you are registered on the site, and trying to ask for the service to be blocked and for a refund. If this is refused, you can try to submit a written complaint, again to the telephone operator, in which you request a refund.

Also take a look at: How to disable paid SMS subscription services on smartphones
If it happened to you too, write us how you solved the problem and leave us your experience.