How to create an Android app without programming. A guide on the best tools to create your website app automatically.
If you need to create an app for your site but you don't know how to do it and above all you have never programmed in your life, just enter AppGeyser.
Once you have entered the AppGeyser Home, you need to register. Click on LOGIN, located at the top of the page, and when opening the login page or register or log in with a Facebook account.
Once you have access, click on Create App, always at the top of the page, and immediately after on Website (Enter URL). Now in the Create section you have fields on the left to fill in and the preview of your site already set on your smartphone.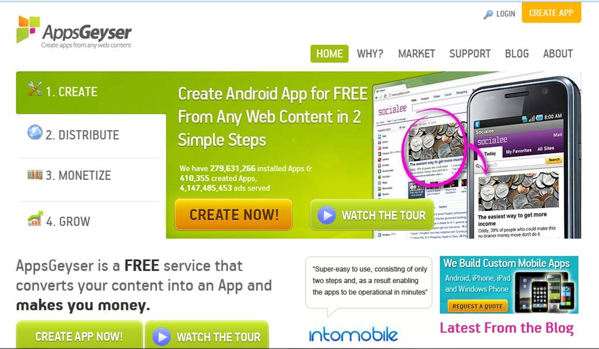 Enter in the first field WebSite URL, the web address of your site. In App Name the name to give to your site and in Description, the description of your website. You then have the option to use an icon provided by AppGeyser (Default Icon) or you can load it from your PC (Custom Icon).
For the Screen Orientation we advise you to leave it on Auto and on Category set the category to which your site belongs.
Now before I hit the button Create App Preview the site to see if you like it and then proceed.
Your App has been created but you can modify it by going to the EDIT section located in the horizontal menu of the Dashboard and also intervene in the Advanced area.
You just have to publish your App, download it to export and share it on the official Android Market. If you also intend to make some money, take a look at the Monetize page and the two Ad Networks AdMob e Inner Active.
Good App!