How to block unauthorized PayPal payment. Here are the steps to follow in case of an unauthorized transaction on your PayPal account.
Did a hacker steal your PayPal password and make an unauthorized payment? This is what also happened to me a few days ago.
PayPal sent me an email with a $ 280 payment receipt to a store and related details with transaction code, completed payment status, and shipping address in a New York area in the United States.
The payment would be made by me at 17.30pm on December 13, 2019.
How to block unauthorized PayPal payment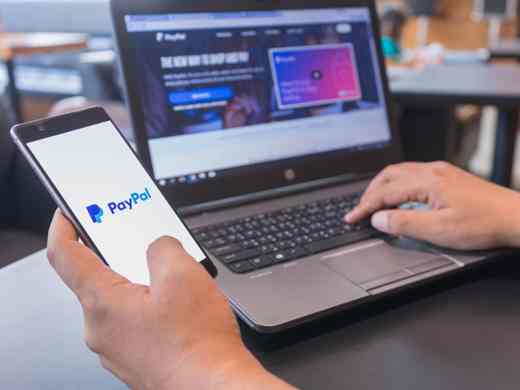 Here is what I did to report and cancel an unauthorized payment on PayPal. Also I will point out to you how to change your password e how to set up two-factor authentication. This way you can protect your PayPal account better and not make the same mistakes as mine.
Change the login password
If you have received an email or SMS from PayPal about an unauthorized payment made by you, the first thing to do is to start PayPal and after logging in, immediately change your login password.
Press on the cogwheel icon and in the menu that appears, press on Your Profile.

On the next page, verify that you are in the section Access and security and where do you see the item Password, awarded his Modification.

On the page Change Password, enter the new password in the two fields New password e Confirm new password and press pulsating Modification to confirm.
In case the hacker has changed the login password, go to the main PayPal page and press the Login button, at the top right. On the Login page, click on the link below Problems logging in?.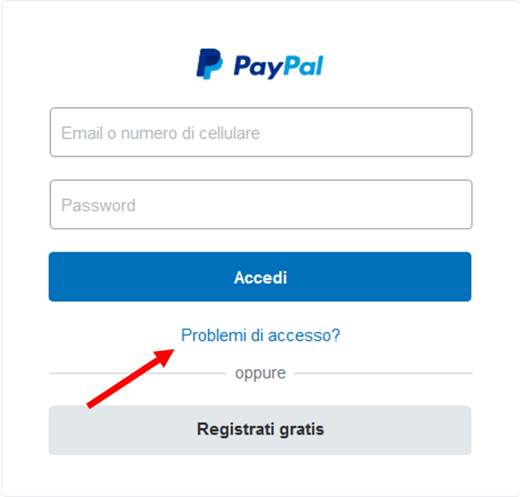 PayPal will allow you to recover your password by entering your registration email to create a new password. By pressing on NEXT, you will have to confirm your identity by choosing to receive an SMS with a verification code or an email or by answering the security questions or confirming your credit card number.
Once your identity is confirmed, you can create and confirm a new password.
Report a problem
Once the PayPal login password has been changed, you can report the transaction and request a refund.
Press in the top menu, on the link Chronology and look for the dubious one among the operations and with Payment to. Click on Your name of the store or natural person to whom the payment was made to view the details of the operation.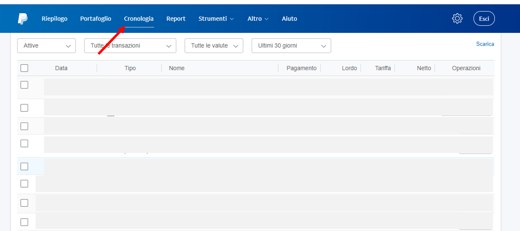 On the next page, scroll down with the mouse until you find the section Do you need help? and click on the link City Center resolutions.

The page will open Report a problem where you can report one of the following issues:
I have not received a purchased item;
I have received an item that does not conform to the description;
I wish to report an operation not authorized by me;
I have a charge error problem.
Click on I want to report an unauthorized operation by me and on the next page, confirm that you intend to review the suspicious transaction with PayPal for a refund.
PayPal will send you an email to notify you that it will review your case and that it will get back to you within a maximum of 10 days.
Provided that the indicated payment was not authorized, PayPal will refund and may also arrange temporarily limit access to your account with the impossibility of carrying out any type of operation, just to protect your account.
In any case, you will receive an email with instructions to remove the limit by completing actions. You will need to log in to PayPal and after logging in, complete the required operations which are:
Confirmation of having eradicated any virus, malware or other by launching an antivirus on all devices that accessed PayPal.
The change of the password to access the service.
Confirmation of your identity or send your identity card.
The change of security questions.
For any problem you can always contact the support via emails o phone by clicking on the link Help, in the top menu. On the page that appears, scroll down until you find Contact us.

Click on it and then, again at the bottom of the page, choose Send us an email (you will get an answer within 24 hours) or Call us.
In the first option you have to answer a few questions to allow the email to be forwarded to the relevant department and then write your problem in the appropriate field.
In the second option you will have to call the number 06 8938 6461 and enter the disposable code visible on the page and consisting of six digits.
Two-factor authentication
Now that you understand how to block unauthorized PayPal payment, the advice, if you have not already done so, is to apply theTwo-factor authentication. This is an extra layer of extra protection to your account that uses a disposable security code, in addition to the password you already use to log in.
To apply it, you must log in to PayPal and, after logging in, press the icon of wheel with gear, top right, and then choose the item Your Profile.
On the page that appears, locate the entry Two-step verification and click on the link Update o Modification.

Then specify in Main device your phone number (you can also add another number) and press on end to confirm.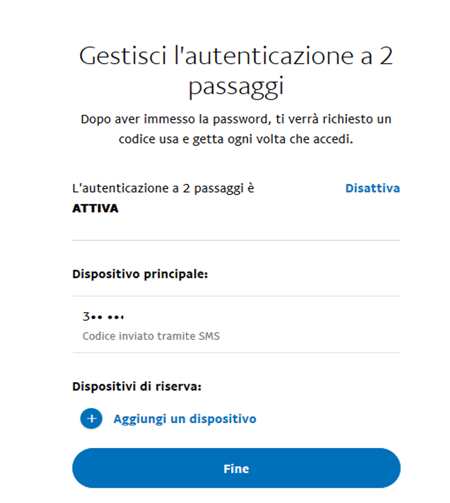 From now on, every time you log into your PayPal account, in addition to the password, you will need to enter a temporary code that you will receive via SMS.
To check if two-step authentication is active, simply click on the link Update in Two-step verification and note the presence of the word ACTIVE, on the page Manage 2-step authentication.
If as a result of this fraud your intention is to permanently close your PayPal account, I invite you to read this guide on How to close a PayPal account.
Other useful articles