We see how to activate Facebook two-factor authentication and what to do if the Facebook login code does not arrive.
In recent years, Facebook has been the subject of cyber attacks (Facebook leaks or Facebook data leaks) several times with the aim of finding the information of registered users. The fear that someone could take over our account and put it in serious danger our digital identity is around the corner.
That's why it's time to take cover and further protect our Facebook account. But how? Through theactivation and use of two-factor authentication (2FA, Two Factor Autentication).
What is two-factor authentication
THEFacebook two-factor authentication it is none other than one optional and additional safety function which requires users to enter, in addition to the username and password, a special security code every time they try to access Facebook from a new computer or mobile phone that is not recognized.
This way when someone tries to access your account from an unrecognized browser or device, you will receive a warning.
How to activate Facebook two-factor authentication from smartphones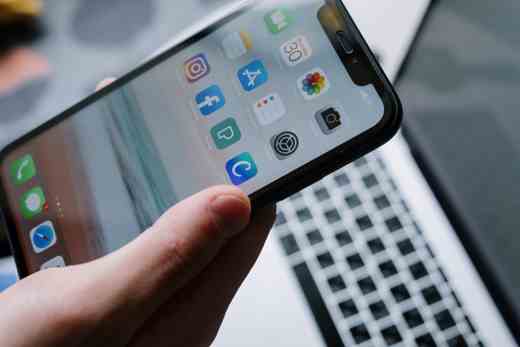 From mobile you need to open the Facebook app and log in to Menu, by tapping the button with three horizontal linesat the top right, and then select the item Settings and privacy> Settings> Security and access and finally Use two-factor authentication.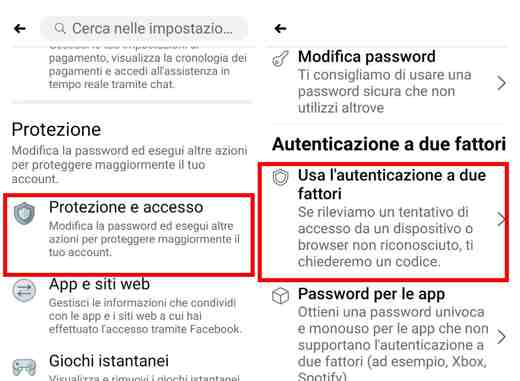 At this point, Facebook informs you that by activating this option you will receive a verification code every time it notices an attempt to access from an unrecognized device or browser.
Please note:: during the 2FA entry phase, you may be asked to enter your Facebook login password, to confirm the operation.
Select one of the security methods indicated:
1. Facebook authentication app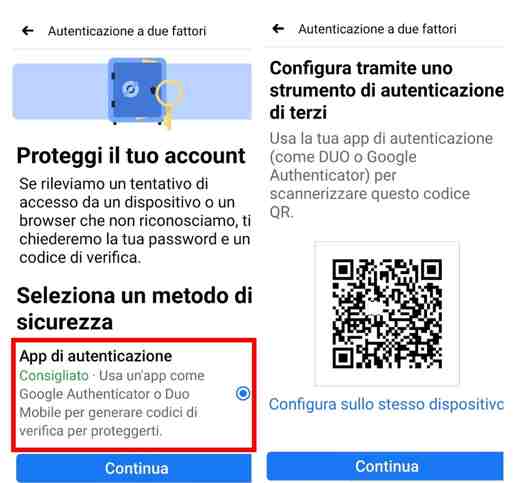 This option allows you to use an app such as Google Authenticator (Android and iOS) or Mobile Duo (Android, iOS) to generate verification codes and protect you.
After checking the item Authentication app and downloaded one of the two apps above, press the button Continue.
Here are the steps to follow to set up a third-party authentication tool.
On the screen Configure using a third-party authentication tool you have the opportunity to scan the QR code or copy the alphanumeric codeat the bottom of the screen in the authentication app.
Press on the code for a few seconds to copy it.
apri Google Authenticator and press pulsating Start.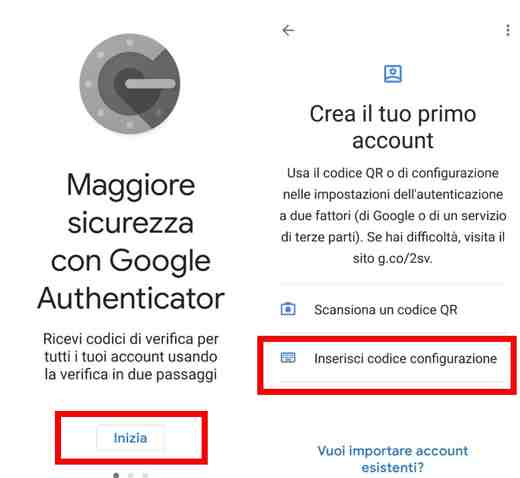 Create your first account by clicking on Enter configuration code.
Type a account name and in the field your code, paste the one you just copied.
Press the button Add.
On the account added screen, copy the 6-digit code.
Go back to the Facebook app and press the button Continue to enter the 6-digit code.

Press on Continue to complete.
When you see the Active Two-Factor Authentication message, tap end.
By doing so, when Facebook detects an attempt to log in from an unrecognized browser device, it will ask for a code, which you can retrieve from the Google Authenticator app. Each time you open the Google app the code will be different.
2. Text message (SMS)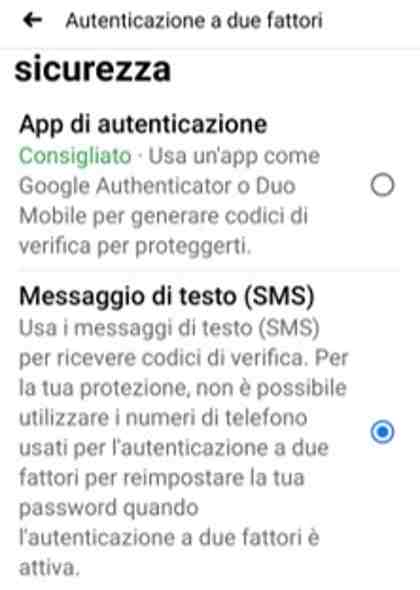 Through this security mode, you can use the SMS text messages to receive verification codes on your smartphone or tablet.
After selecting it, click on Continue and specify a phone number already present on your account or add a new one considering that it will be the number on which you will receive the verification code. Press on Continue.

On the screen Enter Code, type il 6-digit code you received via SMS from Facebook.
In case you haven't received it, stop by Send the code again.
Once the process is complete, Facebook will send you a verification code via SMS to your phone number every time it notices an attempt to log in from an unrecognized device or browser.
For added security, the number used cannot be used to reset your password when two-factor authentication is on.
3. Security key
The last security method you can apply for Facebook two-factor authentication is one physical security key to protect your account from unauthorized access. Unfortunately not all devices are enabled to use this system.
It is a small hardware device that you can buy from this page. Some keys can be used by inserting them into the USB or Lightning port, while others just need to have them next to the PC or mobile device. Before buying one make sure it is compatible with the browser or device you use to log into your Facebook account.
How to activate Facebook two-factor authentication from a computer
Activating 2FA two-factor authentication is also available from a PC. Open Facebook from your browser and press on Menu (arrow pointing down) at the top right, and then select, in the menu that appears, Settings and privacy> Settings.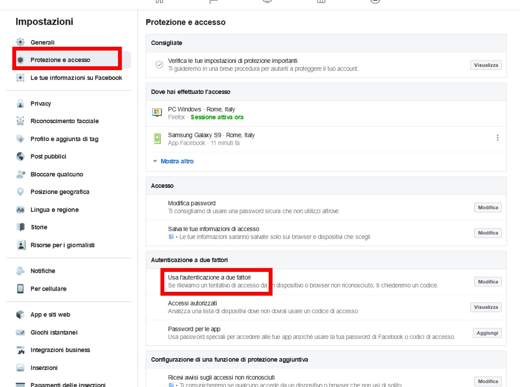 On the next screen, press, in the left column, on Protection and access and then Use two-factor authentication. Immediately after, enter your Facebook login password and follow the same actions described for mobile devices.
Once all operations are completed, your account will be protected by two-factor authentication. At each access you will have to enter username, Password e code, but this will protect you even more from any malicious people who want to take over your account. Also for devices you use often, the system will ask for the code to be entered only the first time, then it will be added to the list of trusted devices.
As you can see this is not a complex operation, 2FA does not belong only to Facebook, too PayPal, Amazon e Google apply this system effectively. In other contexts such as the activation of digital identity through SPID is a mandatory technique.
What to do if the Facebook login code does not arrive
After activating two-factor authentication on Facebook and choosing a security method, in case it is not unavailable, you can add a backup method. In my case, I chose the Text message via SMS, and I am offered as reserves: Authentication app, Recovery codes e Chiave di Sicurezza.
We've already talked about Authentication Apps and Security Keys. Recovery codes allows you to log into Facebook if you lose your phone or if you are unable to receive a verification code via SMIt's aauthentication app.
To set them up, open the app Facebook or log in from browser and, after tapping on Menui went his Settings and privacy> Settings> Security and access and finally Use two-factor authentication.
On the screen Two-Factor Authentication is on, awarded his Recovery codes and copy the proposed codes by pressing the button Copy codes I awarded her end, and then go back. From now on this method will become the backup method.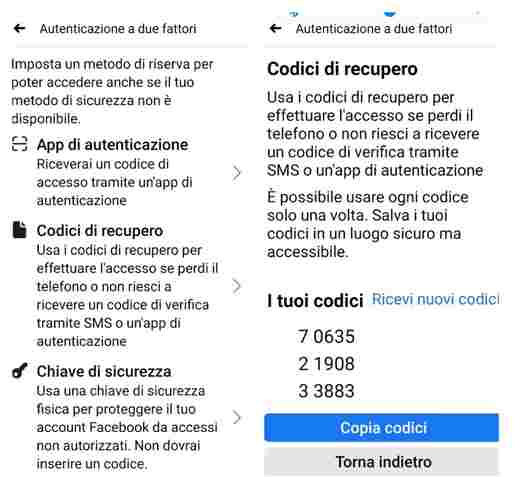 Save these codes in a safe place and remember that you can only use each code once.
To deactivate this method, click on it and press on disable twice and if required enter your Facebook login password.
How to disable Facebook two-factor authentication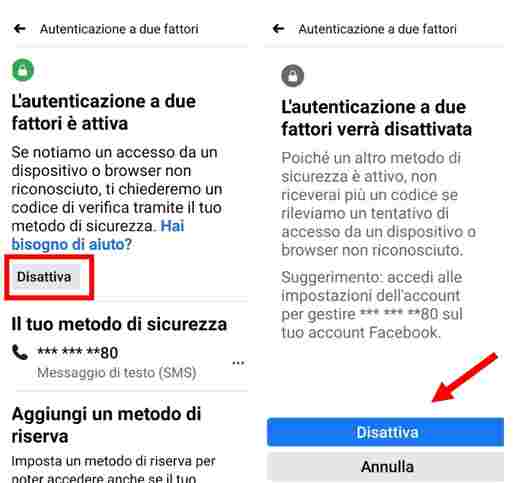 disable a security method applied in two-factor authentication, all you have to do is click or tap on it, if on mobile, and press the button disable twice to confirm deactivation. You may be prompted for your Facebook password.
Read also: How to activate two-factor authentication on Instagram