Microsoft Teams is the solution for those who need manage work and distance learning, is much more than a simple instant messaging and videoconferencing platform, as it allows you to connect people in the common areas called teams, and share information.
In this Microsoft teams tutorials, we will make an overview of the software and the different features and tools available to better organize your remote work group.
Index
How Microsoft Teams works

Microsoft Teams subscription plans
How to download Microsoft Teams
How to sign in to Microsoft Teams
How to create a meeting
How to put wallpaper on Teams
How to see all attendees on Teams
How to share your screen
How to join a meeting
How to participate as a guest
How to create a team
How to leave a team
Other useful information
How Microsoft Teams works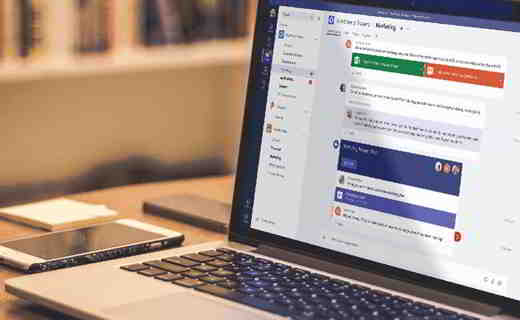 Microsoft Teams is one platform designed for chatting and videoconferencing, (in fact it is also considered one of the best programs for video calling), designed with the aim of simplifying teamwork and putting employees working in offices of large and small companies, creating a functional remote organization based on communication and document sharing.
Teams integrates with others Microsoft products, come la suite Office, Outlook, OneDrive, SharePoint, Skype e OneNote.
Access to Microsoft Teams is free using a Microsoft account, but paid subscription plans are also available. The free version makes many features available, while the paid ones, depending on the chosen plan, introduce additional tools and possibilities, connected above all to the offer Microsoft 365.
Microsoft Teams subscription plans
1. Basic Plan - Free
Available features: online calls and video calls, screen sharing, unlimited chat messages, sending of attachments in chat up to 2 GB for each user, collaboration on Office documents in Temas.
2. Business Basic Plan - Microsoft 365 Business Basic Subscription - Cost € 4,20 + VAT per month for each user of the team
Available features: online calls and video calls, screen sharing, unlimited messages in chat, sending attachments in chat up to 1TB for each user, collaboration on Office documents in Teams, scheduled meetings with the ability to record them, personal storage space, additional services, two-factor authentication, web version of Word, Excel and PowerPoint.
3. Business Standard Plan - Microsoft 365 Business Standard subscription € 10,50 + VAT per month for each user of the team
Available features: all those of the Business Basic version, to which are added the web and desktop versions of Word, Excel, PowerPoint, business apps including Bookings, MilelQ and Invoicing.
How to download Microsoft Teams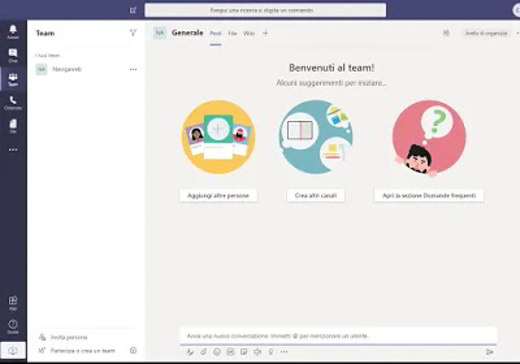 Teams can be used online, or downloaded to your PC with the Desktop App dedicated, applications for Android and iPhone are also available.
The Teams web app it is fine for basic functionality, but to take full advantage of the service, it is recommended to download and install the desktop app which, in both the Windows and Mac versions, allows you to use the functionality for start virtual meetings, screen sharing and whiteboard.
You can download Microsoft Teams after logging into the online service from this page, using your Microsoft account.
How to sign in to Microsoft Teams
If you have a personal Microsoft account you can sign in to Teams and create Teams and meetings. If you are an employee of an accredited company with a subscription to Microsoft services, you can use your own credentials, while if you are a student, you can use the credentials of your accredited educational institution.
After logging in, you may be faced with two possibilities: receiving an e-mail invitation to join an existing team, in this case you will have to retrieve the message in Outlook and click on the invitation link, or, alternatively, click on the purple icon where it is written Teams.
Remember that after logging in, you can also download the desktop app and start using Teams from your PC, while, in the case of your smartphone, you can log in via the app Microsoft Teams, by logging in with your company or school credentials.
How to create a meeting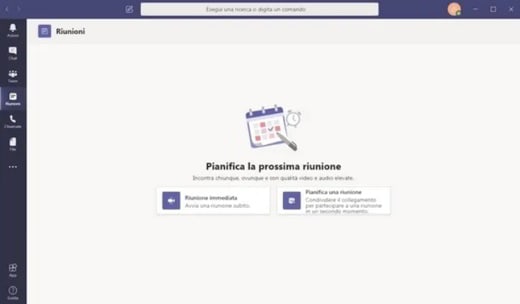 create a meeting with Microsoft Teams, therefore, you must be enrolled in the program Office 365 eligible and use Teams, but you must also have permission to perform certain operations, usually issued by the person appointed by the company or institution, to manage the licenses.
There are two options to start the meeting: scheduling and immediate start-up. In both cases you need to access the card Calendar from the commands on the left of the app or browser window.
At this point you can press the button Immediate meeting and set some basic options, including the meeting title, alternatively, select a day and schedule the meeting.
How to put wallpaper on Teams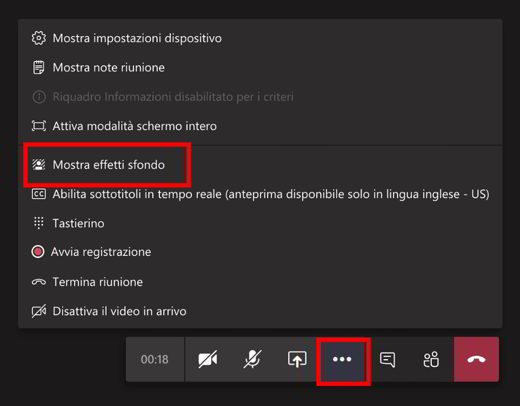 During the meeting you can set the audio and video effects, but also change the background, to do this you have to go to the meeting controls and select More Actions> Show Background Effects.
Select Blur to blur the background or, choose one of the available images to replace it. You can also upload a custom image by clicking on Add new and then choose the file with jpg, png or BMP extension from the PC. Before applying the new background you can see a preview of it. The background effects can be deactivated at any time by selecting the prohibition icon. Linux users cannot change meeting backgrounds for now.
How to see all attendees on Teams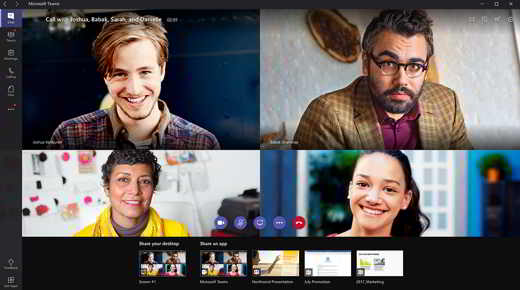 Want to know how to see all attendees on Microsoft Teams? Let's start by saying that, in theory you can't see them all. In fact, Teams has limitations, by accessing collective video calls from the web and apps, you can only view a certain number of participants, following the path Manage Teams> Members.
Using the desktop app you can see up to a maximum of 9 participants at the same time, the most active or those you can block at the top; on the web version you can see one person at a time.
For the Web version it is still available the Teams Carousel extension for Google Chrome and Microsoft Edge to see the entire participant grid.
How to share your screen

You can share your screen in Microsoft Teams showing the desktop, a specific app, a presentation or any file during a meeting.
To do this click on Share, then select the fields to share between:
desktop: allows you to show screen elements
Window: Shows a specific app
PowerPont: shows a presentation
Shop by Department: allows you to search for a file to show
After selecting the element to show, it is surrounded by a red border. You can select Stop sharing to stop displaying the screen.
How to join a meeting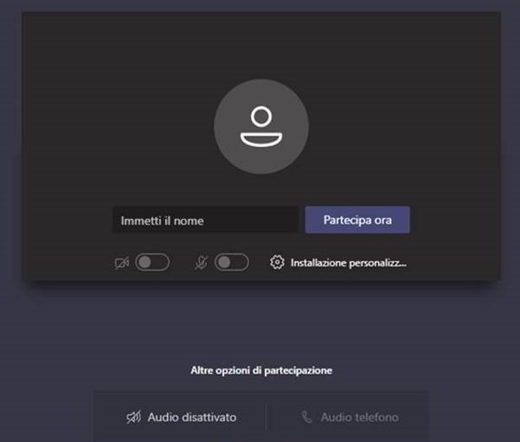 You can join a Microsoft Teams meeting from the calendar, or, by logging in as Guest from the web. If you want to join from the application, choose Calendar and select Join an ongoing meeting, choose the desired audio and video settings and then confirm by selecting Join now.
To participate in a Teams meeting on the web, you need to open the link in the e-mail sent as an invitation to take part, then clicking on Participate. You can also use the external telephone number and conference ID in your e-mail to call and join.
How to participate as a guest
With guest access, people outside your organization can access teams, documents in channels, resources, chats, and applications. A guest is a person who is neither an employee, nor a student, nor a member of the organization and who does not have a corporate account.
Guest users can be partners, suppliers and consultants. The guest can be added in Teams, you just need a corporate account, that is, an Azure Active Directory account or a consumer email account like Outlook.com, Gmail.com, ect.
How to create a team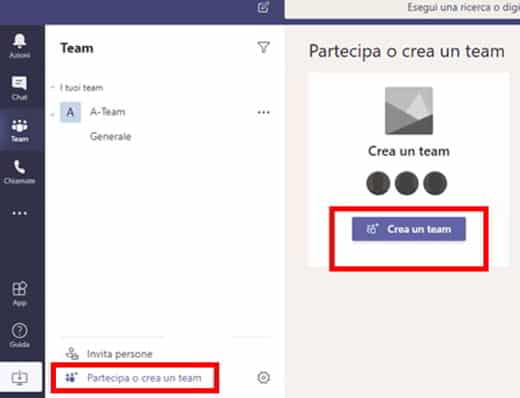 If you want create a team from scratch, first of all, you need to click on Team on the left side of the app, then on Participate o Create a Team, at the bottom of the team list.
click Crea and then Create teams from scratch and then choose the type of team that can be Private (limited to a specific group of people) or Public (a community that everyone can participate in).
Give the team a name and add an optional description, then finish by clicking on Created.
If you are a global administrator, you will have the option on the screen Create an organization-wide team, ideal for situations where you want to add all employees of the organization automatically.
At this point you are the owner of the team, you can invite people to join and create channels. You can create multiple teams, up to 250 at the same time for each account.
How to leave a team
If you want leave a team, the steps to do are very simple: access the team name from the desktop or from the Android or iOS app and click on the item Other options (or icon with the three dots) and then up Leave the team.
Remember that you can leave a team on your own, but only an admin can delete you from an organization or team at the org chart level.
Other useful information
How to register on Teams: To record a meeting on Teams, go to Other options (icon with three dots)> Start recording. All meeting recordings will be saved in OneDrive and SharePoint.
How to clear chats on Teams: if you wrote something in the chat and you want to delete it you have to go to the message and select More options (icon with dots)> Delete. If the message is not deleted then try to select Size and expand the box and then select Delete.
How to wrap on Teams: SHIFT + ENTER will allow you to start a new line.
How to activate microphone on Teams: select Other options (icon with dots)> Show device settings (gear icon) in meeting controls. Select the desired speaker, microphone, and camera options.

How to add contacts on Teams: To view the contacts, click on Calls> Contacts. By clicking on Contact Us personal, you will immediately see an alphabetical list of all contacts and a search bar that you can use to find a particular person. If you want to add a new contact to the list, click on Add un contact at the top of the list.

How to add background in Teams: here you can find your Teams wallpapers:% APPDATA% MicrosoftTeamsBackgroundsUploads. MAC: ~ / Library / Application Support / Microsoft / Teams / Backgrounds. To add new wallpapers go to Other options (icon with three dots)> Show background effects > + Add new, select the image from your PC. The image must be 1920 x 1080 pixels (width x height).

How to block someone on Teams: Access the chat of the contact you want block, tap on the contact's name at the top of the chat. Press on Block contact.
How to use Teams notebook- on this topic you can see the page on: Use the OneNote notebook for the class in Teams.

How to zoom in on Teams: to zoom in or out on a Teams presentation click on CTRL + equal sign (=) o CTRL + minus sign (-), or on CTRL and mouse wheel (CTRL + 0 to return to the initial state). Alternatively you can try with More options (icon with dots)> Focus. It will serve to focus the contents.