Convert pdf to word keeping the formatting. A selection of useful software to transform PDF to Word quickly.
An excellent free PDF to Word converter will allow you to turn PDF documents into Word files that you can easily edit without having to buy specialized software, while keeping all the original formatting.
PDFs, or portable document format files, were developed to make it easier to share documents between different computers and operating systems with even minimal changes. PDFs have started to gain popularity due to their ease of sharing and printing.
Best programs to convert PDF to Word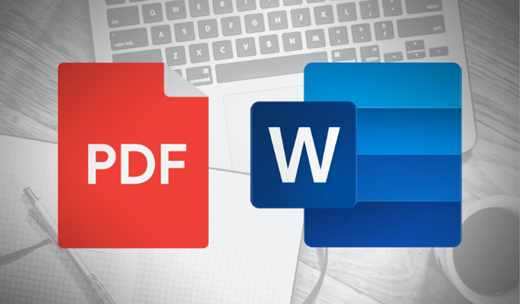 With the spread of the PDF format, interoperability with programs such as Word, the leading word processing application, has grown enormously and many PDF to Word converters have been developed over the years. Each of these transforms PDF into Word highlighting their strengths without limitations or restrictions.
But let's see how to convert PDF to Word. We have examined for you i programs to convert pdf to word keeping the formatting which in our opinion are the best around.
If you need to keep your PDFs in their current format, also check out our guide on the best free PDF editors.
1. WPS PDF to Word Converter (Windows, Android, Online)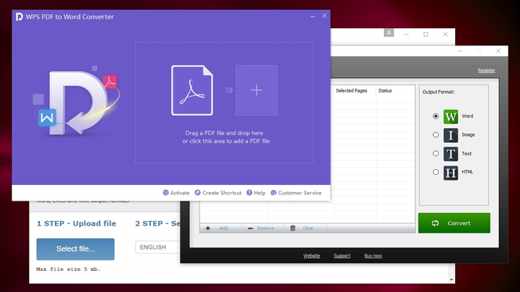 An accurate and impressive free Word PDF converter.
Divide and merge documents
Batch conversion
Keep the original layout
Five-page limit
WPS PDF to Word Converter is among the best programs convert pdf to word keeping the formatting, even if you have lots of documents and want to keep the original formatting. In fact, it allows you to convert pdf to word while maintaining the formatting.
It works on Windows, has an app Android and also has a converter online. In our Windows 10 test, images, tables, colors, and even non-standard fonts were perfectly preserved in the documents created, as were the layout and spacing.
The sore point is splitting and merging several sections of a PDF document into one file. With the WPS PDF converter, you can choose the pages you want to convert, sort them as you wish, and export a new document in different formats, all with the original formatting and layout intact.
2. Nitro PDF to Word Converter (Windows)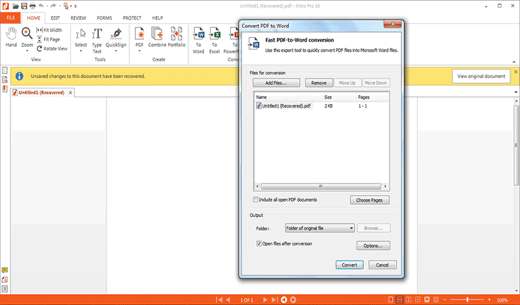 Great for text, but not a good choice for image-rich documents.
Easy to learn and use
Create, edit and convert
Review and annotate documents
Only five conversions per month
With Nitro PDF Converter, you can upload batches of files, but the converted files are emailed to you, so you need to provide an email address to receive your documents. Plus, it's only available as a 14-day trial and you're limited to five conversions per month. This unfortunately severely limits the usefulness of the product, in addition to the fact that it only works on Windows.
This free PDF converter transforms PDF to Word accurately, but sometimes the images are distorted in the output file. Other potential problems include random spaces or unexpected line breaks appearing in the final document. However, these are rather minor issues and can be fixed manually unless you have large batches of files to convert at one time.
3. IceCreamPDFConverter (Windows)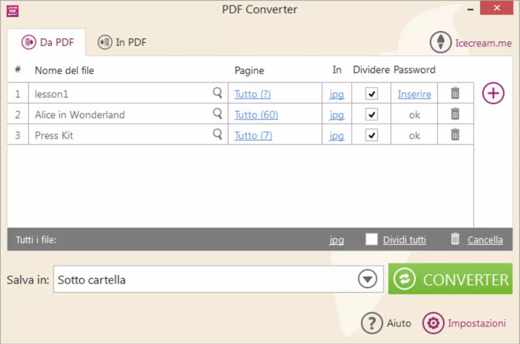 It allows you to convert PDF files to Microsoft Word bypassing file protection.
Support password protected files
It has a built-in PDF reader
Limit of 5 pages
Limit 3 files per conversion
To merge files you need to purchase the Pro version
Icecream PDF Converter is a free application that allows you to transform PDF into Word with a multi-functional interface. You can also take advantage of this program for converting files from PDF to PDF, from DOC to PDF, EPUB to PDF, JPG to PDF and more. It also offers the possibility to merge all the files into a single PDF document and to take advantage of the various settings of the output files.
Not only that, Icecream PDF Converter converts PDFs to JPG, BMP, EPS and other formats without any page limit or file limit. Its features include: multi-format support, one-click conversion of multiple files, layout settings, selection of page ranges to convert, merging files, changing the sequence of files when merged, and password protecting files.
4. Wondershare PDFElement (Windows, macOS, iOS, Android)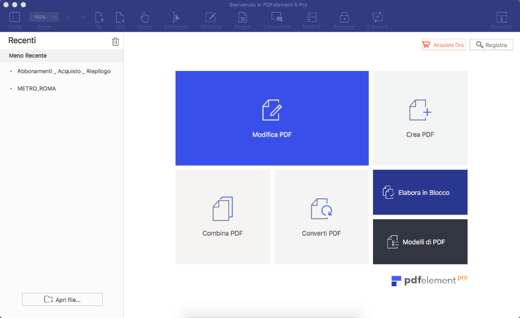 A complete PDF conversion suite in a well designed package.
Great for image-rich PDFs
It supports multiple file types
Document protection
Five-page limit
With the free PDF to Word converter, Wondershare PDFElement, you can create, convert, edit and even sign PDF documents. It works on Windows and Mac and features a full-featured word processor such as MS Word which gives you great control over documents, text and images to manipulate. You can post comments anywhere in your file, ask someone else to review and sign the document when it's ready, and easily share it with your collaborators.
There are advanced features in this product as well. For example, you can secure specific sections of your document so that only recipients who have the necessary permissions can see that information, and you can even download an iOS and Android app to work on your PDF conversions on the go.
5. UniPDF (Windows)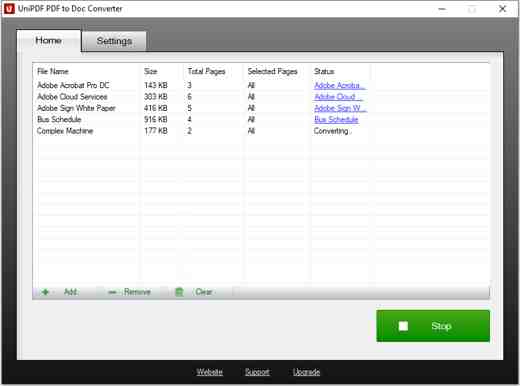 Works well with simple documents, but struggles with formatting.
Pictures preserved quite well
Small and light app
Loss of text formatting
Three-page limit
UniPDF it's a program to convert PDF to Word for free designed for Windows and able to save you from problems related to long upload or download times typical of various online tools. Since the application works directly on your PC you can safely work on sensitive data without having to upload anything online.
However, the accuracy of the UniPDF conversion leaves a lot to be desired. In some cases, the converted text can be significantly different in size than the original, and sometimes the columns meet. As a result, UniPDF is the best pdf to word when documents have text only.
6. PDFMate (Windows, macOS)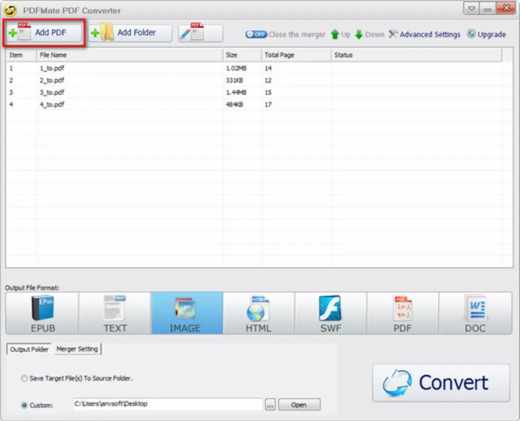 A program to convert PDF to Word with a simple interface.
PDFMate is another free PDF file converter in ePUB, TXT, SWF, DOCX, HTML or JPG formats. it also converts PDF to Word documents automatically. In addition to making things easy, PDFMate it will save you a lot of time thanks to its optical character recognition (OCR) to convert scanned PDF files and make them editable text.
To conclude its simple and clear interface, it will help you in the PDF to Word conversion process leaving unchanged the quality and layout of the original file.
7. Free Online OCR (Windows, macOS, Linux, Online)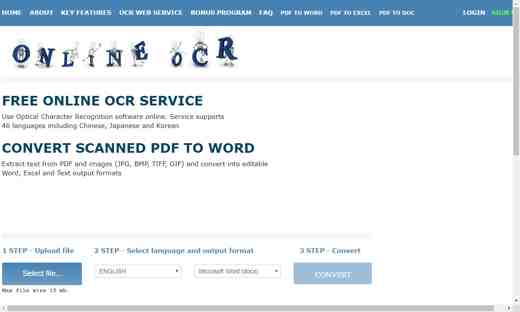 OCR produces documents that look perfect with a little tweaking
Great for handwritten notes
It can handle large files
Lots with colorful backgrounds
No batch conversion
Free OCR online is an online application than before extracts text from PDFs and then converts it into a Word document. Once your Word file is ready, you are sent a link from which you can download your file. Since this is an online app, multiple systems can use it at the same time, and since the output files are shared via an online link, the application is easier to use than services that require an email address to receive files.
Free OCR Online was designed to work with images, this free PDF to Word converter does a great job of preserving the format and text of the source files. It also accurately captures headers and footers.
The software has a flaw when it comes to capturing text that is on a colored background. The application sometimes loses this type of text and leaves gaps and unsightly page and line breaks where they are actually missing in the original document. Also, since it is an online Word PDF converter, uploading documents for conversion may take some time.
To learn more, you can read our guide: OCR: how to extract editable text from images.
8. AnyBizSoft PDF to Word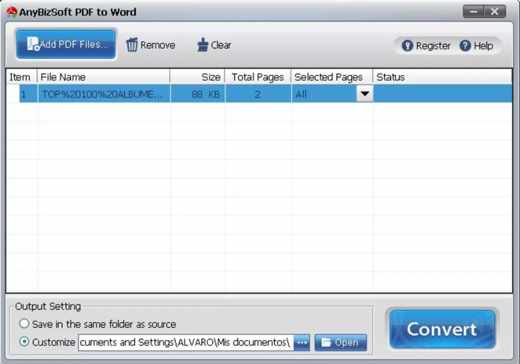 It does not require the installation of Word or Acrobat
Convert encrypted PDFs
Interfaccia user-friendly
It is available in 12 languages
AnyBizSoft PDF to Word is a PDF to Word converter that does not require installation of Microsoft Word to be used. It is free and is perfect for personal use. Among its features we find: support for the conversion of encrypted PDFs, support for batch conversion of up to 200 elements, saving of text, layout, tables and links in an editable document, does not require Word or Acrobat.
Its use requires online registration and conversion has no limits. After downloading it you will be able to interact with an easy-to-use interface that allows you to select the PDF file and then drag it to the program.
Perfect are also the maintaining text formatting and converting secure PDF files.
Other programs to convert PDF to Word for free
If you convert PDF to Word file it is often not difficult if you use the suitable Word PDF transformer. That's why I decided to add below the best sites to convert PDF to Word Online, valid alternatives to the best convert PDF to Word.
Smallpdf: it is the best online solution to transform PDF to Word without having to install third party applications on your computer. It works on any browser (Chrome, Mozilla, Internet Explorer, etc.) and its use is very simple, all you have to do is drag the PDF file to the site, in the section Transform from PDF to DOC for free, and wait for the completion of the process. conversion and then download. You can upload PDF files from your PC but also from Dropbox and Google Drive.

For further information read this guide: How to edit PDF online for free: alternative to SmallPdf.
PDFOnline.com: is another site that converts PDF to Word online. It is famous for its conversion quality and for managing images and tables. Pages transformed from PDF to Word retain fonts, paragraphs, lists, tables and columns. You do not need to register to use the online service. Once the conversion is complete, the uploaded PDF and Word files are deleted. It is considered by many to be the best tool to turn PDF to Doc for Word.
PDF to Word Free: It is always provided by Nitro, and it is a fast and intuitive online service. Text and images retain the formatting of the original PDF file, with some minor problems that can be solved manually.
Zamzar: Last but not least, it is a site that converts anything. It supports about 1200 formats without having to install any software. It is also a PDF to Microsoft Word converter. What you need to do is upload a file or enter your email address to receive the result in your email inbox.
Frequently asked questions and answers
Right-click on the selected texts or images and click on the "Copy" option.
After copying the contents of the PDF file, open Word and paste these contents into Word.
You can copy and paste the text or images from the PDF files to Word.
18 Jan two thousand and twenty-two
The range of an electric scooter generally On average, current electric scooters have a range of forty to one hundred km.
In the city center, there are more 2-wheeled cars in the 50cc category with a range of forty-fifty km.
May seventeenth, two thousand and twenty-one
Compilation of frequently asked questions that our users have sent us and that our experts have answered.