Programs to delete unnecessary files. Eliminating junk files residing on the hard disk is the goal of all those who want to have a fast and high-performance computer.
If you are unable to remove unnecessary files, please read this article carefully as I will point out the best ones programs to delete unnecessary files currently in circulation and with which you can act on both Windows and macOS.
But first I want to reveal to you how to use the Windows and MacOS utilities, already pre-installed, which you can only use if you truly consider yourself a computer expert. Otherwise I suggest you give up and rely on a program like CCleaner or another one of those listed below.
How to clean up Windows
On PC Windows the integrated tool is available Cleaning disc that allows delete temporary files and useless data present on the hard disk.
To use it you have to type Cleaning disc in the Windows 10 search field. Click on the result obtained and when the program window appears, select the drive where you want to act, and then click on the button OK.
Check the items related to the items you want to remove, for example Temporary Internet Files, Programs downloaded, Trash can, etc. and press the button Ok to start the cleaning process. For system files, you can click the button System file cleanup.
How to clean up your Mac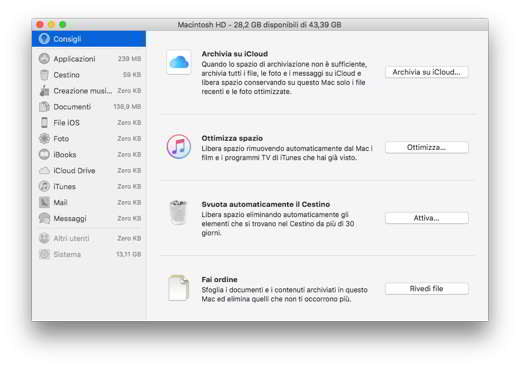 If you have a macOS and want to get rid of unnecessary files you can use it default disk cleanup tool. To start it you have to click on the button apple located at the top left of the menu bar and, in the menu that appears, select Information on this Mac.
Then click on the tab archive and press pulsating Manage, in correspondence with the symbol of the hard disk of the PC.
In the new window that appears, choose whether to launch card operations Advice pressing the relative buttons. For more targeted cleaning operations, click on the tabs on the side (Trash, Mail, Documents, and so on) and take advantage of the functions available in the right part of the window.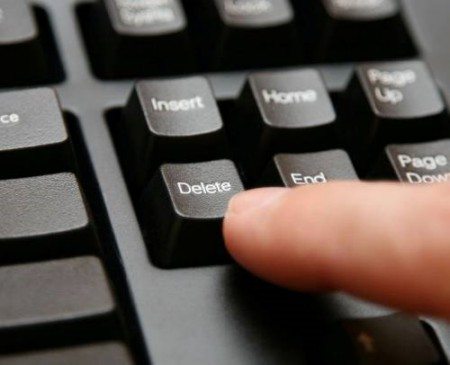 How to delete duplicate files on your PC
Programs to delete unnecessary files
Over time, useless files can become a serious problem for the performance of any computer. After indicating the programs to permanently delete files and programs to delete undeletable files, you will find below programs to delete unnecessary files, which concern temporary files, browser cache and much more.
1. CCleaner (Windows, MacOS)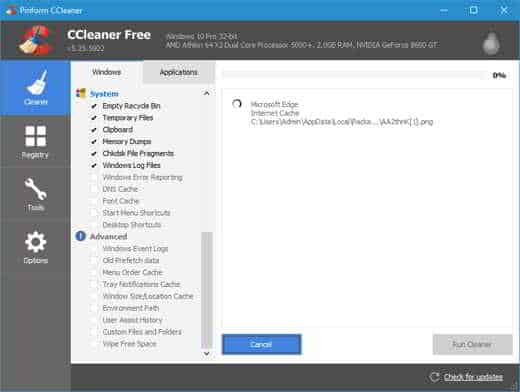 The most famous cleaning tool in the world is CCleaner. It is a free program and allows you to remove browser cache, history, cookies and temporary files. It also removes recent documents, MRUs, thumbnail cache, and Taskbar Jump Lists. Using it you can remove many junk files created by your system, so that you can clean temporary files, clipboard, memory dumps, chkdsk fragments, log files, DNS cache, event logs, old data prefetch, etc.
Of course, this software allows you to clean the junk files of other applications, such as third-party browsers. All available options are sorted in a list, so you can easily choose the type of file you prefer to remove. It also allows you to scan the registry, so you can fix problems with missing shared DDLs, unused file extensions, application fonts, etc. CCleaner also has theuninstall option to remove installed applications. There is also a integrated boot manager, so you can organize startup items. If you wish, you can too disable or delete browser plugins directly from CCleaner.
With CCleaner it can scan your hard drive to find all those files that take up the most space. If you wish, you can too find and delete duplicate files, remove system restore points and permanently delete files from your hard drive. CCleaner is an amazing tool, it's free and portable, so it's perfect for any user.
It also features a professional version that offers defragmentation, file recovery and hardware analysis features.
2. AVG TuneUP (Windows, MacOS)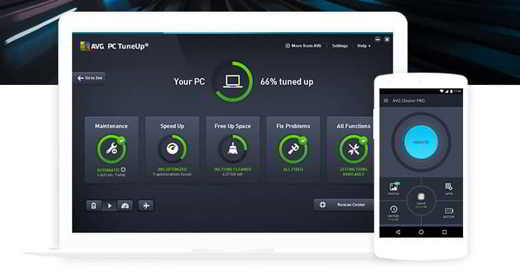 AVG TuneUP is another program that can speed up your PC by removing all those useless files that are taking up space. It has a modern and very nice user interface with which you can clean up temporary files and prevent programs from using resources, thus speeding up your PC. This tool will keep your PC fast by detecting all performance bottlenecks. There is also an automatic maintenance feature that will help you clean junk files.
AVG TuneUP it can remove leftover files from over 240 programs and can also remove browsing traces from all popular web browsers. It also eliminates Windows cache, logs and duplicate files. The tool also includes Disk Space Explorer which helps you find and remove large files from your PC.
AVG TuneUP also has the Turbo, which deactivates unnecessary functions to release more energy. There is also one program deactivation function which prevents unused programs from draining PC power. The tool also has one Startup Manager integrated, to find and disable startup applications that are slowing down your PC, a Uninstall Manager to easily identify and uninstall all unused programs from your PC and function Drive Defrag which will defragment your hard drive to speed it up.
You can clean the registry thanks to the functions too registry Cleaner e Registry defrag which can fix problems with the registry. It is then equipped with numerous automation features that will scan your PC for any problems. This application also allows you to recover deleted files and permanently delete them.
Finally AVGTuneUP is a powerful tool for cleaning useless files from your PC. It offers a beautiful user interface and plenty of features. The free version of the tool is available for download, but if you want all the features, you need to purchase a one-year license for $ 44.99.
3. Revo Uninstaller (Windows, MacOS)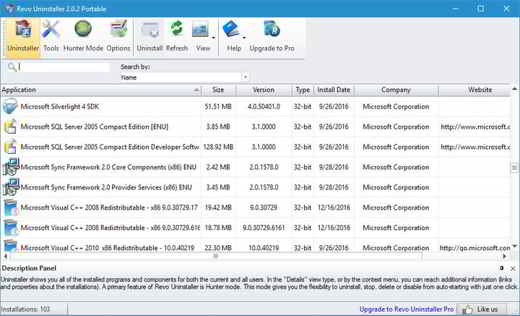 If you want to remove unnecessary programs and files for your PC, you can rely on Revo Uninstaller. This program will delete installed applications with ease, but also programs stubborn to removal. Unlike normal uninstallation, the tool also deletes the data left over after uninstalling the program.
Revo Uninstaller allows you to quickly search and uninstall applications from your PC. Using the Pro version, you will also be able to remove all remaining services, drivers, file associations, shell extensions. The tool also supports the function of uninstall forced which allows you to remove any files left over after a classic uninstall. There is also a function of multiple uninstall, with which you can remove multiple programs at the same time. We must remember that the tool creates also a system restore point before each uninstall. In addition to the system restore point, you can also create a full registry backup before uninstalling an application.
But Revo Uninstaller not only takes care of uninstalling unnecessary applications, it also removes unwanted files. You can remove all old unnecessary files created by Windows applications. Another useful feature bundled with Revo Uninstaller is Autorun manager, which you can use to manage your startup applications.
You can also clean up temporary files, browse records and cookies from all PC browsers, and remove Microsoft Office, PC file history, memory dump files, chkdsk fragments and thumbnail cache. Another feature of this application is the ability to permanently delete files thus making them unrecoverable.
In conclusion Revo Uninstaller it's a great tool if you need to permanently remove a certain application or file, and it's very useful if you want to delete unwanted files from your PC. The free version offers basic functionality and with the portable version available you can run this tool on any PC without installation. For more information see the official Revo Uninstaller website.
4. Wise Registry Cleaner (Windows)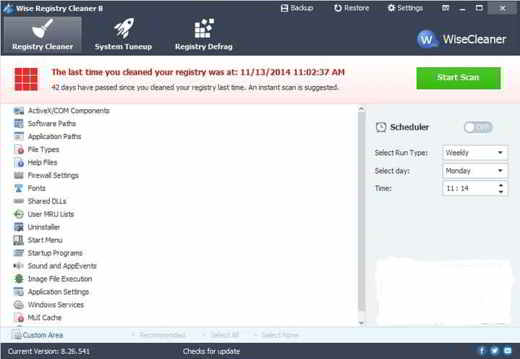 One tool that can help you remove unnecessary files from your PC is Wise Registry Cleaner. This program scans and cleans the Windows registry by removing all those obsolete entries created by uninstalled programs.
It also automatically backs up the registry before cleaning it in order to restore it following any post-cleaning anomalies. Wise Registry Cleaner offers normal, safe and deep scan options while also adding some exclusions. It also supports automatic cleaning, so you can easily plan your next cleaning session. Wise Registry Cleaner it's free, but if you want to scan and fix the registry of other users on your computer, you need to purchase a license.
5. PC Decrapifier (Windows)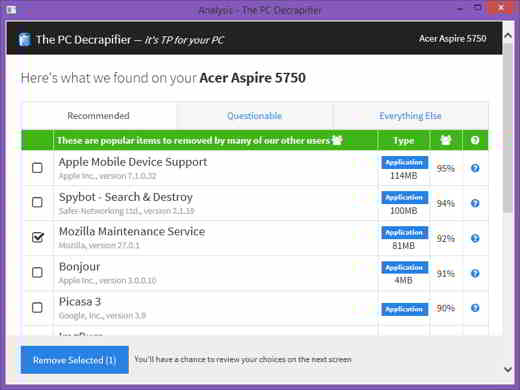 PC Decrapifier is a simple, free and portable software that you can use to remove unnecessary files from your PC. The application scans your PC for any unnecessary software that may have been installed. All scanned apps will be sorted into three categories, for example Advisable, Questionable e Everything Else (Recommended, Questionable, Everything Else). Just select the applications you would like to remove and click the button Remove selected.
The app also offers an option for create a restore point before removing selected applications. This is extremely useful in case you accidentally delete an important application from your PC.
PC Decrapifier is a free and portable program, and with its simple and intuitive user interface it is definitely perfect for any type of user, expert or not. While this application can remove unnecessary software, it does not provide the ability to remove temporary and old files. Despite this small imperfection, it is still a decent application for removing junk software from your PC.
6. Magic Utilities (Windows)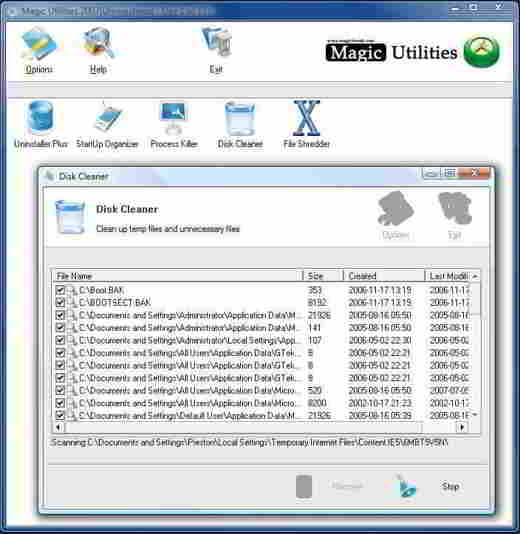 Magic Utilities is a powerful application to clean your computer of unnecessary and temporary files. Using this application you can safely uninstall programs or manage applications that start with Windows 10. Furthermore, you can check both running and hidden processes.
This program can detect incorrect and left over entries and log files after removing some apps. It also automatically detects any new applications installed or added at startup.
By taking advantage of Magic Utilities you can also take advantage of the option File Shredder, which securely deletes your files and prevents them from being restored. Furthermore, there is also an option for encrypt your files.
In conclusion Magic Utilities is a powerful tool with a wide range of features and, although it comes with a somewhat outdated interface, it is useful for removing junk from your PC. The trial version is available for free, but if you prefer to use all the features of this software, you need to purchase a license for $ 39,95.
7. Easy Duplicate Finder (Windows, MacOS)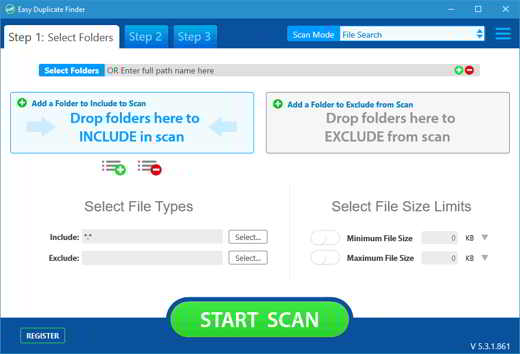 If you want to delete unwanted files from your PC, I recommend that you give it a try Easy Duplicate Finder. This tool allows you to scan certain folders or entire drives for duplicate files. You can scan specific folders or exclude certain folders from scanning.
The tool allows you to exclude certain types of files from scanning and also set the maximum or minimum file size limit. When the scan is complete, the total number of files scannedi, the number of duplicate files and the amount of space used by those files. Finally, you can choose what to do with the duplicate files. You can move, delete or rename files directly from the app. In addition, you can also view thefile preview to avoid mistakenly deleting a file. The tool also has a button Cancel so that you can restore files you deleted by mistake. System files and folders are protected, so you won't accidentally delete them using this app.
Easy Duplicate Finder it features a simple user interface as well supports 8 different scanning modes that you can use. The free version is available for download, but if you want all the features you need to purchase a one-year license for $ 39,95.
8. Wise Disk Cleaner (Windows)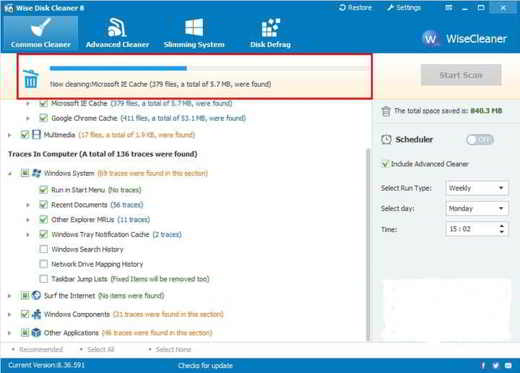 Another tool that deletes junk files on Windows 10 is Wise Disk Cleaner. This tool can clean up temporary files and all kinds of system files that are not needed on your PC. Removing these files will speed up your PC and free up hard drive space. In addition, you can clean your internet history, cache files and cookies for all major popular browsers. It is also possible to clean traces from Windows and other applications.
Another feature that could speed up the hard drive is the function Disk Defrag. Using this feature, Wise Disk Cleaner will reorganize the fragmented data on the disk, thus making your hard drive more efficient. Another useful option is the cleaning automatic of disco which allows you to schedule the cleaning process on a daily, weekly or monthly basis.
Wise Disk Cleaner is a simple and small application that will remove unwanted files from your PC. It should also be remembered that this tool it's completely free, so you can use it on your personal PC without limitation.
9. R-Wipe and Clean (Windows, MacOS)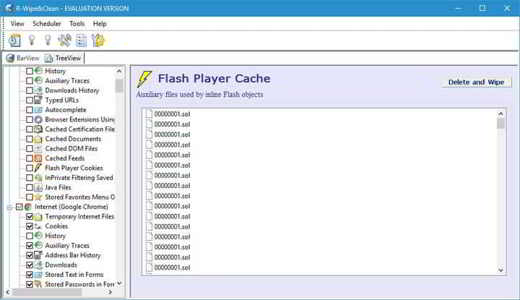 R-Wipe and Clean is a powerful program that can clean hard drives from unnecessary files. Delete Temporary Internet Files, History, Cookies, Auto-Complete Lists, and Temporary Files. It also removes traces from over 300 third party applications. Before deleting your files, you can review them and double check if you want to delete them.
In addition to deleting temporary files and cookies, R-Wipe and Clean also deletes Flash cookies and Java and Microsoft VM logs. Not only that, it also removes recently opened document history, file history, clipboard, Windows temporary files, registry traces, search results, execution list, connected peripheral devices, etc.
You can create a custom wipe list to delete activity traces from any application that R-Wipe and Clean does not support by default.
The user interface is simple and any files you can delete are displayed in the tree in the left pane. Once you have selected the files you would like to remove, you can view the information in the right pane. R-Wipe and Clean comes with a free 30-day trial period, but if you prefer to use it freely you can purchase a license for $ 28,99.
10. Junkware Removal Tool (Windows)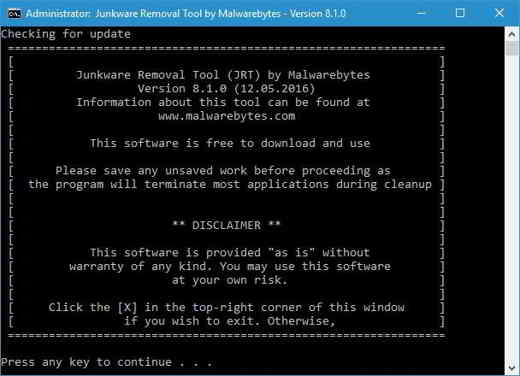 If your PC is running slow, it could be due to unwanted programs such as adware. Junkware Removal Tool is a simple and portable application created by Malwarebytes which will remove all those unwanted applications from your PC.
With Junkware Removal Tool you can permanently delete adware popups, unwanted toolbars and browser helper objects. Furthermore, you will remove unwanted programs and all their traces. This tool, in addition to removing problematic extensions from different browsers, is able to detect and remove over 250 applications and thanks to its speed you will never notice the fact that it is running.
We must mention that the application comes with the command line interface, and this may turn up their noses for some users. However, Junkware Removal Tool is small, free and portable, so it will work on any PC without installation.
11. Digeus Junk Files Cleaner (Windows)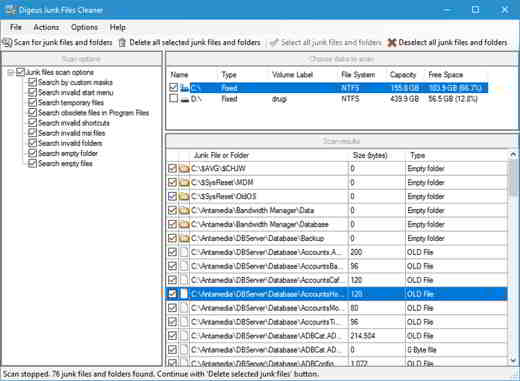 If you have trouble removing junk files on your PC, you can use Digeus Junk Files Cleaner. This tool allows you to scan hard drive partitions for unwanted files. If you see fit, you can also customize the scan by selecting the options available in the left pane.
The tool allows you to clean over 50 different file types. You can also remove shortcuts, files, folders, empty or obsolete files, and invalid temporary files. After scanning the drive, you can view the location of every single unwanted file; you can even open that file's directory in File Explorer.
Digeus Junk Files Cleaner is a simple tool, but unfortunately it's not free. The program comes with a trial period, and if you want to continue using it, you need to purchase a license.
12. Synei PC Cleaner (Windows)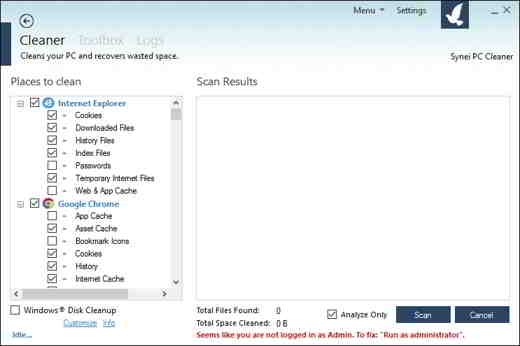 Synei PC Cleaner is part of Synei System Utilities. This tool is capable of removing any junk files created by Windows applications, it supports over 2000 different third party applications.
This software will remove the cache, temporary files, cookies, browsing history and all kinds of other unnecessary data from all your browsers. Synei PC Cleaner removes unwanted files from third-party apps, but also allows you to remove system files. As for the latter, it is possible to remove MRU lists, Office cache, temporary files, Windows cache, dump files, etc. There is also a section Extras which should allow you to remove temporary and unwanted files created by other third party applications.
Synei PC Cleaner is a great tool and it's also free and portable, so there's no reason not to try it.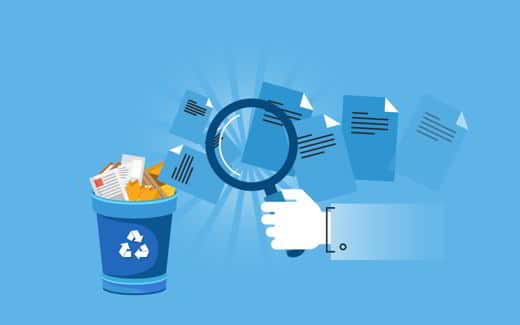 Programs for eliminating duplicate files