Here how to recover deleted photos with EaseUS Data Recovery Free, the best tool for free and fast recovery of lost data with just three steps: launch, scan, recover.

With the use of digital cameras, taking photos to record the highlights of your vacation has become really easy. But the disaster is always around the corner and the unexpected loss of photos that you cared a lot about has unfortunately happened. I know you are wondering, how to recover deleted photos? You must know that even if the photos are physically deleted they are still on the disk until the portion of memory that hosts them is written again with other information. If you take action before overwriting you will be able to recover photos or other data, such as videos, almost certainly.
Index
Cos'è EaseUS Data Recovery Wizard Free
Come ripristinare photo cancellate
How will I recover video cancellati
Conclusions
Cos'è EaseUS Data Recovery Wizard Free
The secret to recover deleted photos is through EaseUS Data Recovery Wizard Free, a powerful professional data recovery software capable of restoring deleted, formatted or lost data from PC, notebook or removable devices, such as memory card, USB drive, SD card, digital camera, pendrive and many other storage devices.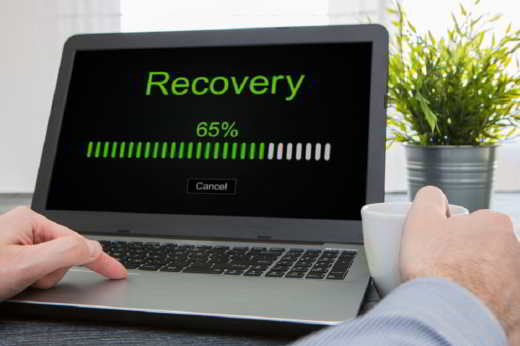 In addition to the recovery of the deletion, Data Recovery also intervenes in cases of hard disk crash, partition damage, memory corruption, virus attacks and much more.
Come ripristinare photo cancellate
In the following lines you will understand the steps to follow to recover lost images, everything is quite simple and does not require any technical knowledge. Let's see it together.
Compared to previous versions Data Recovery Wizard Free 12 has changed, you can now preview an audio and video file, speed up the scanning process, recover video files by offering them higher quality and have less optimization for interactions.
The first step to take to use Data Recovery Wizard Free is to download it from the official website by clicking on Free download to save the file on your Windows PC drw_free.exe. At the end of the download click on it twice and follow the instructions given by the program during installation. Remember that to avoid further data loss it is advisable to install Data Recovery Wizard Free on the disk whose data you want to restore.
Upon completion of the installation process, launch the program. L'interface EaseUS Data Recovery Wizard Free will immediately appear intuitive and very user-friendly with Windows-style icons. The folder tree is visible in the left column, while the files found during the scanning procedures in the right column. Finally, you can access a "raw" version of the collected data to trace files even if not properly cataloged, or save the status of a scan to analyze it later. In addition to pausing the scanning process, you can also export or import scan results.
Select a location (hard drive, external drive, desktop, etc.) where you have lost data and start the analysis by pressing the button Scan.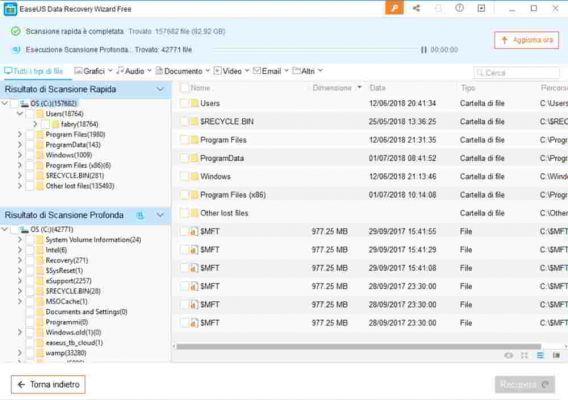 The first scan will be quick and will serve to list the files deleted or emptied from the recycle bin. Immediately afterwards a deep scan will start whose purpose is to find more lost files with a longer time request.
At the end of the scan if you want to recover the photos and other files, you have to select them and then click on the button Recover.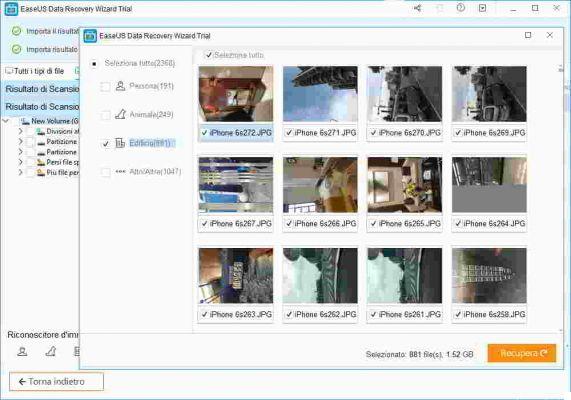 At the top below the scan progress window, you can view All types of files or select Graphs to recover photos only or Video to recover only the videos or one of the other entries in between Document, Email, Audio e Others to recover other file types.
The image files that Data Recovery Wizard Free is able to recover are: JPG / JPEG, TIFF / TIF, PNG, BMP, GIF, PSD, CRW, CR2, NEF, ORF, SR2, MRW, DCR, WMF, RAW, SWF , SVG, RAF, DNG, etc.
After pressing on the button Recover specify a save path other than the disk where you lost the image file and that's it.
How will I recover video cancellati
For recovering deleted videos with EaseUS Data Recovery Wizard Free you need to select the item Video, in the interface menu bar, and, if you know the file type, put one or more ticks on the MP4, MOV, FLV, WMV, AVI and Others filters (M4V, 3GP, 3G2, MKV, ASF, SWF, MPG, RM / RMVB, MPEG etc ..).
Press the button Scan and wait for the recovery of the deleted video or videos. Data Recovery Wizard Free will recover deleted video from partitions with original file names and storage paths. The EaseUS software also works well with dynamic disk, RAID and EXT2 / EXT3 file systems.
Consider that if the video has been deleted and immediately after you have emptied the recycle bin or deleted directly, using Shift + Delete, Data Recovery Wizard Free will be able to recover it. Same goes if the video was lost due to a formatted hard drive or partition or even lost.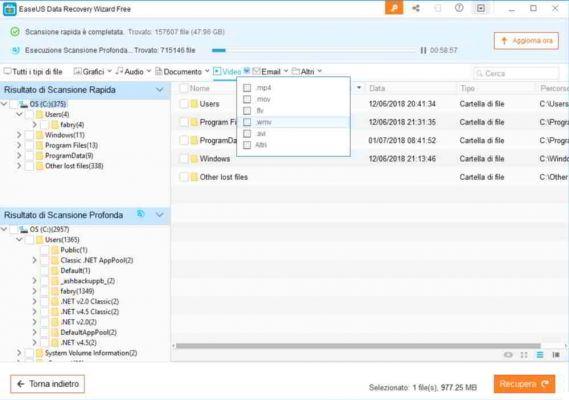 After pressing the button Recover, you will need to specify a save path other than the disk where you lost the video file.
Unfortunately, recovery of deleted videos is not always 100% guaranteed. For a guaranteed recovery, it must take place as soon as the files have been deleted from the PC, this greatly increases the possibility of recovery.
Conclusions
As you could read in this review, EaseUS Data Recovery Wizard Free is an easy-to-use software that requires no computer skills. The software allows you to recover up to a maximum of 500 MB or 2 GB of files, if you click the Share Facebook button in the program's wizard.
If, on the other hand, you want to unlock all its potential, I recommend the Pro version at the price of 66,69 euros instead of 84,95 euros with a single license to be used on a single PC with free lifetime support and updates.
The installation requirements of EaseUS Data Recovery Wizard Free are: x86 CPU, 32 MB of disk space and at least 128 MB of RAM.