I dating sites they marked an era for those looking for love online and, without a doubt Badoo, launched in the early XNUMXs, this is what paved the way for this type of portal. Here is a definitive guide on how Badoo works, with related prices, chat and features to find a soul mate.
Today, Badoo is also a dating app used by half a billion people around the world, from the young to the more mature.
Born in 2006 from the idea of ​​Andrei Andreyex, a Russian entrepreneur, it immediately met with great success, after just two years it already had more than 14 million members, ready to chat and make new meetings. Let's see what are the main features of this service.
How to register on Badoo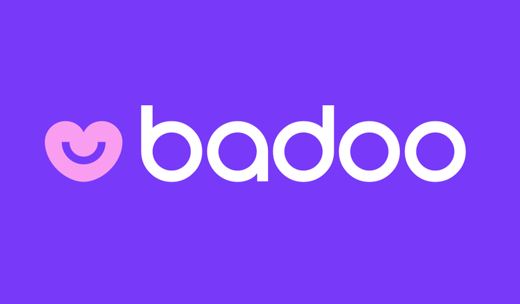 La registration on Badoo it's very simple, you can choose whether to try the experience from a mobile application, or directly from the site.
In the first case, you can download Baboo for Android and iOS mobile and after installation on the device, proceed with the registration of your profile. In the second case, go to the official website of the site and follow the instructions on the screen.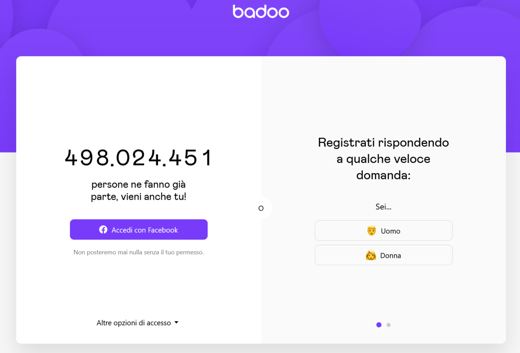 You are asked to indicate the gender (man or woman), name, date of birth and e-mail address to be associated with the account. After a few seconds an e-mail with a link to complete the registration.
Now you will have to complete the profile uploading a photo. You can add more later as well. To finish the procedure you will need to set a password.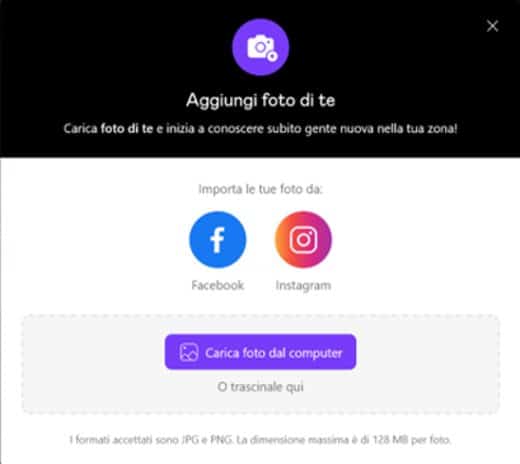 Also, you need to know that you can also do the registration from app on Badoo using your phone number or Facebook account directly.
How to use Badoo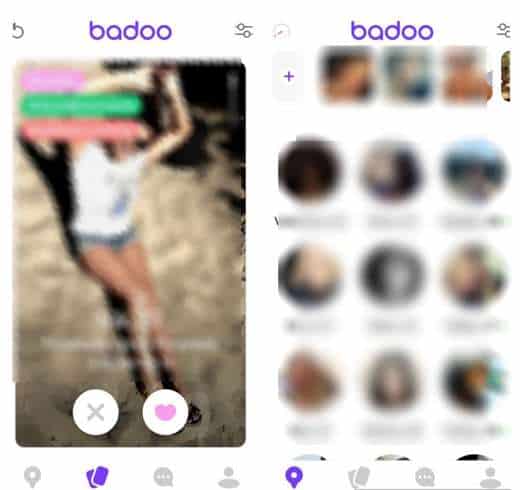 After making your first login on Badoo you will be asked to take a questionnaire. There are various kinds of questions, the advice is to answer sincerely, in a way than the Badoo algorithm can show you the most similar profiles in the search results.
Next, four sections are shown to you within the Badoo application:
Research: there are Badoo profiles closest to you based on your location. You are shown important information such as photo, profile name, age, distance in km and any Online Status.
Meetings: here you will find the complete profile of Badoo members selected by the algorithm based on common interests and various affinities. To see all the information, swipe up from the bottom up, if a person likes you, you can swipe to the right or tap on the heart. If you don't like it, swipe left or tap the cross icon.
Messages: there are all messages received from people, as well as any likes received from other Badoo members.
Profile: this section is dedicated to your personal area, where you can change the description, add photos, buy credits to access Badoo Premium and change settings via the gear app.
How to find people on Badoo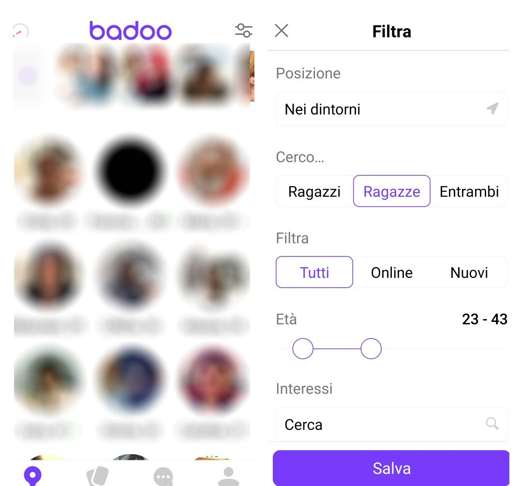 Badoo allows you to meet people from your city thanks to the internal search engine. Just tap on Research and automatically a list is shown with the online and offline profiles of all the people registered on the platform, in order of distance in kilometers from your position.
In some cases, the algorithm may give you too general results. To be more precise, use the Filter option, after tapping on the location and then on the settings icon at the top right, you are given the opportunity to make your search more detailed, by entering parameters related to age and interests .
How to chat on Badoo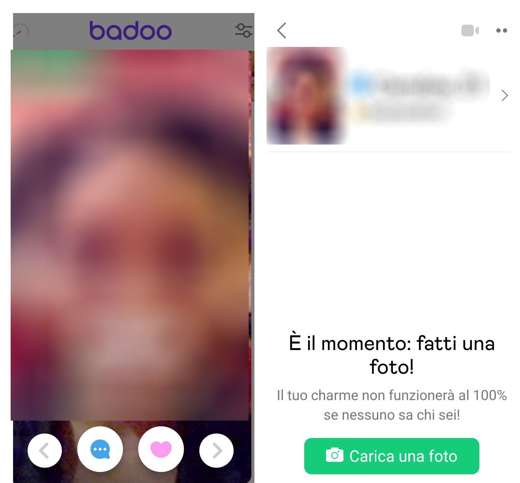 using the application of Badoo You can start chatting right away, you don't have to get a like or trigger a match to start chatting.
Find the person of your interest and open their profile, tap on the message icon, the chat where you can start greeting and talking. Break the ice and wait for the answer, avoid insisting on getting one, the other person is likely to be visiting your profile.
In chat, remember to always be honest and not to use vulgar or violent language, otherwise you could be reported to Badoo and risk blocking your profile.
What is it and how to activate Badoo Premium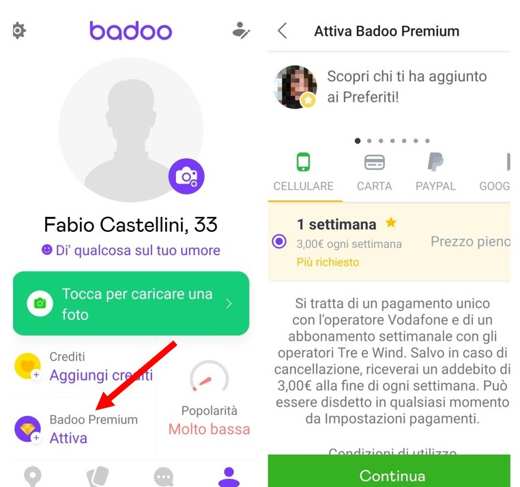 You've heard of Badoo Premium but you don't know what it is? This is the paid version of this popular dating app that allows you to increase visibility on Badoo and, consequently, to be able to meet and get to know a higher number of people.
You can subscribe directly from the application by going to Profile and then Attiva under the heading Badoo Premium.
The screen shows the payment options and plans to choose from:
Payment methods: telephone credit, Google Play, debit or prepaid card, Paypal.
Subscription plans: 7 days - 5,99 euros; 1 month - 19,99 euros; 3 months - 45,99 euros; 6 months - 90,99 euros; for life - 114,99 euros.
With the telephone credit it is only possible to activate the weekly plan of 3 euros.
Benefits of Premium Membership
There are several advantages of prefer Badoo Premium, for example, you can see the profile of the person who left you a I like it in the meetings section; cancel a No given by mistake; contact the most famous users on the platform; to be able chat first with the newcomers on Badoo; highlight a message sent to a profile by exceeding that of other users; browse and watch profiles anonymously and much more.
If you want to increase the visibility of Badoo on apps without subscribing, you have to use gods credits which can be purchased on a one-time basis. With these, for example, you can have priority in the search rankings and be among the first places in local searches. Or, increase the affinities and increase the chances of dating or promote your photo and let people know that you are online. Each advantage has a credit cost very specific. You can buy with the same payment methods for the subscription.
With the telephone credit you can buy: 100 credits - 2 euros; 550 credits - 10 euros; extra package of 250 credits at 5 euros.
How to unsubscribe from Badoo
To delete your account from Badoo, the steps are different depending on whether you are on the app or on your computer.
How to unsubscribe from Badoo via smartphone and tablet
To unsubscribe from Badoo on your smartphone or tablet, you need to go to yours Profile (last icon at the bottom right) and click on the icon gear, top left, to enter the Settings by Badoo. Select Account (with your email) and at the bottom click on the link Delete account.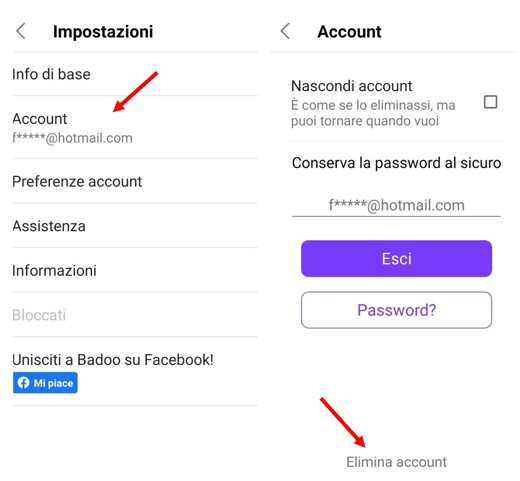 On the screen of Delete account, specify if you prefer to hide your account or if you are determined to cancel it. In the latter case, check the item Delete your account and press pulsating Continue.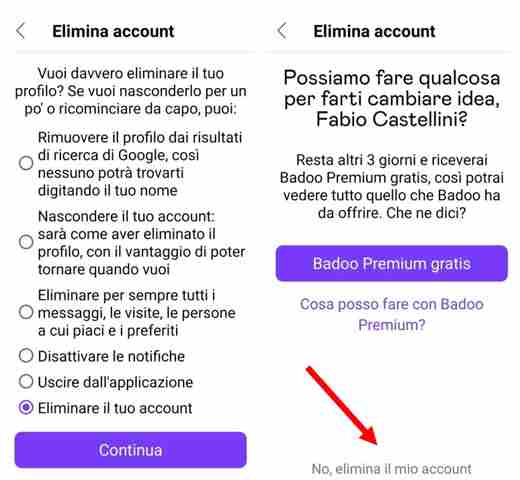 Badoo will try to give you a 3-day free offer on Badoo Premium, but if you want to remove your Badoo account, press down on No, delete my account.
How to unsubscribe from Badoo on a computer
Da computer instead you have to press on your name at the top left, on the right screen press the gear icon and then, at the bottom, click on the link Delete account. Check the item Delete my profile and click on Continue.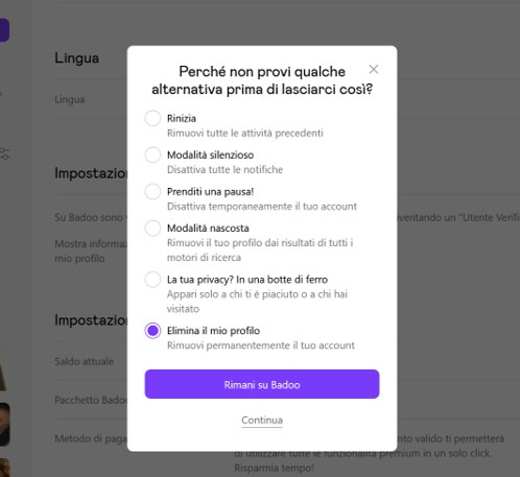 Answer the question Why do you want to leave Badoo?, enter yours Password I awarded her Delete my account but I will complete the operation.
In both cases, you will receive an email warning that your Badoo profile is no longer available and that it will be completely deleted in 30 days. If you change your mind before this deadline, you can click on the button Reset account, in the email received.
Conclusions
The Badoo app is free and allows you to meet new people near and far and start chatting right away. Easy to configure and use, the algorithm works well and proposes the profiles with the highest percentage of affinity.
Interesting is the possibility to upgrade to Badoo Premium and access additional benefits that make the user experience better and more complete. A dating site that deserves the success it has enjoyed over time.