How Amazon Prime Video works. Here are the costs and advantages of Amazon's on-demand TV streaming with Movies and TV series, a valid alternative to Netflix.
Amazon Prime Video Spain it is a free service included in the subscription Amazon Prime, whose subscription allows you to get free shipping on over 2 million products and reduced delivery times, with access to other services, at the monthly cost of 3,99 € or 36 euros per year. New customers can try it for free for 30 days, with no renewal obligation, while students can benefit from Amazon Prime for half price by subscribing to Amazon Prime Student.
How Amazon Prime Video works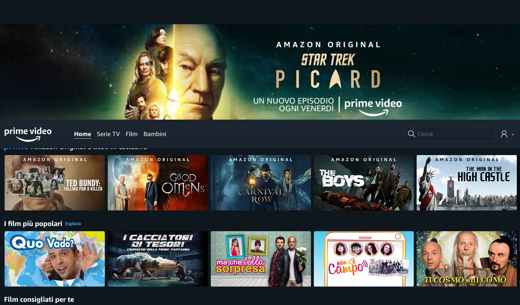 After opening the competition to Apple Music and Spotify with Amazon Prime Music and Amazon Unlimited Music, the online shopping giant has decided to also challenge YouTube and Netflix, how? With Amazon Prime Video.
It is a streaming system whose content such as movies, TV series and children's programs are available in resolutions up to 4K, played according to the strength of its connection. All without advertising and usage limits.
Amazon Prime Video it is PC compatible with all browser (Chrome, Edge, Firefox, Safari, Opera, Internet Explorer from 11 onwards) and works perfectly on Windows, Linux, MacOS e ChromeOS.
On the mobile side, the service is available for Android, iOS and Kindle Fire tablets. On all these mobile devices you can download content for watch them offline.
For iOS devices (iPhone and iPad) there is also support for AirPlay which allows you to project on Apple TV Prime Video content viewed on iPhone and iPad. Alternatively, you can still buy the Amazon Fire TV Stick or exploit chromecast, the dongle from Google, to view content on the TV wirelessly through the Prime Video app for iOS and Android.
Buy on Amazon Buy on Amazon Buy on Amazon
Prime Video also works as an application for Smart TV Sony, Samsung, LG and so on. It is also compatible with the best video game consoles on the market (PS3, PS4, Xbox One), Apple TV and with NVIDIA Shield. In order not to miss anything else, it also supports devices Echo Amazon with screen.
Buy on Amazon Buy on Amazon Buy on Amazon Buy on Amazon
How to subscribe to Amazon Prime Video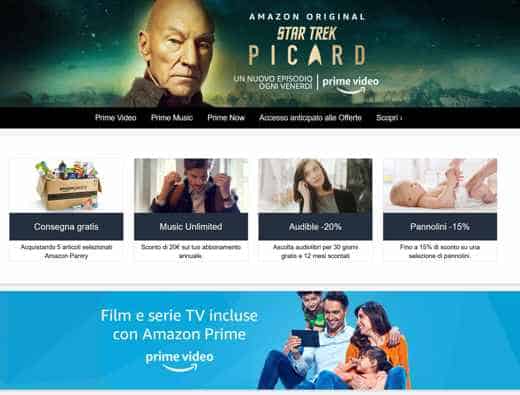 If you are wondering how to pay for Amazon Prime Video, read carefully the costs and benefits of the service.
To access Amazon Prime Video you must first sign up for Amazon Prime and use it for free for 30 days. Log in with your Amazon account and fill in the required fields.
After registration, you will also be able to access Amazon Video for 30 days for free. At the end of the trial period, the renewal of the subscription will be automatic (you will pay 36 euros per year or 3,99 euros per month).
After activating your Amazon Prime subscription, you need to connect to the Amazon Prime Video page and click on Log in, top right. Log in with your Amazon account and start using the service.
Read also: Amazon Prime how it works
How to use Amazon Prime Video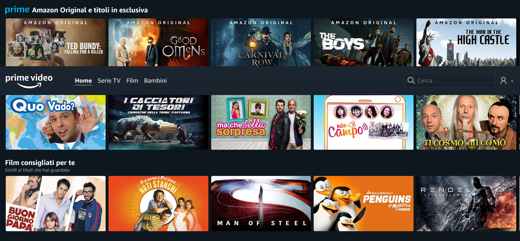 Prime Video content is available in Spanish and is categorized. You can find:
TV Series: Popular, Thriller, Comedy, Drama, Children's and Recently Added.
Movie: Amazon Original, Recommended for You, Popular, Kids, Adventure, Comedy, Thriller, Drama, Horror, Documentary, and so on.
Kids: Children's TV series, animated films, Lego and educational series.
In catalog of Amazon Prime Video Spain you will find interesting titles. Among the most popular TV series are: Mr. Robot, The Tudors, This is US, Dawson's Creek, Fear the Walking Dead and many others. Also for children, the series are interesting: Creative Galaxy, Spiderwick The Chronicles e Wishenpoof.
Side Film you will find all the classic titles, such as Il Gladiator, Ace Ventura, Jurassic Park, The Big Lebowski, and more recent films such as the entire saga of Fast & Furious.
How to watch Prime Video on TV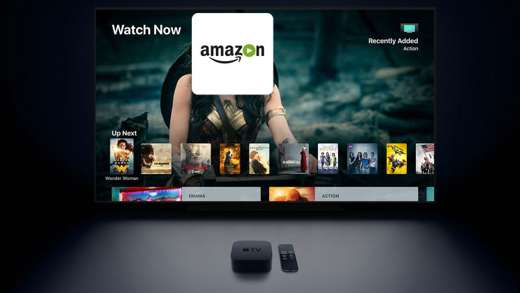 You have several options to watch Prime Video content on TV:
Smart TV: check that the TV is connected to an Internet connection and select the Amazon Prime Video icon in the store of your Smart TV on the screen.
Apple TV: Connect the Apple device to the TV and search for the Prime Video app to install it.
Smart Box: with this device connected to the TV you can use the platform services, including NVIDIA Shield e Xiaomi Mi Box to watch Amazon Prime Video on your television. Connect to Google Play Store and download the Prime Video app to install it and access the titles you want.
Amazon Fire TV Stick: it is the Amazon key compatible with any TV equipped with an HDMI port. It is an HDMI dongle that can also be connected to non-Smart TVs and which allows you to enter the Prime Video platform by entering your Amazon credentials.
chromecast: the Google dongle allows you to connect your smartphone to the TV. Plug into the HDMI port of the Chromecast TV and connect to the program app to send the Prime Video content to the TV.
HDMI cable: By purchasing one of these cables, you can connect your notebook to your TV and enjoy Prime Video streaming content.
Gaming console: Using the devices to play on the TV, even Nintendo's Xbox One X and S, PS3, PS4 and Wii allow the playback of Prime Video Movies and TV Series.
Always remember that access to the service has a maximum of 3 devices simultaneously.
How to put Amazon Prime Video subtitles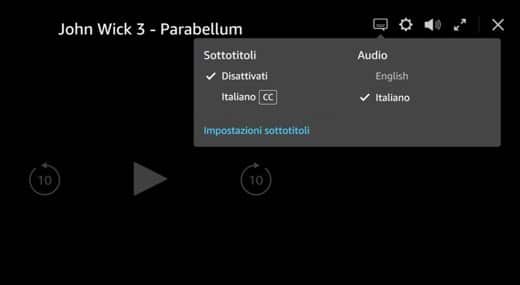 After choosing the film or TV series to put the subtitles in Spanish, you must first check the presence of the voice Subtitles: Spanish [CC].
Start the film and press the icon Languages ​​and subtitlesat the top to select Spagnano [CC] in Subtitles and Subtitle Settings, specify the size and color. Options that you can customize by going to the menu and selecting the item Account and Settings> Subtitles.
In some movies or TV series, always in the section Languages ​​and subtitles subtitles in other languages ​​and the ability to change are also available Audio in a language other than Spanish.
How to download from Amazon Prime Video
Download Prime Video titles to view them offline through the official app it is very simple. All you have to do is open Prime Video, search for the movie or series you are interested in, click on it and hit the icon Discharge (arrow pointing down), present in the content tab and then on the button starts download for free specifying one of the options present: Maximum, Top, Good o saving give.
At the end of the download you can view the content locally and press the play button.
How to disable Amazon Prime Video
Since Amazon Prime Video is a subscription service of Amazon Premium, to cancel it you must also cancel the Prime package. For more information, I invite you to read: how to deactivate Amazon Prime.
Read also: Premium Play Membership