Google launches a service that allows you to search for information in all the languages ​​of the world (or almost) and translate it into your own language
Google Translate
Since yesterday, news that is destined to make a lot of noise, but that has very little news has been going crazy on the net: Google has launched its own "Google Translate" service that will allow users from all over the world to carry out "global" searches without any more worry about the language in which the result will be displayed because with a simple click it will be possible to obtain the translation in another chosen language.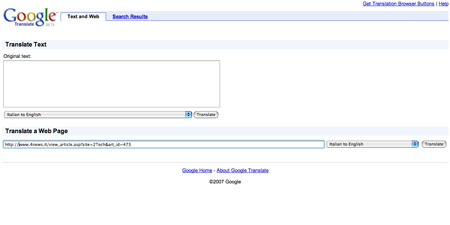 In fact, a note from the Mountain View giant reads: "We are happy to announce the arrival of a new multilingual search tool that allows Internet users all over the world to find information on foreign language sites and to translate them into the one of your choice ", but in reality for now, there are several limitations: for example for searches in Spanish it will be possible to search only the results in English, the same applies to other languages ​​(except English which obviously has different possibility of choice).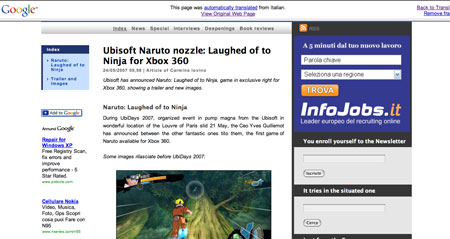 The languages ​​supported by the system will be in addition to English: Italian, Arabic, French, German, Japanese, Korean, Portuguese, Russian, Spanish and Traditional and Simplified Chinese.
In reality, the news lies in the fact that this service, according to Ubi Manber "will make the web even more universal" even if the Vice President of Engineering of Google adds that "the results will not be perfect, but they will certainly help you understand what it is. speaks".
Leaving aside the inaccuracy of the translation which is inevitable especially when dealing with compound words and newly introduced words or when dealing with a specialized text, the news appears to be "less news". For what reason? We tell you immediately and above all we tell the national press that seems crazy behind the introduction of Google Translate: there has been an excellent service for some time that allows you to translate the text of internet pages, it is called Altavista BabelFish and supports more languages ​​than the Google, allowing you to translate the text of the pages simply by inserting the link (such as the Google service); in addition, for Spanish, there is not only the possibility of translating from English but also from French.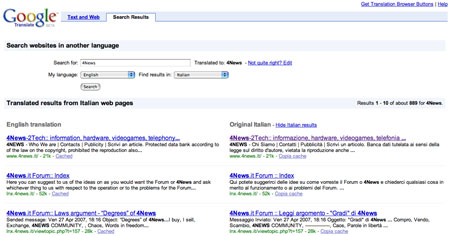 Digging deeply, however, the novelty really exists in the service offered by Google: and it is the "Search websites in another language" function that allows you to view, once the languages ​​have been set, a page of results in two columns, the results appear in the first column in your language and in the second column (on the side) the results displayed in the other language set.