Born on September 4, 1998 Google is the most visited website in the world every day so much so that the neologism was born Googlare to indicate a search on the net. The reasons for this success are to be found in its speed and simplicity. Its bots travel the internet every day, managing to browse everything online but also cataloging and creating links.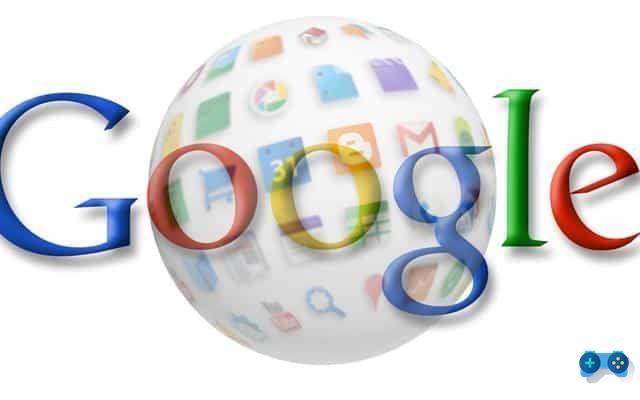 Over the years Google has created a number of successful and popular tools such as gmail, Drive, Documents e Calendar more popular services like Blogger, YouTube, Chrome and web advertising management services such as Adsense e Adwords. However, there are also very interesting online services useful for entrepreneurs, managers and anyone with a working activity.
Let's see them in detail:
Google Alert sends us e-mail messages to our inbox when the service identifies content on the network that is compatible with the search terms set by us.
At www.google.com/alerts we will find a search field in which to enter the keyword relating to the topic we are interested in. For example Sport.

Before clicking on the Create alert button, we can click on the Show options item to set the filters to apply to the alert that will arrive via e-mail.

The items that will appear after clicking on Show Options I'm:
Frequency: in the drop-down menu we can indicate how many times a day or a week we want to receive the alert.
Sources: in the drop-down menu we can choose from which source we want to receive the alert, in this case the items are,Automatic, News, Blogs, Videos, etc.
Region: in the drop-down menu we can choose from which country we want to receive the alert.
Amount: in the drop-down menu we can choose between two items, Only the best results o All the results
Send By: in the drop-down menu we can choose where to receive the alerts, Email address or RSS feed.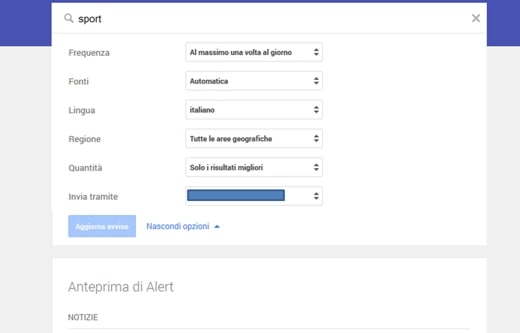 We can create as many alerts as we want and manage them comfortably.
How to register your site on Google Alert
The possibility exists of apply to Google to enter your site and then their posts in Google News. In the event that Google accepts your application, your posts will enter among those chosen by Google Alert to inform the user registered on news of different fields.
Before applying, I remind you that Google News:

It does not accept sites updated by a single person, but by at least 3 people;
It does not accept websites with commercial purposes
The contact and editorial pages must be reachable by the user and full of information
The site must contain news.
By managing to subscribe to Google News, your visits will increase significantly and you will certainly have much more web traffic, precisely because users who subscribe to Google Alerts with the keywords related to your news, will receive your posts directly in their inbox. .
To learn more about the topic, you can take a look at Introduction to Google News and to the page for Submit your site for inclusion.
What is Google Trends and how it works
Google Trends allows us to observe the trend in terms of popularity of visits to the most famous and important sites present online. In the trends pages we can see the success of the services we would come across while traveling on the web.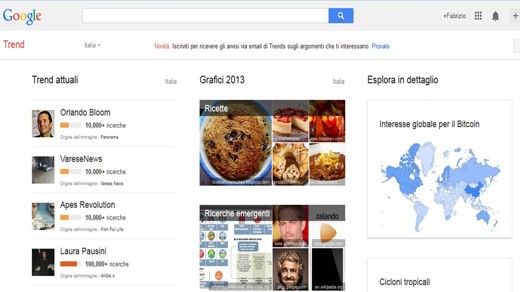 The main page shows us the samples of this ranking based on daily visits, but we can also carry out targeted searches using the site search bar.
For example if we want to look for the best site on the world of cinema we insert the search key and let's enjoy the information that Google Trends returns. We can therefore use trends to check the popularity of a site, or to evaluate the frequency with which a search term is used and to set our web page through this information in order to have a better positioning in the search engine.
What is Google Analytics and how it works
Google Analytics analyzes and displays the statistics of visits to a website. It is a service aimed primarily at those who work with internet at a professional level and is useful for marketing research. From its pages it is possible monitor users who log in e the pages visited tracing its origin.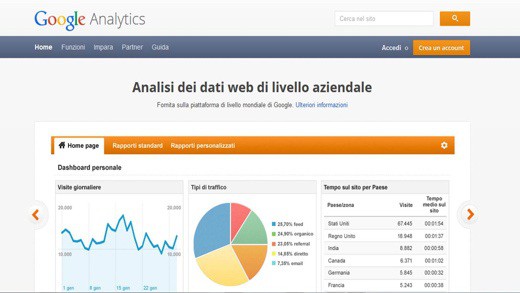 With Analytics it is possible to identify visits obtained through search results, marketing, links within documents or via e-mail and determine the advertisements to obtain information and optimize campaigns. With Google Analytics we can set up to 50 profiles, i.e. sites to be monitored and used free unless we total more than 5 million page views per month.
What is Google Zeigeist and how it works
Google Zeitgeist is a service that highlights the interests of internet users, taking note of the keywords searched and by filling out a profile of how online searches evolve and change.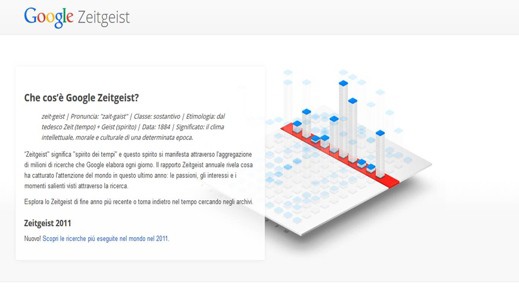 For example, by exploring previous years, it is possible to find out which ones were 10 most popular searches in different parts of the worldor, divided by themes: research on the rise for sports, entertainment, food, electronics and much more.
What is Google Public Data and how it works
Google Pubblic Data shows information on world development indicators, unemployment rates in Europe, minimum wage in Europe, broadband penetration, government debt, cost of fuel. It is also permitted to upload information from the user to contribute to the service.