A guide on how to do it login direct access on Facebook and access immediately without password or email from both mobile and desktop.
Would you like to log in directly to Facebook without having to enter your login credentials every time? In this guide I will explain how to take advantage of the Facebook direct access avoiding having to enter the username and password each time.
Follow the next steps and you will find out how to save time.
Facebook login access from smartphone with a simple touch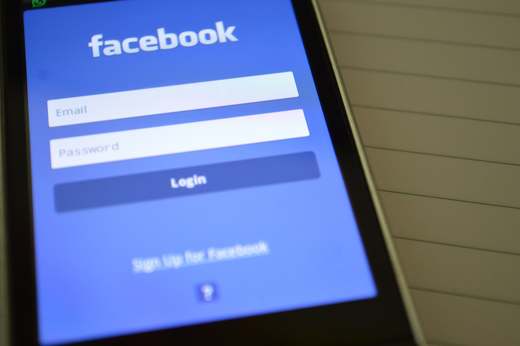 The first thing to do for a Facebook login login is to press on Logout from the menu (three horizontal lines at the top right) of the app and then check if the Facebook app is updated to the latest version available.
Then open the app to perform the first access to the profile by entering your email address or telephone, password and press the button Log in.
A message will appear: "The next time you log in on this phone, just tap your profile picture instead of typing your password".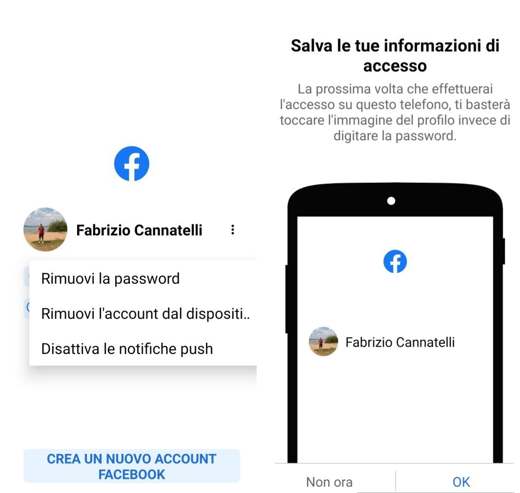 Confirm everything by pressing the button OK.
From now on, every time you log in to Facebook, just tap on your profile thumbnail instead of typing in your credentials.
Warning: by setting the Facebook login direct access mode you could expose yourself to serious dangers as regards your security, since the one who comes into possession of your smartphone will be able to log in directly to Facebook without a password to your profile. To prevent this, I invite you to read our guide on How to hack a Facebook profile.
In case you want to go back and remove the Facebook login direct access setting, simply delete the account you just stored by clicking on symbol of the three dots next to your profile and choosing in the menu that appears Remove the password o Remove the account from the device.
Facebook login access from PC
Access from PC to Facebook Login is very similar to what happens from the app. The difference is that if you are already logged in, you must first log out and log in again with the same credentials to Facebook.
After entering them, the Remember password message will appear at the top of the page: "The next time you log into this browser, click on your profile picture instead of typing your password."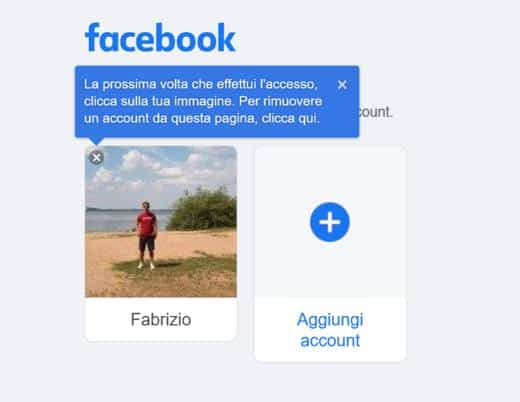 To enable the Facebook function, log in immediately, confirm by pressing the button OK.
Every time you log into Facebook, the system will allow you to click on your profile in miniature without having to re-enter your username and password.
To go back, you will have to remove the stored profile by clicking on X, located at the top left of the thumbnail box.
If you have not applied the screen lock and you use the Facebook direct access, always beware of both theft and methods to hack Facebook.
Read also: How to log out of Facebook from your mobile
Log in to Facebook as a visitor
If you don't have a Facebook account and don't have login credentials, logging into Facebook without an account is possible.
Facebook offers aprofile search option for non-users. The platform encourages you to create an account, but you can still perform a general profile search as a non-user.
In the home of the social network (login screen), in the lower part, you will find a series of links including People. By clicking on it you have the possibility, on the page that opens, to carry out a search, by entering the name of the person you are interested in, in the search box, to retrieve a list of results.

Scroll through the results and click on the desired profile. If the user has open privacy settings you can easily view his wall with photos, comments, likes and much more.
If the account has instead set maximum privacy levels, you will not be able to view their profile unless you are registered on Facebook and have made friends with the contact you want to view. At best, the profile shows the name and a photo but only for other Facebook users.
An account with mid-level privacy controls allows greater access and is likely to show limited information for users and non-users.

You can also try to search by browsing incognito with your browser or by going to Google and writing the name and surname of the person followed by the word Facebook, for example Elvis Presley Facebook.
In all cases, you will always be prompted for see more content by creating a new account or by logging into your profile.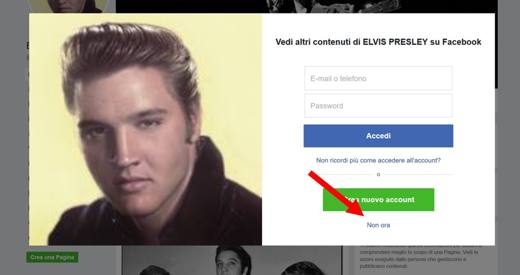 To remedy this request, you can click on the link No Now and you will be able to continue browsing as a visitor between profiles and Facebook pages.
Of course, using Facebook as a guest will not allow you to interact with people or add comments, likes and more. Furthermore, if you are on a smartphone, you will necessarily have to take advantage of the access to Facebook from the browser, since the app necessarily requires access to the social network.
See Facebook groups without signing up
If you are not ready to register on Facebook but you are interested in finding out if the vip or celebrity you follow has a Facebook page. All you have to do is click on facebook.com/pages and in the search box, type the name of the famous person.
See the pages of famous people without signing up
As with user profiles, Facebook groups can also be: public, private or secret. If you are on Facebook as a visitor you can click on facebook.com/groups and consult the group that interests you most.
See games on Facebook without registering
By logging in as a visitor, you can also discover free online games on Facebook. Click on facebook.com/games and search for your favorite game or search by game type. I remind you that you cannot play Facebook video games without registration.
Conclusions
The functionality Facebook log in now allows you to save time and avoid typing your Facebook login credentials every time. If you want to maintain this convenience, however, I recommend that you protect yourself by setting the Lock screen on your phone. By doing so, you can prevent some malicious person from entering your Facebook profile and causing damage.
The same is true if you are using a computer with Windows. In this regard, I invite you to read this guide on How to lock PC screen on Windows 10.