You're thinking about which one Cloud service to choose in the jungle of online offers? You want to know what they are the best free Cloud Storage for backup and sharing? The Web Storage or online storage allows you to store, process and access data distributed on the network, the success of this type of technology is closely linked to the need to have our data on the move.
The benefits of free clouds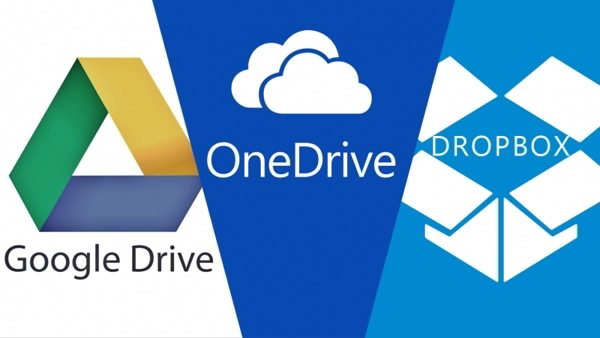 Using a cloud service has significant benefits:
You can have yours files available on any PC connected to the Internet.
You can share answer file with whoever you want
You can create backup copies of these files.
Best free cloud storage

Computers, smartphones and tablets accompany us at any time of the day, in the office, at home, on the road, and having our files available at any time or place is the key to the success of Cloud services.
Given the multitude of cloud storage providers available, you need to wisely choose a provider that will offer the maximum amount of storage and bandwidth at low cost, while keeping your data safe.
The list below represents the best free cloud services for data storage - most offer a free tier that lets you find out whether or not they're right for your business, before shelling out any money.

Read also: Best NAS for home and office
1. Google Drive (15 GB of free space expandable)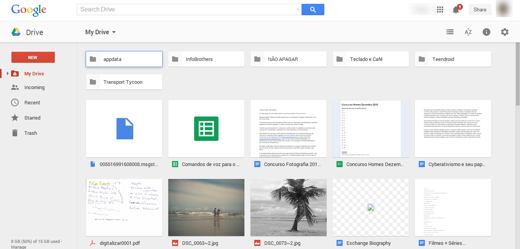 Cloud storage offer linked to the G suite apps with free space.
For
15 GB of free space (expandable)
G Suite tools
Backup and sync desktop app
If you are a Google user, you can already benefit from the integration of Google Drive, with the ability to save email attachments from Gmail. If you don't have a Gmail address, you can still sign up with Google and create a new account for free cloud storage. Google is also releasing Google One, a sort of replacement for Google Drive, though it's still not available everywhere.
With 15 GB of space free cloud for new users, Google Drive is one of the most generous cloud offerings, there are also several ways to increase this capacity for free. In addition, this storage space is also shared with other Google services, including Gmail and Google Photos.
Mobile apps are available to allow easy access for iOS and Android users and the desktop app Google Backup and Sync allows you to synchronize files from your PC to the cloud. Google Drive also includes online office tools for word processing, spreadsheets, and presentations that can make sharing files easier.
2. OneDrive (5 GB of free space)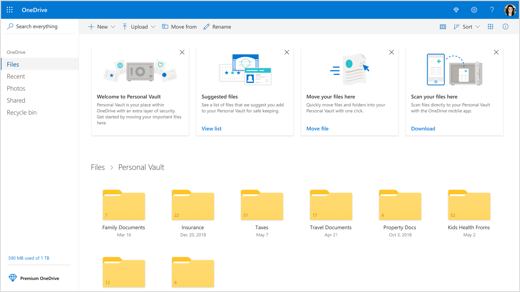 Another storage solution for Windows users.
For
Excellent integration with other Microsoft products
You can edit files online without downloading them
Cons
Only 5GB of storage by default
Microsoft OneDrive is the best cloud storage for everyone who uses Microsoft's services. For example, it has good integration with Outlook.com, but also integrates with non-Microsoft services such as AutoCAD.
OneDrive also connects well to Windows 10 and there's a selection of reasonable mobile apps for easy access on the go.
You can share files with other people even if they're not OneDrive users (complete with customizable permissions), and the ability to edit files online without downloading them is a huge plus.
Unfortunately, users can only get 5GB of free storage, although upgrading to 100GB is really cheap at only $ 1.99 per month.
If you have Office 365 you can have OneDrive with 1 TB of space.
3. DropBox (2 GB of free expandable space)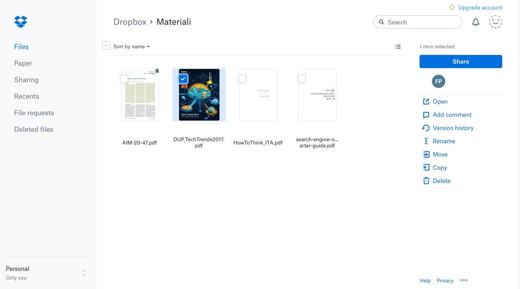 Another free cloud, valid alternative to Google Drive.
For
Lots of supported platforms
Loads of smart features
Cons
Only 2GB of initial storage
dropbox is a true believer in the world of free cloud storage, with a web interface that remains streamlined and easy to use.
Despite its popularity, Dropbox actually has one of the least generous free packages for new users (just 2GB), but there are various ways to increase this space without paying, including inviting friends to join (you get 500MB per referral up to to 16GB), completing the getting started guide (250MB), and contributing to the Dropbox forum (which generates 1GB for "Correct Answer" provided).
DropBox is truly unique when you start discovering the extra features of the service. There is a great collaborative work tool called dropbox Paper which acts as a group workspace, and if you install the desktop app, you can automatically backup your photos. The function File requests It also allows you to request another user to upload a file to your Dropbox account. Also, a function called Dropbox Rewind allows you to restore folders or the entire account at a certain time.
There are desktop apps for Windows, Mac, and Linux, and mobile apps including Android, iOS, and even Kindle. This allows Dropbox to be very popular, as does support for third-party apps and services.
Finally, the web version of Dropbox allows you to edit files without the need to download them.
4. pCloud (10 GB of expandable space)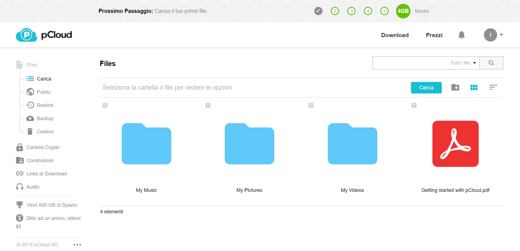 A smart service with an intuitive online interface.
For
Easy to use sharing options
10 GB of free space (expandable)
Smart desktop e app mobili
Lots of options to increase free storage space
pCloud is the best choice if you are looking for free cloud storage. You can have it right away 10 GB of free space and a bandwidth tolerance of 50GB of downlink traffic per month.
If you need more space, you can upgrade to 500GB of space for a monthly plan of $ 4,99 or 2TB for $ 9,99 per month. You also have annual and lifetime plans, which are a cheaper long-term option.
The 10 GB initial free offer can also be expanded up to 20 GB through a series of actions available on the official website. It's also worth noting that pCloud offers well-designed desktop and mobile apps and is a great service for sending large files to friends and colleagues. You can even share files with people who don't use the service.
5. MediaFire (10 GB of expandable space)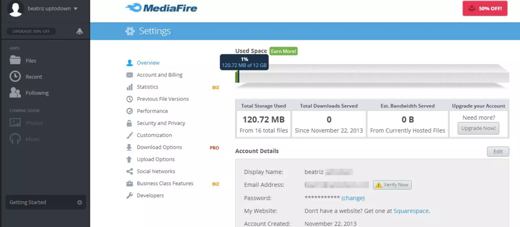 A highly experienced cloud storage service.
For
It can increase the free storage to 50GB
Awesome UI and sharing options
Cons
MediaFire has been around for over a decade and has gained considerable experience over the years. You are initially given 10GB of free space, but you can increase that by another 40GB through activities like referring friends and following MediaFire's social media accounts. Unfortunately with the free account you will have to accept not only the free GBs but also the advertisements.
It supports large files up to 20GB and the sharing options are truly impressive, even allowing sharing with non-cloud subscribers.
The web-based interface is also excellent, and MediaFire offers mobile apps for uploading and downloading on iOS and Android. This makes it easy to access files stored in the cloud and includes convenient features like automatic photo syncing.
More clouds for free
Here are other interesting and equally valid free clouds.
Mega: is a cloud storage service available in free version with 50 GB of free space. The interface is available in several languages ​​including Spanish, In Mega you can store your files and put them in folders like a real computer available. Furthermore, your privacy and protection is guaranteed thanks to an efficient encryption system.
iCloud: it is the best cloud service from Apple for all those who have iOS and macOS devices. On the cloud you can backup photos, messages, documents, videos, calendars and much more. The service delivers 5 GB of free space expandable with paid subscription.
Amazon Drive: Amazon also has a cloud offered at 5GB for free. Amazon Drive can be used for shares but also for backups of photos, videos and other files. If you are subscribed to Amazon Prime you can take advantage of the 5 GB of free space and in addition upload photos in an unlimited number.
Icedrive: it is a less famous cloud storage service than the others and that requires registration to take advantage of the 20 GB of free space. Unfortunately it is in English.
Other useful articles
Best External Hard Drives
Best SSD for PC
Best USB sticks