Best apps to record Android phone calls. A detailed list of applications to find out which is the best call recorder.
By downloading the right apps from Google Play, you can turn your smartphone into a recorder and capture everything that is said during a telephone conversation made or received.
The function of recording voice calls is not native to Android. For this reason you will need to make use of third-party apps that will allow you to record the two voices of a conversation to save them as an audio file. By doing so, you can listen to any business telephone discussions with colleagues, brainstorming and much more.
How to record an Android phone call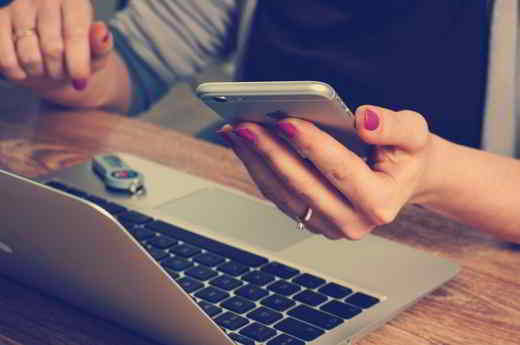 Recording Android phone calls is legal? If you are interested in taking advantage of the best apps to record android phone calls then I advise you to identify the one that could be right for you by concentrating on reading and avoiding recording telephone conversations without the knowledge of the other interlocutor, since it could violate his privacy. This applies on the basis of the law issued by the Court of Cassation in sentence 7239.
Read also: Record iPhone calls
1. Truecaller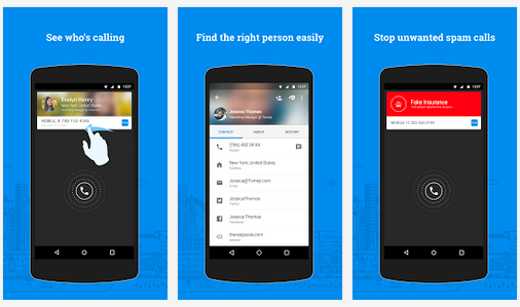 Most of us know Truecaller like a caller ID app that allows you to identify unknown and unwelcome numbers to automatically block them. Few people know, however, that in the settings of this app it is possible to activate the automatic recording of received calls. However, the function is not free but is part of a paid premium plan.
Before getting into your wallet, you can use the 14-day free trial and check if your Android mobile device is supported.
2. Call Recorder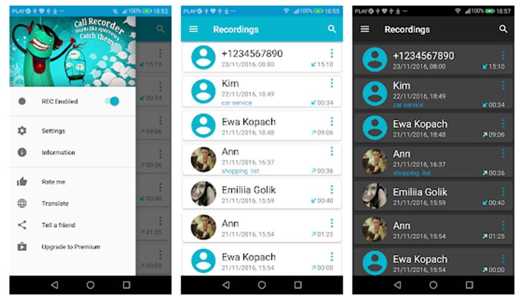 Call Recorder is an application that records phone calls on Android smartphones thanks to its simple and intuitive interface with well-arranged options and features. The app offers a simple toggle that, once activated, will automatically record all your calls. Just make a phone call and the application will record the conversation in the background.
To keep your conversations private, you can safely set an access code and allow the app to automatically upload recordings to Dropbox, in order to have backup copies.
3. Call recorder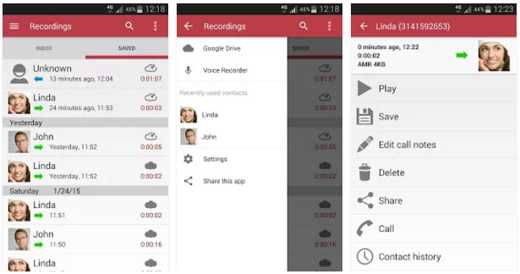 Call recorder it is one of the best call recording apps that you can currently download and use. I have used the app on a couple of different devices and it worked flawlessly. The app allows you to register any phone number. It offers three different modes for automatic call recording: you can record all calls, record calls only for saved contacts or record calls for numbers that have not been saved in contacts.
The app is integrated with Dropbox and Google Drive so you can sync calls recorded on your Android mobile device to the cloud.
With the Pro version, available for a fee, you can set automatic saving for calls from contacts and remove advertisements. While with the free one you will have to settle for annoying featured ads.
4. Cube Call Recorder ACR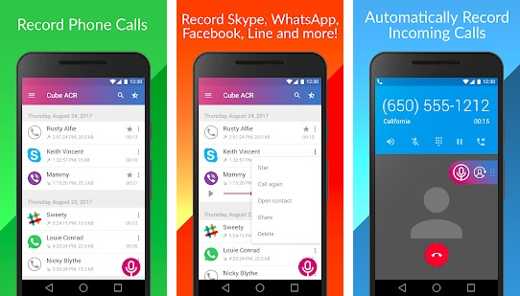 Cube Call Recorder ACR is the only app on this list that allows you to not only record regular phone calls but also calls from various VoIP services including Skype, Viber, WhatsApp, Hangouts, Facebook, IMO, Line, Slack, Telegram and many others. That said, VoIP call recording is not supported on all devices, therefore, you will need to install the app to see if the feature works on your device or not.
The best part about this app is that it is completely free and does not contain any ads inside. With Cube Call Recorder ACR, you will get one of the best phone call recording experiences completely free.
5. Call Recorder – ACR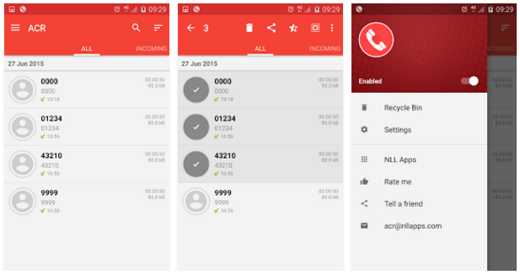 Call Recorder - ACR is a real android call recorder. Just like Automatic Call Recorder, the app can track incoming and outgoing calls and record them without having to do anything. The app supports several cloud storage, including Dropbox, Google Drive, OneDrive, FTP, and WebDAV. Not only that, the app allows you to directly send recorded calls as audio files via email. You can use the app for free with ads or buy the pro version and remove them.
6. RMC: Android Call Recorder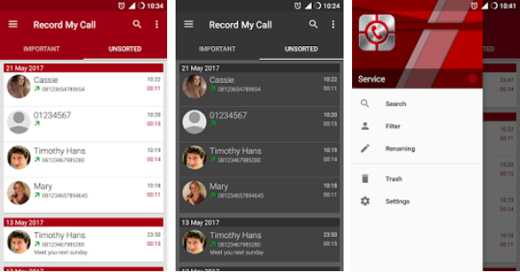 RMC: Android Call Recorder is one of the most versatile apps that records voice calls in MP3 and WAV formats, but it also supports other formats like AMR, MP4 and 3GP. The app automatically records all incoming and outgoing calls and allows you to sort and search call logs. It also has a built-in trash folder which removes the fear of accidental deletion of saved calls. You can also customize various things: such as channel recording (select between mono and stereo), sample rate and bit rate. It supports cloud integration with Dropbox and Google Drive. The app is completely free and supported thanks to advertisements.
7. Call Recorder: Call Rec Free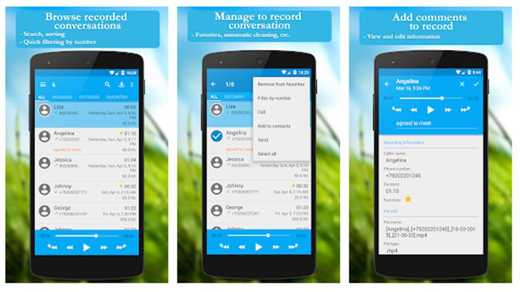 Call Recorder is one of best apps to record android phone calls. It allows automatic recording of calls and saves them on external memory (SD card), so as not to clog up the internal memory of the phone.
You can also mark recorded conversations to block them from any unwanted deletions and save the conversations in the formats you prefer.
8. Lovekara call recorder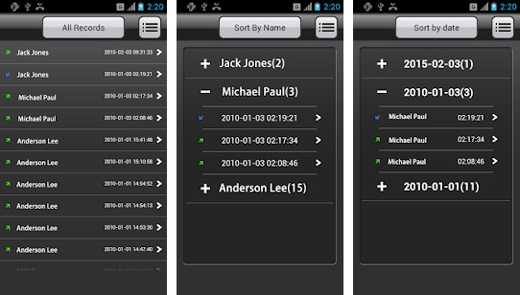 Call recorder by Lovekara is a free call recording app that you can use to automatically save your calls in MP3 format. You can save calls to your phone or transfer them to an external SD card if your phone supports it. However, there is no cloud integration. Also, the app is ad supported and there is no paid version to remove the ads.
9. All Call Recorder Lite 2019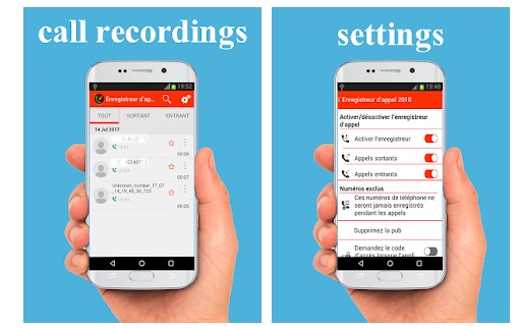 All Call Recorder Lite 2022 is a call recorder for your android device. It's one of the simpler apps on the list and only packs the basic functions. The app records incoming and outgoing calls and has a built-in audio player that you can use to play your recordings. Extra features like search and sort, cloud storage support, and moving files to SD card are not supported. If you are looking for a slim and light app to record your phone calls, I highly recommend it.
10. Galaxy Call Recording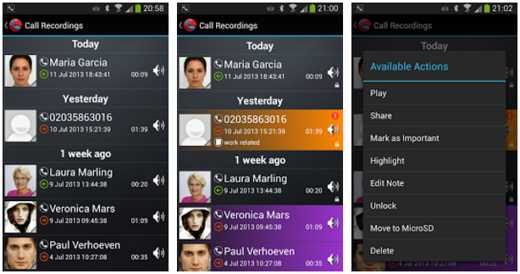 Galaxy Call Recording is a widely used app to record calls. The app is very simple, understandable and has some very nice features. Like many other apps, it also has the ability to record calls both automatically and manually. It has various options like disabling recording for some contacts, for an incoming or outgoing call.
You can also disable call recording when the headset is turned on or when Bluetooth is on. Provides a list of phones which supports all of its features. As the name suggests, it was created specifically as a call recorder for Samsung.
Other useful articles
How to intercept phone calls with Android
How to find out who called from an unknown number