Best apps to monitor kids cellphone. Do you want to know what your child is up to with the phone? With an app you can do it and decide for yourself how long to use it.
Removing a teenager's cell phone is impossible today, but there is a way to know where he is and what he is doing, also because today most of the activities of young people all run on a smartphone. You should know that in the Android and iOS stores there are several apps that allow you to control the use of your smartphone, even if for Apple the possibilities of monitoring messages and calls are lower for privacy reasons.
Apple doesn't allow anyone, not even parents, to remotely control the use of their iPhones or iPads. What you can do is intervene in the Settings of the mobile device e restrict apps and websites. To do this you have to go to Settings> General> Restrictions and select Enable Restrictions. Here you can select every single app that you do not want your child to open and set a password so that only you can access certain functions of the iPhone.
However, if your child has an Android smartphone, you can install an app on their mobile device that limits not only browsing on websites, but also the use of apps. In this way you will be able to set time slots in order to limit the use of social networks or messaging apps when the child is at school or at a specific lesson. All this can be done simply thanks to an interface that you can set from any browser on your PC.
Read also: How to check Facebook usage time
Best apps to monitor kids cellphone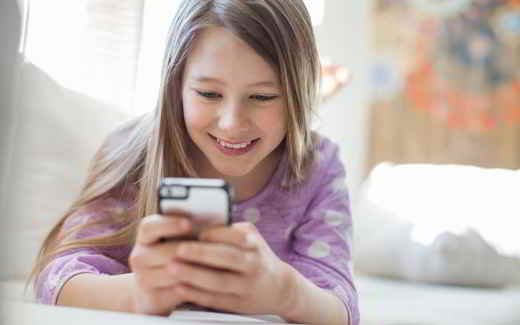 The free child control apps that I will show you in this article can of course be uninstalled by your child, for this reason you will need to have administrator permissions on the smartphone and allow the app to modify only remotely, therefore from the computer.
Try to use a strong password (not to be discovered by your child) and choose the double verification system in order to make any hacking difficult. Let's see how to spy on Android and iOS mobile phones.
Mobile Fence (Android)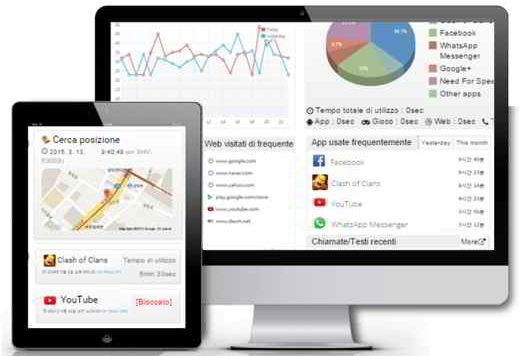 Mobile Fence is a Spanish-language parental control app for Android and iOS that allows you to monitor mobile devices and set usage by time slots of single apps. It offers a 30-day trial and requires registration with email and password. You can set the rules either from the parent app or from the Mobilefence.com website, after logging in with your username and password. It is also possible to register directly from the site and install the app on the child's phone. You will need to provide all the required permissions (6 in total), and then set any blocks and prohibitions.
With Mobile Fence you will know where is your child, what does it do with the smartphone e which apps and sites he opened and visited. You can then decide to block some of them at a certain time or leave a maximum usage time for each app. You can also decide to block sites such as those related to the world of betting and red light ones. As for the calls you can set the block on unknown numbers or allow the reception of calls only from a list of numbers of your choice. At the same time you can restrict outgoing calls. You can apply the same rules to SMS messages.
Other elements that you can set are those concerning the delimitation of a certain geographical area in which your child will have to stay. In this way, if he tries to leave you will be immediately notified. Other notifications concern the boy's attempt to disconnect the data connection or uninstall the app.
After the trial period, Mobile Fence presents 2 types of subscription: piano Family 3 priced at $ 28,80 per year, to monitor up to 3 mobile devices, and plan Family 10 priced at $ 96 per year to monitor up to 10 mobile devices.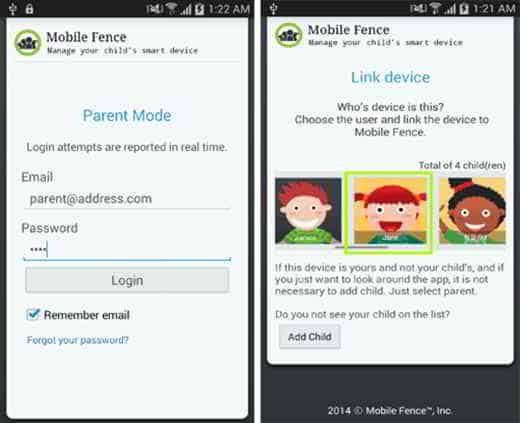 After downloading Mobile Fence on your child's phone, log in with the credentials used during registration and press the button Aggiungi a figlio, enter the required information and press the button again Add. Choose an account for your child and authorize the app to acquire administrator rights on the device by pressing on Attiva. Once the configuration procedure is complete, you can start following your child's movements with his / her phone or from the official app by downloading it to your mobile phone or directly from the official website of the app.
To uninstall the Mobile Fence app, you will need to:
Throw MobileFence app
Press the "fashion Parent"And log in
To touch Settings> Uninstall
For more information on how to use it, visit the Mobile Fence FAQ page.
Family Time (Android)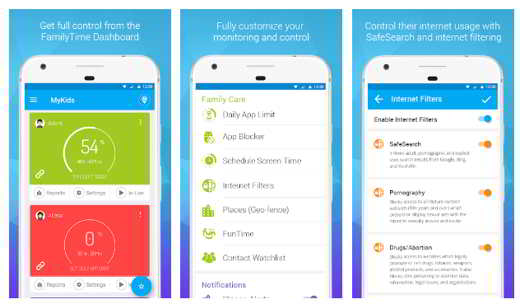 Family Time is another of the best apps to control kids cellphone. It allows you to limit the time of use of a smartphone and set tasks and time to go to sleep. Offers functions of geofencing to allow you to receive alerts when your child's phone leaves a certain area. You can also block inappropriate videos, sites, apps and monitor messages, incoming and outgoing calls, contacts and much more.
Find My Friends (iOS)

Find my Friends is an app for iPhone and iPad that does not allow you to remotely control the use of the device but allows you to know where your child is. Thanks to the sharing of the location via GPS.
Apple had conceived it as a social tool to share your GPS location with your contacts by entering your email or phone number and know where friends and relatives are at any time.
After Alessia Marcuzzi's confession a What's the weather like by Fabio Fazio, to use it to keep an eye on his seventeen-year-old son, the app has become very famous and today it is used as a control tool preventing its uninstallation through the section Restrictions.
Kids place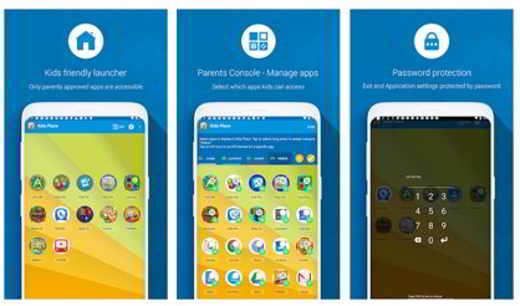 Kids place is a good Android app where you can manage on your child's phone which apps he can or can't open. Once installed, the app allows you to block games and apps through a customizable dashboard, you can also block sites that you consider inappropriate, unsuitable content and keep track of messages and calls.
Cerberus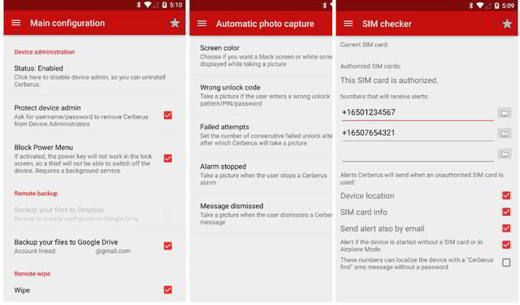 Cerberus is an anti-theft app to locate lost or stolen mobile phones and allows you to remotely control a phone. It's not just a find my phone app but it has various features that make it perfect for geolocation and understanding where your child is.
In fact, you can not only monitor an Android smartphone but also control it via the Web or via SMS. The price to buy it is 5 euros per year to have control of a mobile device, but it is also available in a free trial version for 7 days.
Once downloaded to your device you will need to give Cerberus control of your device and press the button Enable device administrator and Grant Superuser permission (only if your device has root permissions).
Then press the button to create an account and fill out the proposed form with all your personal data. Then specify the monitoring functions to be activated in the configuration menu and that's it.
To uninstall Cerberus you need to:
Open the app, log in and tap 'Status: Enabled' under Administration device. At this point you can uninstall Cerberus.
If this method doesn't work, perform these steps on your device:
Settings -> Security -> Device Administrators -> disable Cerberus
Settings -> Apps -> All -> Cerberus -> Uninstall
Other solutions to monitor children with mobile phones
There are valid alternatives to apps to control Android and iOS phones, the first is called Google Maps, present on all smartphones. It is in fact possible to ask your child to share his position using the Google app by going to Settings> Location Sharing. You can indicate how many hours you want to keep sharing active and then select the contact with whom to share the position.
Another solution is through WhatsApp. The instant messaging app has among its features that of sending a GPS position to your contacts. Interesting right? To learn more you can read the article: How to send a GPS location with WhatsApp.
Other useful articles