If visitors to our site like to seek advice before purchasing certain products or services, it is possible to profit from advertisements that work with the mechanism. pay per action o pay per lead.
There are several services such as Zanox (www.zanox.com) o TradeDoubler (www.tradedoubler.com) for example that they are real advertising catalogs: you search for advertising by browsing the categories and manually choose the product you want to promote on our site.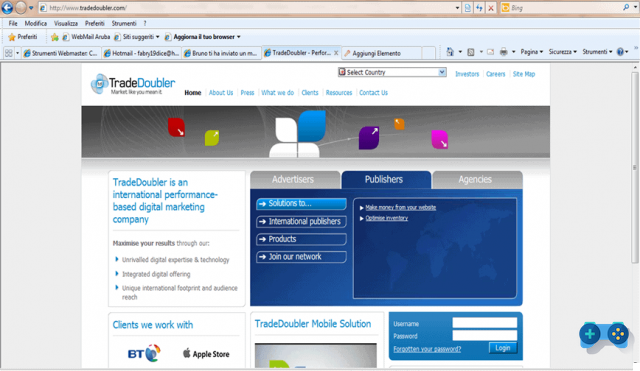 For each product we are provided banners or affiliate links that allow us to track visitors coming from our site. In addition, it is possible to immediately know the potential earnings, because the action that the visitor must perform and the economic value that will be recognized is clearly indicated.
Examples of actions are buying a product, requesting to be contacted by a sales agent or signing up for an online service. For example, if we have a site that talks about cars, our readers will potentially be interested in an insurance service. In this case, you could display a banner of an insurance company with an affiliate program that allows you to earn a percentage on each of the readers who take out a policy.
The secret to making money from affiliates is to advertise only personally tested products and use the affiliate link not with a traditional banner, but within an article.
We could write a post comparing various insurance companies online and, whenever we write the name of the insurance company, use the affiliate link.
Readers who buy a policy thanks to our article will generate a profit for us too.