Looking for a service chat without registering emails or accounts? In this guide you will find a list of the best chats without registration for new online acquaintances and without the need to install programs or anything else.
The Web has revolutionized our life and today social relationships have also become virtual. That's why in addition to clubs or public places (discos, restaurants, parks, etc.), social networks and chat they have become meeting points to make friends and, why not, even meet a soul mate.
Here is the way to meet other users and chat, the best chats without recording emails they are the most sought after online services today, as they maintain the anonymity and embarrassment of those who are skeptical of such tools in finding love. In addition, they also allow you to transgress with arguments that in ordinary life you would be ashamed to deal with, simply creating a nickname and an identity without necessarily registering and entering your data.


Free chat without registering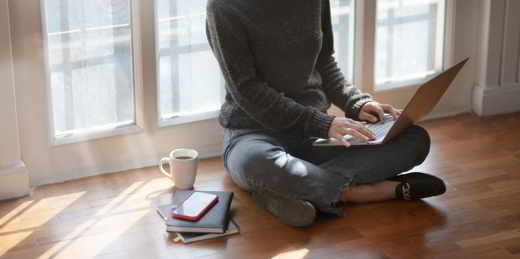 Here is a list of the best chats without recording emails, an alternative method to social networks to get in touch with new friends with whom to share your passions and with which to flirt while having fun.
1. eChat
eChat allows access to his chats completely anonymous. You can chat online without email just by typing yours nickname or alias. Through the geolocation you can meet people close to you (both women and men) or from anywhere in Spain. Meet new people by entering chat rooms without registering and look for the closest friends with photos in the rooms and invite them to have a coffee by establishing a sincere bond with them.
Also from mobile devices you chat online without registration. Il eChat service is fast and intuitive and will allow you to meet guys, chat in the office, at school, at the restaurant, on the subway making friends at any time. The app has over 10 thousand online users to its credit and its community is made up of people of all ages and from all over Spain.
2. 5Chat
5Chat and another one chat without registering email and password, free and quick to make new acquaintances. It is one of the largest communities with boys and girls of all ages (also includes chat 40 50) who chat freely in a completely anonymous form. You have 5 rooms available where to enter and chat to meet many people to spend time with. The rooms are: Chat Matches, Cat Gives, Chat About 40, Chat Gay, Chat Sex.
To enter, just create a nickname. Access is free and without any registration or payment. Search for the city (like Rome, Milan, etc.) or the person closest to you and start chatting, even sending private messages and hoping to find your soul mate. You can also access from your mobile or tablet, without programs, since works without java. The graphics are optimized for any mobile device with an operating system Android e iOS.
4. DigiChat
DigiChat is another great online Spanish community divided into 3 large channels: Chat meetings, Calcium chat e Chat gay. This is a free chat without registration. Enter the IRC channel after choosing your alias and start chatting with whoever you want: young people, or adulti over 40 e 50.
You can also use the webcam and show up to find a soul mate or make new friends. In this chat without registering accounts, every day you will find around 2 thousand people to chat with freely. There are no costs or registration fees, everything is free. You can easily browse even from mobile devices such as smartphones, ipads and tablets, without downloading programs or applications.
5. Speedychat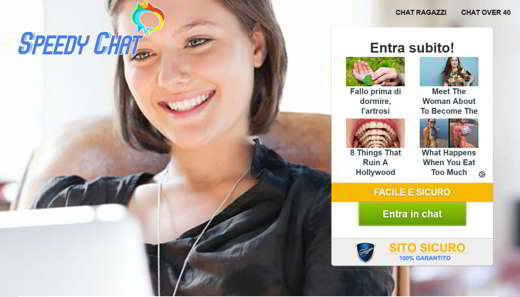 Speedychat is a online chat without registration where you can have fun chatting with guys and people over 40 and 50. Choose the right channel for you, insert yours nickname and have fun. You can chat anonymously by choosing one of the two channels between 40/50 or youth rooms. In this way you can get in touch with users with your same interests and free your passions and share your experiences.
SpeedyChat is a chat without java and is optimized for mobile phones, tablets and mobile systems in general. In this way you can get in touch with your virtual friends and write in the room even when you are traveling.
7. ChatExpert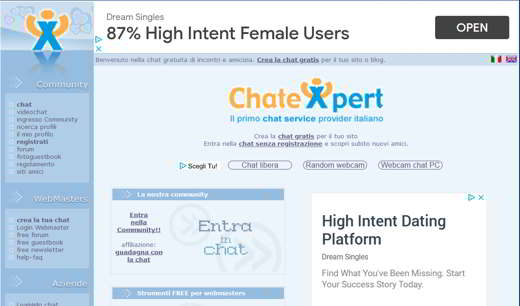 ChatExpert is a very special historical free chat without registration that requires the installation of java to work and that you can download from this page. After connecting to the online service at no cost, click on Chat, in the left column, and choose one of the many rooms among: ChateXpert, Happiness, Matches it's love, Temptations, High Tide. Each room manages a maximum of 30 users, but if you are a registered premium user you can enter anyway.

On the site you will also find the section fotoguestbook with photos posted by users, a forum where to share your ideas and passions and soon the possibility of video chat in private. You can create your own private chat and contact the over 30 thousand registered users.
Chat app without registration
Jaumo: is an app for chatting online without registration available for Android and iOS. At startup, you need to answer questions about gender and date of birth and about the people you want to meet to define your profile. Then you can vote users in the Zapping section and start chatting by choosing the username with which to start messaging.
Connected2.me: very similar to the Tinder dating app, it is available for Android or iOS and after seeing all the registered users, you can start chatting by choosing a profile with which to text, share videos, voice recordings or more.
Chat Italy over 40 or Chat Spain is another
Alternatively you can try Mibbit over 40, for free chat over 40, it is based on the IRC protocol like Chatover 40 or Speedychat and allows you to chat with people of all countries.
What not to do in chats
The alternative chats that I have selected in this guide are managed by chat moderators who constantly monitor the rooms, intervening where they are noticed attitudes annoying, not very mature or insistent to the point of becoming offensive and heavy.
Here are some guidelines on what not to do when chatting in a chat:
Never give anyone your phone number.
Do not provide your home address.
Do not provide your personal data such as: credit card number, bank account IBAN, identity card, etc.
Do not organize meetings in private places. Always better crowded public places.
Do not show your face in videochat if you do not know your interlocutor well.
The chat must be a hobby to find friends, avoid falling into "Cha syndromet ", that is a sort of addiction to the reckless use of the medium and to spend too many hours in front of the computer.
Read also: The best webcams on the market
Other useful articles
Best Online Dating Sites
Best video calling programs