4 effective ways to make money on Pinterest. A guide on how Pinterest works with tips and tricks on how to sell and earn.
Pinterest it's not just one platform of social networks in which to share visual content such as images and videos, but also a possible means of earning.
If you are thinking of opening a profile it will be very useful to know how to make money with Pinterest, the possibilities are many, from collaboration with companies and brands, to the promotion of own products and affiliations.
Pinterest is one of the hottest ways to make money on the internet right now, so we'll help you understand how it works and how you can make the most of it to do business.
How does Pinterest work?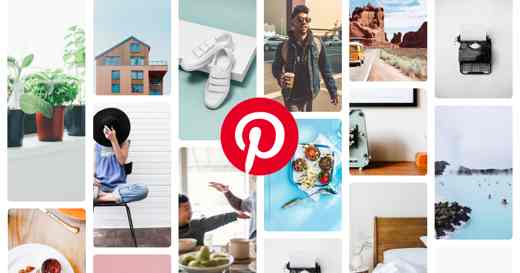 Before explaining to you how to make money with Pinterest, let's see how it works, what are the Pins and what is the mechanism of this social network.
Pinterest was founded in 2010, its graphics are very similar to a blackboard on which to pin content, it is easy to use and very intuitive. It is possible to create virtual whiteboards on many topics and, therefore, divide the uploaded contents by categories.
All the images you want to save will end up in one virtual whiteboard theme that takes the name of Dashboard and that you can explore as many times as you wish. When you save an image or content to Pinterest you are doing a Pin, which is nothing more than the operation of moving a photo or video that you liked within your wall.
How to sign up for Pinterest
To start using the social network you will need to download Pinterest free spanish app, available for Android and iOS mobile devices. Whether you are downloading Pinterest by Android that for iOS, you need to know that Pinterest free and that therefore there are no costs to use it.
After connecting to your device's default store and downloading the app Pinterest in Spanish, you will have to go to the registration of the new account which can be done via e-mail or Facebook. Follow the procedure shown on the screen, press on Pinterest sign in, choose 4 or more categories to view the Pinterest images of your interest and then you will find yourself in the home page of the social network.
How to post on Pinterest
How to make money with Pinterest? To answer this question, it's important that you understand how to post content and reach your audience. Keep in mind that there are other methods of earning on the net but this social network is one of the best apps to earn money, in fact, if you use it in the right way, theapp Pinterest can lead you to great satisfaction over time.
To upload photos from smartphones and tablets, you need to start the app Pinterest, and log in, presses the button + Create and then Pin to upload a photo from yours Gallery or take a new photo (by pressing the camera icon) or search for it on Internet (world map icon).
After selecting it, assign it the Title, Description and add the Destination website.
Then press the red button at the top NEXT. On the next screen Choose a board or create a new one by clicking on + Create board.
Once completed, you can promote your new Pin and grow your audience at any time.
On PC the procedure is similar, you have to click on the name at the top right and on the button capacitor positive (+) lead located in the upper right corner and then choose the item Create Pin, choose the photo to share, enter title and description, choose the Dashboard and save the pin by clicking on Save.
4 effective ways to make money on Pinterest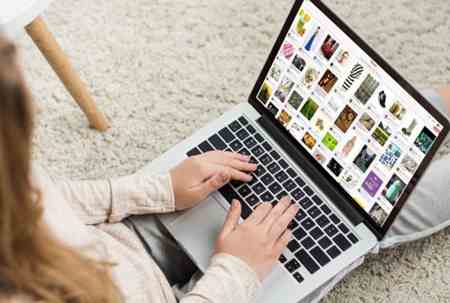 On Pinterest it is possible to make money with photos, expand the audience and bring to light content and creative skills and use it all to start a real business.
You will need to have a business account before proposing to companies, in this way you will have more features available, such as i analytical data which you will need to demonstrate the monthly views of your profile.
You can also decide to propose your creations, or, take advantage of the affiliate system to sell on Pinterest without having a blog, but simply by publishing the product links.
These are all things that we will deepen in more detail in the next paragraphs, in the meantime, let's go into more specifics of the functioning and analyze the 4 effective ways to make money on Pinterest.
1. How to increase the audience
An important factor that also affects the how to make money with Pinterest is the public, having a good following becomes essential if you want to achieve good sales and profit results. Companies are interested in achieving target audience specific to advertise your products and services, you will need to prove that your profile is active and that yours follower they could be potential customers.
Pinterest is a social network based on visual content, therefore, the premise from which to start to have more visibility is to create captivating photos and videos that encourage users to pin it, that is, "pinnate" the contents on their message boards, in order to increase the possible catchment area to be reached.
The description of the images is important, you will have to enter relevant keywords, which allow Pinterest users to find the content easily, also remember to enter a call-to-action, which prompts the user to take an action, such as visiting your website or learning more about a particular product for sale.
Le Pinterest photo that you share must always be of good quality and must have interesting subjects, possibly relevant to the topics covered in the profile.
Remember to enter a link or your e-mail address in the description of the image, so that when other users do "repin", They can get to you.
2. How to make money with affiliate links
Let's deepen the discourse on how to make money with Pinterest, starting with affiliations, a very popular and increasingly used online earning method.
If you are wondering how to make money on Pinterest without blogging, l'affiliate marketing is the answer, but what is it about? You can insert sponsored links in your Pins and earn earnings percentages. By doing so, when a user visits the link inserted and purchases the advertised product or service, you can earn commissions.
Alternatively, you can also use a blog or website dedicated to affiliate program chosen and insert content, reviews and links to the products of the affiliate program. One of the most famous affiliate marketing services is Amazon. We also recommend that you insert the button Pinit within your portals, to facilitate the sharing of content.
3. How to advertise the products
Advertising own products is another example of how to make money on Pinterest. If you are a DIY lover, you may be interested in selling your creations by advertising on this social network.
Ma how do you make money with Pinterest in this case? It's very simple. You just have to share the images and videos of your products or a service offered, inserting an appropriate description. You can do it for yourself, but also by agreeing with a private individual, just make sure that the activity you advertise is in line with Pinterest's terms of use.
4. How to collaborate with companies
Another tip on how to make money with Pinterest is to turn to famous companies and brands, to try to forge a collaboration.
Before taking this step you need to make sure that you have a very popular profile and that you are popular enough. Then you can start the search for the companies most in line with the topics you cover.
Once you have identified them, we recommend that you contact them either via their Pinterest page or on the contact page of the official website. Then you can send an email to ask for one commercial collaboration.
Within the message you will need to clearly state that you would like to promote their products / services on Pinterest. If you want to earn you need to identify the products and services most in line with your target audience and your followers. When you get more exposure, companies will contact you.
Come salvare photo su Pinterest
Now that you understand how to make money with Pinterest, we explain how you can save photos from the social network directly to your device.
It could happen that while browsing the feed or visiting the profile of some user, an image is particularly striking, by following a few simple steps, you can save it.
In this regard, you must know that there are also different systems on how to sell photos on the internet, you can take quality shots and then upload them to the network for sale, if you are interested, we invite you to deepen the subject.
To download aPinterest image you have to click on the icon with the three dots "...", Bottom right and choose the item Download Image.
The image will be saved inside the folder Download device or the one you have set as the destination for downloaded files.
Other useful articles
How to sell used items online
How to get a free Amazon voucher